I would be willing to bet that most shooters got their start with a 22LR rifle. For me, that was just the case. Growing up in the country I can remember shooting tin cans with my dad and learning the ins and outs of sighting my target and loading the rifle. It was a ton of fun and a lot of good memories. Holding the Rossi RS22 brings back those old feelings for me and reminds me of good times.
I got my hands on this rifle by winning it at a Friends of the NRA auction. I had won two identical rifles, one in green and one in brown. I loved them both so much, that I decided to keep them, dress them out and use them for squirrel hunting, and to introduce others to shooting sports.
The Rossi RS22 is a fabulous choice. First and foremost, it's extremely lightweight and with an 18" barrel it is easy for just about any shooter from youth ages to adults to enjoy the rifle. The trigger is smooth and the buttstock rests comfortably against your shoulder. It has a nice side charging handle, and it ran without flaws.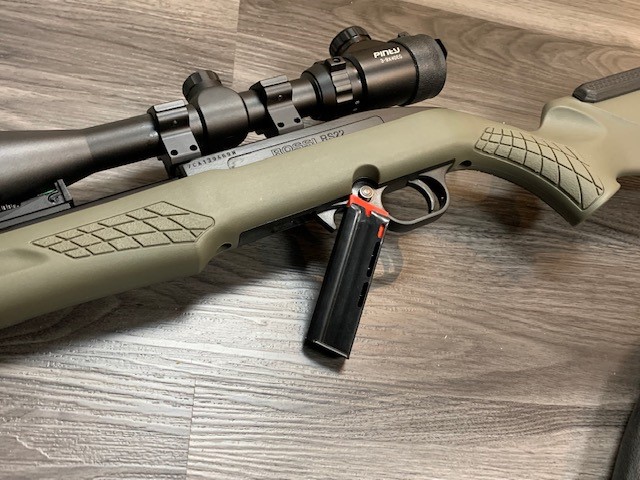 The sites are fully adjustable out of the box, and the tritium glow is a nice touch. I added a simply optic from Piney since the 22LR isn't really used for long-range shooting and it certainly doesn't produce any optic damaging recoil of concussion.
Here is a full list of the Rossi RS22 Rifle Specifications
Model: RS22
Action: Semi-Auto
Finish: Matte Black, Green or Brown
Stock/Frame: Synthetic Stock
Stock/Grips: Textured Monte Carlo Stock
Weight: 4.1 lbs.
Caliber/Gauge: 22 LR
Capacity: 10 + 1
# of Magazines: 1
Magazine Description: 10 rd. Detachable Box Mag
Barrel: 18″
Overall Length: 36.25″
Scope Mount: 3/8″ Dovetail
Sights: Fiber Optic Front & Rear
Safety: Manual Cross-Bolt Safety
Additional Information: Free-Float Barrel
Pick on up today at Palmetto State Armory for only $119! CLICK HERE