Are you looking for a pocket handgun that's both streamlined and lightweight that will carry easily in a pocket? A handgun that will expand your concealed carry options for everyday carry? If so, a new choice is now just over the horizon. The Bond Arms Stinger is already making its debut and being shipped to distributors as we speak. So, what does streamline mean? Under one inch in width and weighing only 12 ounces!
I have been fortunate to try a number of Bond Arms double-barrel handguns, also known as a derringer over the last few years and without any reservation I can report they are tough and well made. Bond Arms have been manufactured in Granbury, Texas since 1995 and are notorious for their outstanding fit and finish on every gun that leaves their factory.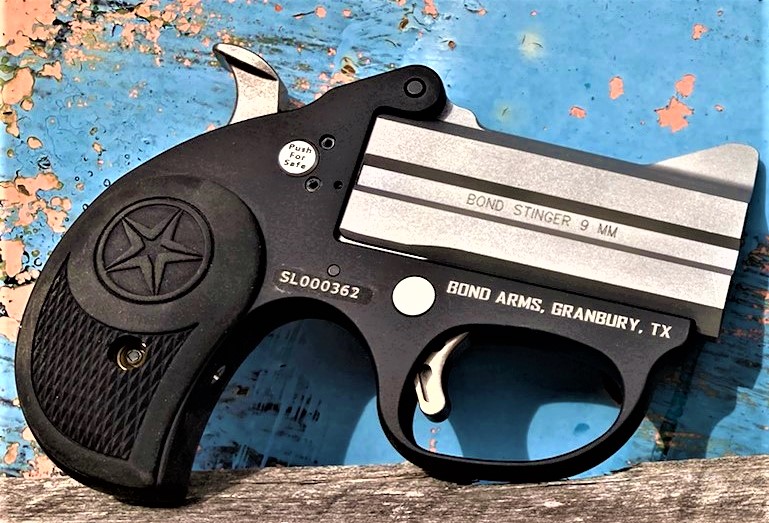 Bond Arms as always is looking ahead with exciting and innovative ideas. From this innovation comes the Stinger as a new option making carrying of these double-barrel handguns even easier. The new Stinger began shipping out in limited quantities the end of December in both the 9mm and the .380 ACP.
In October of 2021, I was able my hands on the Bond Arms Stinger at the Outdoor News America Gun Writers Conference in Texas. My first introduction to this newest Bond Arms offering was at this event. Company owner, Gordon Bond along with sales representative Joey Hedberg were on hand to provide details of the Stinger and allow for some trigger time on both the .380 and the 9mm. Both guns were easy to shoot with the 9mm edging out the .380 in felt recoil. No surprises there. The narrower profile of both of the Stingers was easily noticeable as compared to the standard width of other Bond derringers.
With a width of less than 1inch (.88 inches) and weighing only 12 ounces the shooter begins to see the ease of concealability of this little gun. By comparison, the Bond Arms Roughneck comes in at around 1.5 inches at weighs 19 ounces (with a 2.5-inch barrel).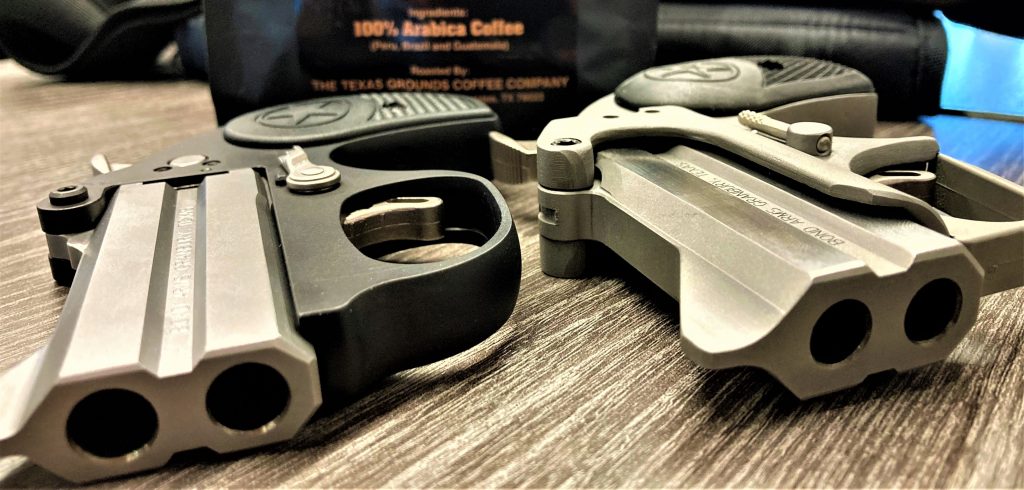 Specifications provided for the new Stinger by Bond Arms are as follows:
Weight: 12 Oz (with Slim Grips)
Width: .88" (with Slim Grips)
Length: 5″
Height: 4″
Passive Safety: Rebounding Hammer
Manual Safety: Crossbolt Safety & Safety Locking Device (SLD)
Action: Over/Under, Tip-Up Barrel, Single Action
Frame: 7075-T6 Aluminum, Type III Hard Anodize
Trigger Guard: Integral w/Frame
Barrel: 3″ Heat Treated Stainless Steel
Interchangeability: Compatible with other centerfire Stinger barrels, but not with existing Bond derringers
Grips: High Impact Nylon Slim Grips
Hinge Screw: 7/64″ Allen Wrench
Holsters: Dedicated holsters in development, but "Compatible with many products on the market"
In December of this past year, I was able to get a copy of both calibers for testing on my home range in New Mexico. The 9mm and the .380 were sent from the factory with two sets of grips, the slim line composite version and the more rounded rubberized set, which are standard on some Bond guns. The requirement was to try both sets. The results; firing the 9mm Stinger with the composite low-profile grips does require a firm hand and yields greater felt recoil. Switching to the optional rounded grips (a worthwhile add-on from Bond Arms) did increase the comfort when firing. However, one still needs to be prepared for more noticeable recoil in the 9mm Stinger as compared to the .380.
The .380 Stinger was an ease to shoot when it came to the recoil department but still requires a committed grip as with any handgun. For me the standard low profile composite Stinger grip is ideal for the .380 and offers perfect pocket concealment.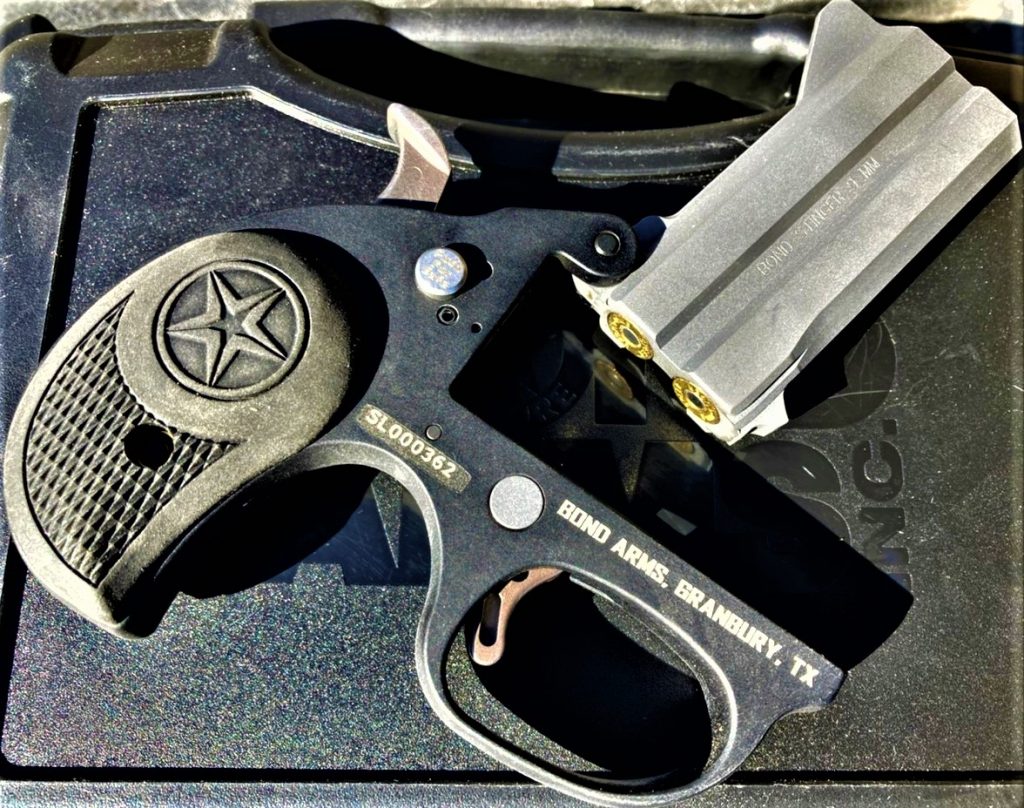 In the accuracy department, both the 9mm and the .380 did equally well. If the shooter is doing their job, all rounds can easily be fired inside an eight-inch circle from seven yards and closer (the average distance for most defensive encounters). As is the case with all Bond derringers I have tested, the top barrel fires first, delivering hits about three inches above the bullseye. The bottom barrel fires second upon re-cocking the hammer and a subsequent trigger pull, placing the second round about two inches below center.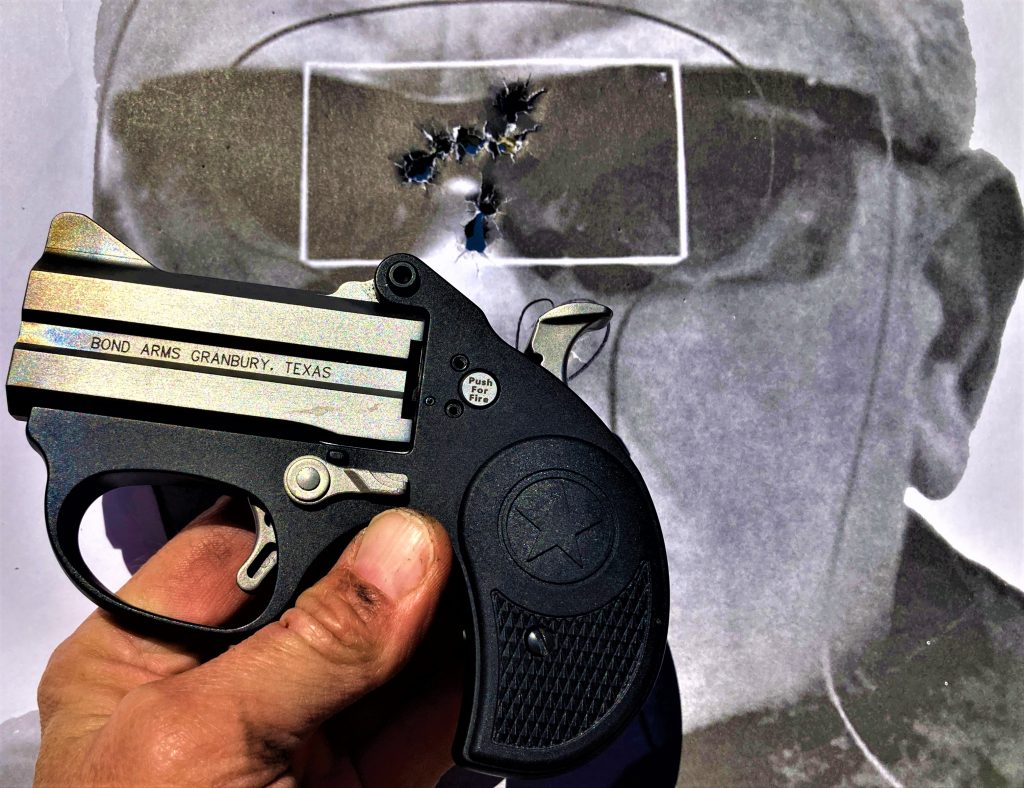 The Stinger comes standard with a crossbolt safety comparable in style to some pump shotguns. Pushing the bolt left to right allows for the gun to be fired. The" Push to Fire" and "Push to Safe" is clearly marked on the appropriate side of the cross-bolt safety itself. I could see where this safety could inadvertently be activated or deactivated while carrying in a pocket or while firing. This makes training and practice with carry methods and familiarity with the Stingers operation requirements even more important than ever.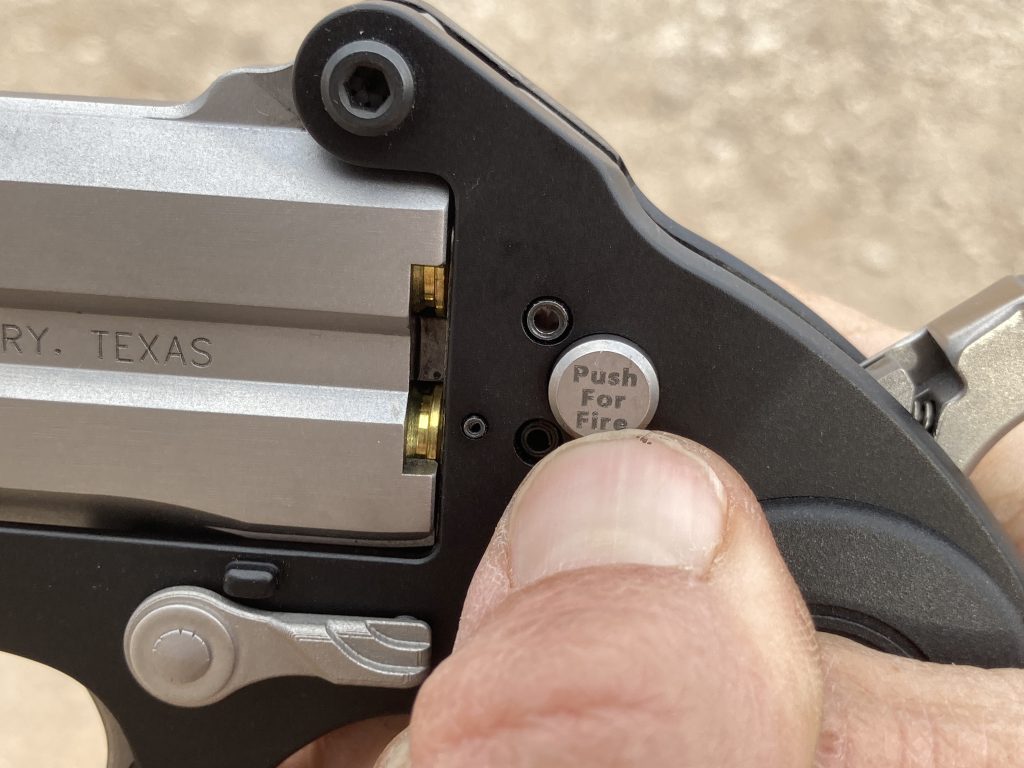 Bond Arms has done well in the manufacturing of the Stinger as with all their products. The Stinger offers a new option of both slim and low profile for those wishing to carry concealed on a daily basis. Base price for either the 9mm or the .380 Stinger is $379 and both are currently being shipped to distributors in limited quantities. Look to the Bond Arms website at bondarms.com for more information on the Stinger or other Bond Arms products.
To purchase visit www.lipseys.com
ABOUT THE AUTHOR
TERRY NELSON – is a 30-year veteran of law enforcement with police and sheriff agencies, including SWAT and sniper roles, and has served as a state game warden. Nelson also served seven years with New Mexico State Guard. A lifelong hunter, guide, tracker and firearms enthusiast, Terry is sought for training in multiple disciplines by both civilian and police-serving agencies and companies. Nelson also holds a Basic Tac Med instructor certification from Federal Law Enforcement Training Center.