Catalyst Arms, LLC, a firearms accessory company, has introduced the Apex Bag Rider for the butt stock of the Ruger Precision Rimfire. The Apex Bag Rider dramatically improves the functionality and stability of the butt stock when using a rear support bag.
To help get on target the Apex Bag Rider's angled shape allows for generous amount of rapid elevation adjustment. Simply slide your rear support bag fore or aft to raise or lower the butt stock. This lets the stock rest on the bag rather than relying on uneven grip pressure to maintain the desired shooting position.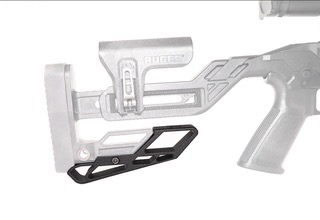 Designed specifically for the Ruger Precision Rimfire, this Apex perfectly matches the lines of the butt stock. It literally only takes a few seconds to install by sliding over the factory bottom Picatinny rail and is secured with a single screw without any modification or disassembly of the rifle.

The new Catalyst Arms Apex Bag Rider is now available, is made from Nylon 11 in matte black and has an MSRP of $49.95. For information on the Apex bag rider and other RPR performance upgrades go to
www.catalystarms.com


About Catalyst Arms: Catalyst Arms was founded in early 2017 with a simple goal; to develop innovative, shooter driven, truly useful firearms accessories. Ideation comes from time out in the field and behind the gun while hunting, shooting in competitions, plinking and while carrying for personal protection.