In the not-too-distant past I was very lucky to test a handgun that I have had little experience with–the derringer. My fortune started when crossing paths with Gordon Bond the owner of Bond Arms Inc. at a Blue August media event in Texas and then again at subsequent SHOT Shows. A homegrown company in Granbury, Texas, Bond Arms builds derringers with a wide variety of options. Admittedly, a derringer has not been in my list of choices for a carry gun but only because of a lack of experience with derringers on my part.
One of the greatest assets of Bond Arms derringers is the fact that you can easily switch barrels, and thus switch calibers, in less than a minute. In our test, Bond Arms graciously provided their Backup model in 45 ACP. It also comes in 9mm. Along with those were two additional barrels for testing: 45 Long Colt/410 and 22 Magnum. The additional barrels are an added option.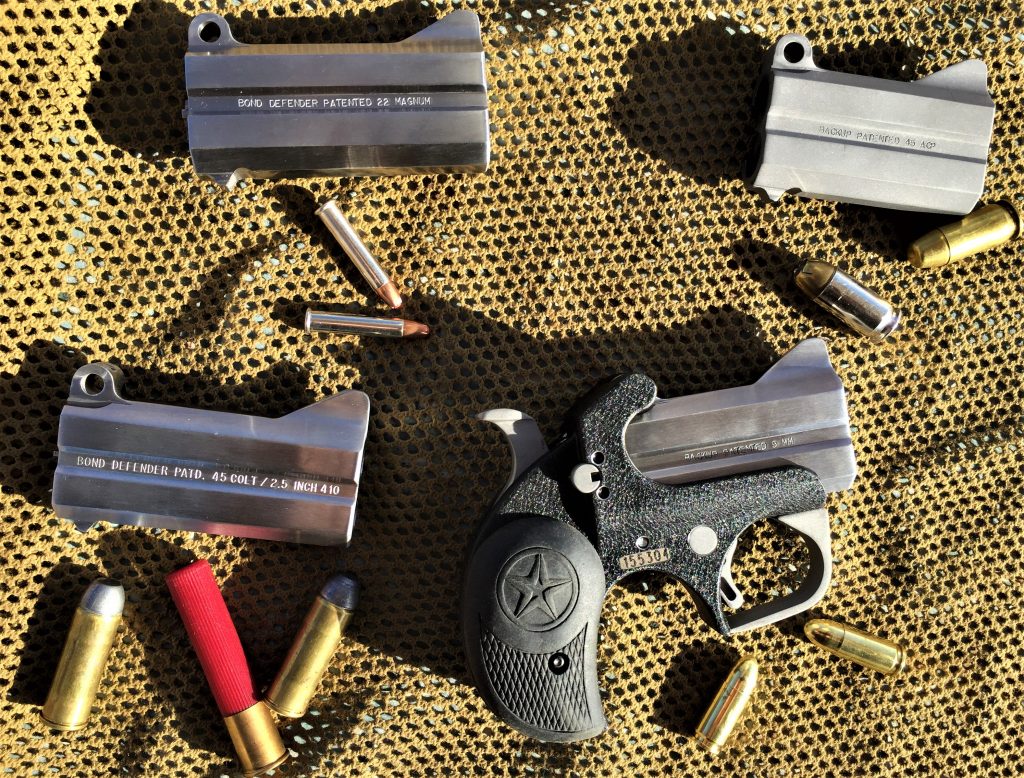 The Backup is handsome handgun, with a bead blasted gray textured frame in a 2.5-inch barrel and black rubberized grips. All of the Bond Derringers are over and under barrel two shot system. While the company does make models without a trigger guard, I liked the fact that the Backup has one and would highly recommend the trigger guard for concealment carry.
At 18.5 ounces, the little gun has some weight which is good considering the recoil felt from 45ACP exiting a 2.5-inch barrel. While not excessive, the recoil is not without notice. When switching out barrels to the 45 Long Colt/410 in a 4.25-inch recoil was also felt but manageable. The 9mm and 22 magnum calibers were both very easy to handle in the recoil department. The company provides an oversized black rubberized grip as an option that I would highly recommend for firing those stouter calibers.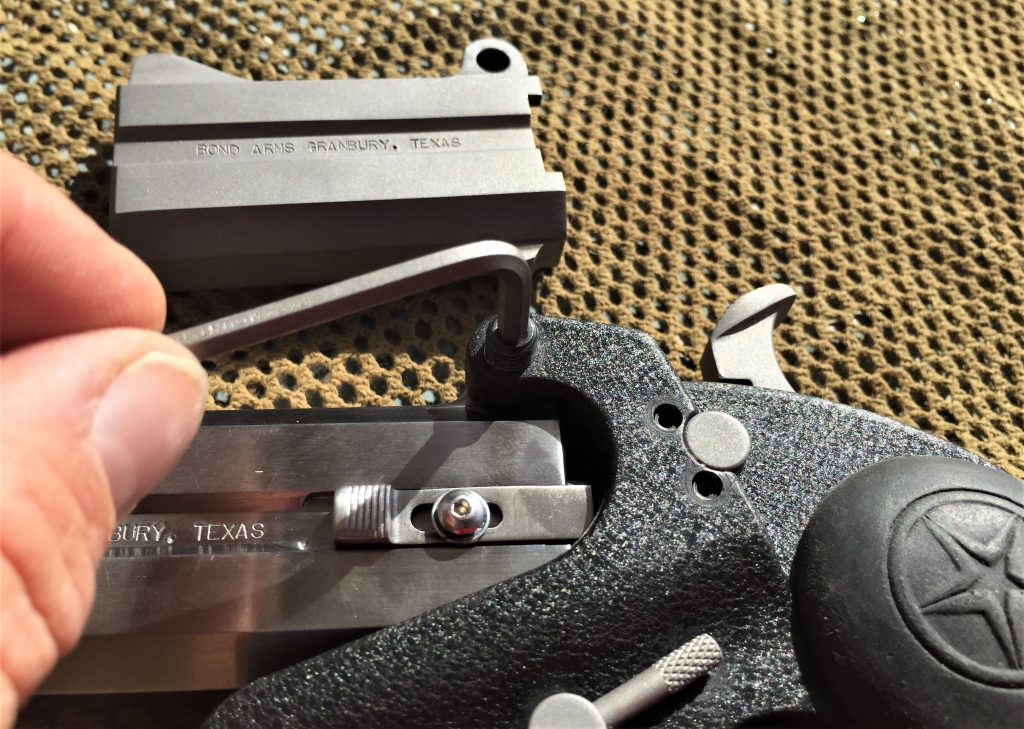 Bond has a wide selection of barrels from 2.5 to 4.25 inches in both a stainless finish, and mat bead blasted finish. There are at least 16 barrels and 22 calibers to choose from (probably more as of this writing). This hammer fired derringer also has a cross bolt style safety and a pronounced front sight.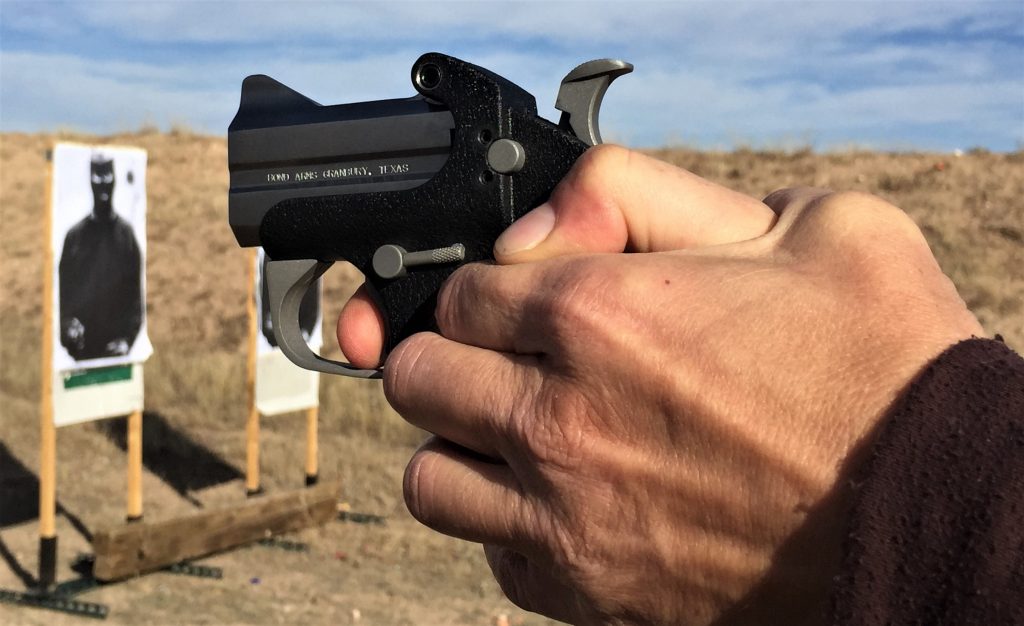 In live fire at 7 yards, all shots from both the top and bottom barrel of the Backup were within defensive accuracy standards, easily within an eight-inch target area.
Some advantages of a derringer are fairly obvious. Ease of carry, concealability, and convenience being a few of the most straight forward. Bond Arms has a very nice leather holster available as an added choice for all of their derringers. The ability of changing barrels and calibers in an instant nice advantage for those folks wanting or needing multiple calibers in a single platform.
For some, having to manually cock the hammer of the derringer and defeat the safety before firing may be disadvantage. But when attire is limiting as to the carrying of a larger and heavier frame handgun, the Bond Arms Derringer fills a gap and the quality of the little guns cannot be argued with. It is perhaps one of the most overlooked options for concealed carry today.
MSRP on the Bond Arms Backup is in the $540 range. Check out the Bond Arms Backup and a great selection of other Bond Arms products at bondarms.com.
TO PURCHASE A BOND ARMS PRODUCT PLEASE CLICK HERE!
ABOUT THE AUTHOR
TERRY NELSON – is a 30-year veteran of law enforcement with police and sheriff agencies, including SWAT and sniper roles, and has served as a state game warden. Nelson also served seven years with New Mexico State Guard. A lifelong hunter, guide, tracker and firearms enthusiast, Terry is sought for training in multiple disciplines by both civilian and police-serving agencies and companies. Nelson also holds a Basic Tac Med instructor certification from Federal Law Enforcement Training Center.