John Moses Browning was the greatest firearms designer who ever lived. Certainly, there have been several others throughout the history of Civilization who have made significant contributions in terms of Sporting and Military arms design, but the genius of John Browning reigns unsurpassed; one could argue for some of these other designers eclipsing Browning's many accomplishments, but one would be wrong.
Among Browning's many Sporting and Military designs, ranging from pocket pistols to rifles to anti-aircraft guns, was what would come to be known as the finest autoloading (or semi-automatic) pistol ever devised. Adopted by the U.S. Army in 1911, the 1911 pistol was America's standard-issue sidearm for 75 years, and is still in wide use by U.S. and foreign military forces to this day, as well as by police departments, competitive shooters, and defensive-minded shooters worldwide. As the great Jeff Cooper, originator of the "Modern School" of armed combat and founder of Gunsite Academy famously stated, "The 1911 pistol remains the pistol of choice in the eyes of those who understand the problem".
Today, 1911 pistols are offered by a great many different companies from all over the world, in a great many different configurations, from the basic and inexpensive "Mil-Spec" pistols to all-out "Race Guns" costing several thousands of dollars, to custom boutique pistols that can cost well into six figures. In my opinion, some of the best 1911s available on today's market, especially from a cost versus quality standpoint, are the Rock Island® Armory pistols, imported by Armscor® USA. Made in the Philippines, RIA's offerings run the gamut from fully-optioned, full-sized 10mm, 45 ACP, 40 S&W, 38 Super, and 9mm pistols down to sub-compact 380 ACP and 22 Magnum pistols built on the 1911 platform. RIA offers a 1911 pistol to fit just about any shooter's taste and budget; I personally own several, and consider them to be excellent pistols.
Lipsey's, which is a large, nationwide firearms distributor located in Baton Rouge, Louisiana, offers a variety "Exclusive" products, which are available on a limited basis, and only through Lipsey's-affiliated dealers. Lipsey's uses their prodigious buying power to persuade manufacturers to offer models that would otherwise not be made, by committing to buy in sufficient quantity to make it worth the manufacturers' while; because of this, we are able to avail ourselves of many wonderful items that would otherwise not be produced, and I thank the good folks at Lipsey's for this.
Lipsey's recently partnered with Rock Island® Armory to offer what, to me, is a very attractive compact 1911 pistol; in fact, when I first saw one listed on Lipsey's web site, I just had to have one, and bought one forthwith. The CS Tactical FDE is a compact ("Officer's") sized pistol, available in 45 ACP or 9mm Luger. The "full-size" ("GI") 1911 pistol has a 5-inch barrel and is a touch over 8.5 inches long, the "medium-size" ("Commander") version has a 4.25-inch barrel and is 8 inches long, and the Officer's-sized version has a 3.5-inch barrel and is 7.125 inches long; the GI and Commander versions use the same grip length, while the Officer's model's grip is 1/2-inch shorter and correspondingly holds one less round of ammo in its magazine (although standard 1911 magazines can be used in the Officer's model).
The CS Tactical FDE's frame and slide are CNC-milled from stainless steel, and are finished in FDE (Flat Dark Earth) Cerakote®, which is corrosion-resistant, wear-resistant, and self-lubricating. The slide features deep, forward-angled serrations at the rear, making the slide very easy to rack. The ejection port is lowered and flared, positively ejecting spent cases.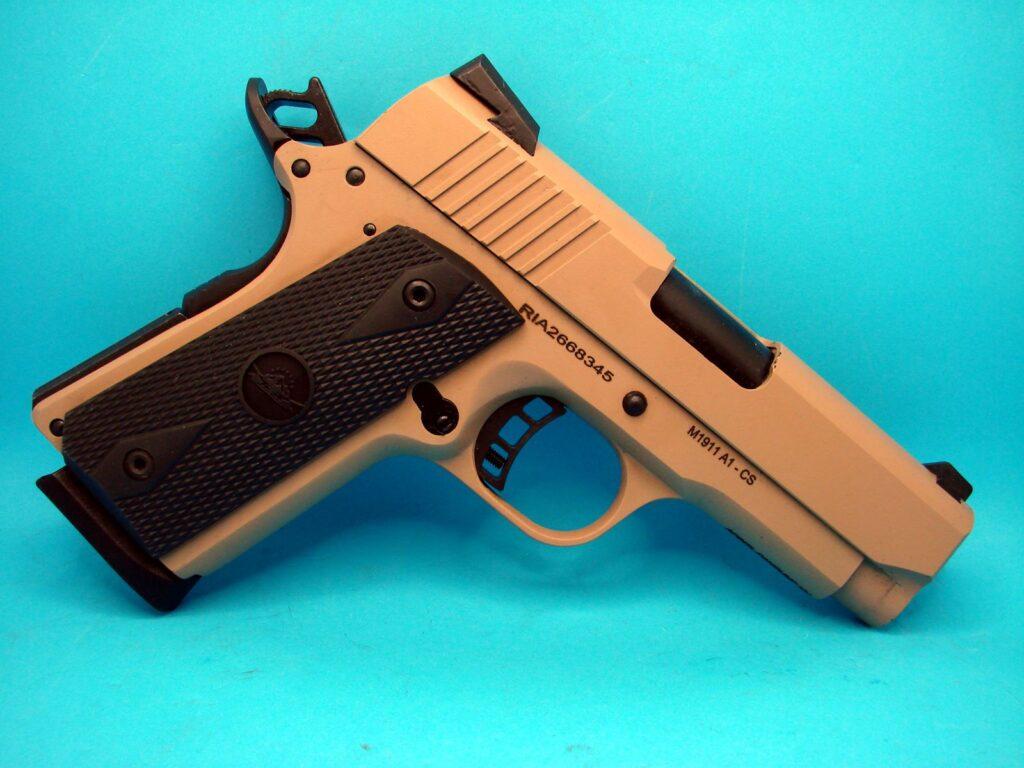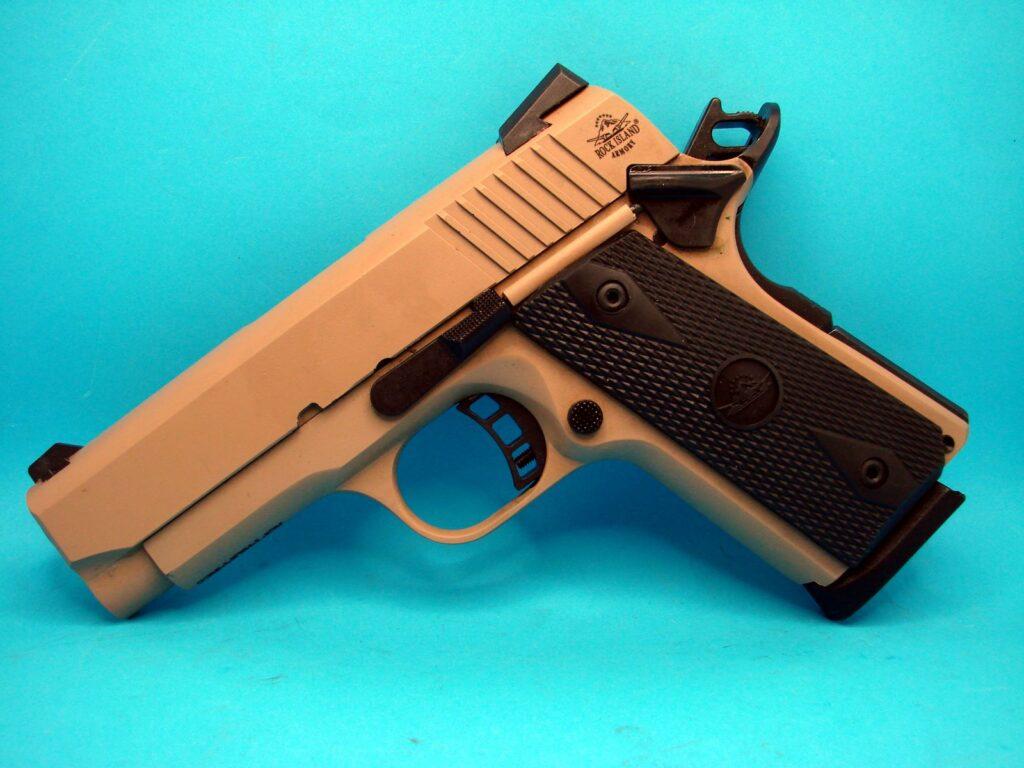 Lipsey's Exclusive Rock Island Armory M1911 CS FDE 45 ACP
The barrel is 3.5 inches in length, with a "bull" configuration that is flared at the end so that no barrel bushing is reqired to mate barrel to slide. The barrel is finished in black, making a very pleasing visual contrast with the FDE Cerakote® of the slide and frame. The chamber is throated and polished, and the frame's feed ramp is also well polished; as a result, I experienced zero failures to feed or eject during my testing with a variety of ammunition types.
The recoil system consists of a captive recoil spring and full-length guide rod, which is desirable with an Officer's-length slide & barrel. Because of this, field stripping the CS Tactical FDE is a bit different from stripping a "standard" spring-and-plug 1911, but is not at all difficult.
Adding to the CS Tactical FDE's visual appeal, the "small parts" (checkered magazine release, checkered slide release, and frame pins) are finished in contrasting black, as are the hammer, the thumb safety, the grip safety, and the flat, vertically-grooved mainspring housing. The hammer is rounded, grooved, and skeletonized, and nestles perfectly into the upswept and extended beavertail grip safety, so there is no possibility of the web of the shooter's hand being pinched between the hammer and the grip safety. The grip safety also includes a grooved "memory bump" to aid in activating the safety, especially when the shooter rides the thumb safety with the thumb of the firing hand. The thumb safety is grooved, is of standard (non-extended) configuration, and is right-hand only.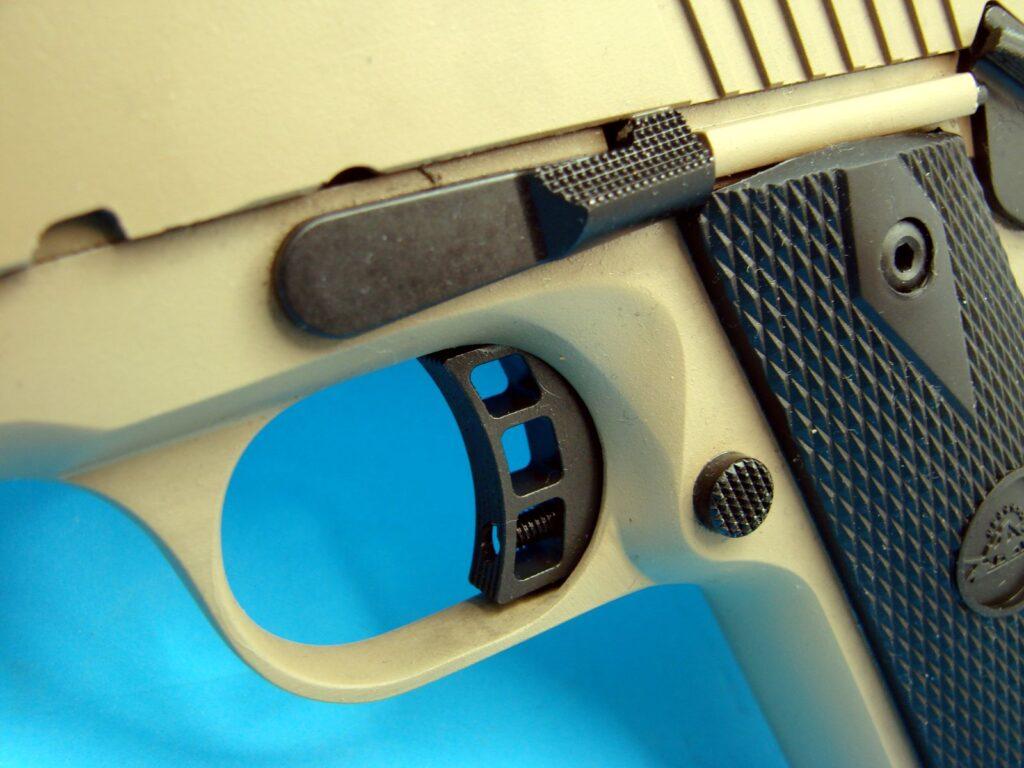 Black-Finished Slide Release, Magazine Release, and Skeletonized Aluminum Trigger wit Overtravel Adjustment
Completing the FDE/Black visual appeal, the grips are tactical black rubber, checkered in the "double diamond" pattern with the RIA logo molded-in. These grip panels feel great in the hand and further compliment the pistol's pleasing appearance, but if desired, any grip panels made to fit an Officer's Model can be substituted; as for me, I am perfectly happy with the look and feel of the stock grip panels.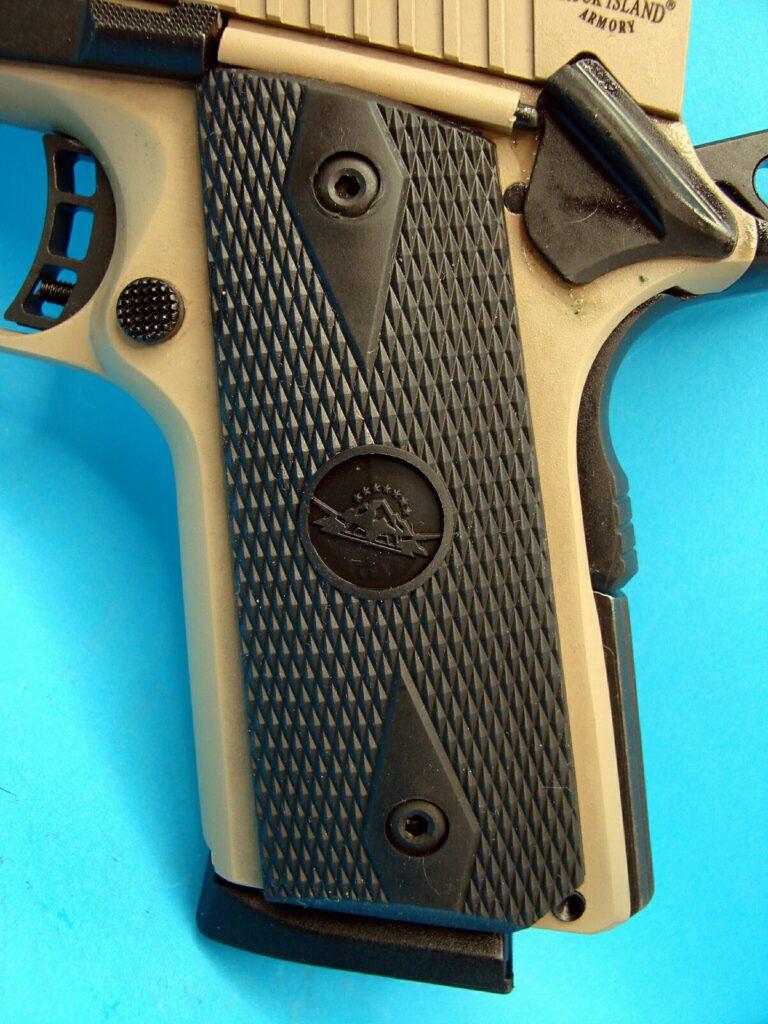 Black Rubber "Double Diamond" Grips with RIA Logo
The sights on the CS Tactical FDE are nice and basic, and finished in black. The front sight is steel, ramped, and dovetailed into the slide for windage adjustment and ease of replacement if so desired. The rear sight is steel, of the snag-free "Novak" style, is similarly dovetailed into the slide, and features a locking screw. The sights are quick and easy to acquire for initial and follow-up shots, offering a crisp and precise sight picture.
Like all RIA 1911s, the CS Tactical FDE is a "Series 70" design, meaning that it lacks the "Series 80" firing pin safety system introduced in the early 1980s by Colt on their 1911 pistols. This is a very good thing, as the Series 80 firing pin safety was both unnecessary and detrimental to a proper trigger press. The 1911 pistol design already has redundant safeties built into it, and the addition of the firing pin safety only served to make a few lawyers happy, while making a mess of the wonderful feel of the classic 1911 trigger. The CS Tactical FDE's trigger action is superb, breaking crisply and cleanly at a consistent and creep-free 2 pounds, 9.3 ounces; the trigger itself is skeletonized aluminum for light weight and rebound resistance, finished in black, vertically grooved, and includes a screw adjustment to eliminate overtravel.
Shooting the Rock Island® Armory CS Tactical FDE was a pleasure. Recoil is easily manageable, thanks to the steel frame and the checkered rubber grips, and the decent set of sights made it easy to keep shots on target, whether on steel or on paper. Informal group shooting yielded an average group size of 1-1/2″ on average at five yards, standing offhand. Some of the best groups of the day were attained using one of my favorite 45 ACP carry loads, being Double Tap's excellent 230-Grain Bonded Defense® JHP. This Double Tap load features a bullet profile very similar to the familiar 230-grain "ball" FMJ, so it feeds wonderfully in 1911s that usually only do well with ball ammo; this load makes about 900 feet-per-second out of a 3.5-inch barrel, and in prior ballistic-gel testing has proven to mushroom perfectly. Pictured is a representative group using the DT Bonded Defense®, with one low flyer opening up a ragged-hole group to 1-3/8″.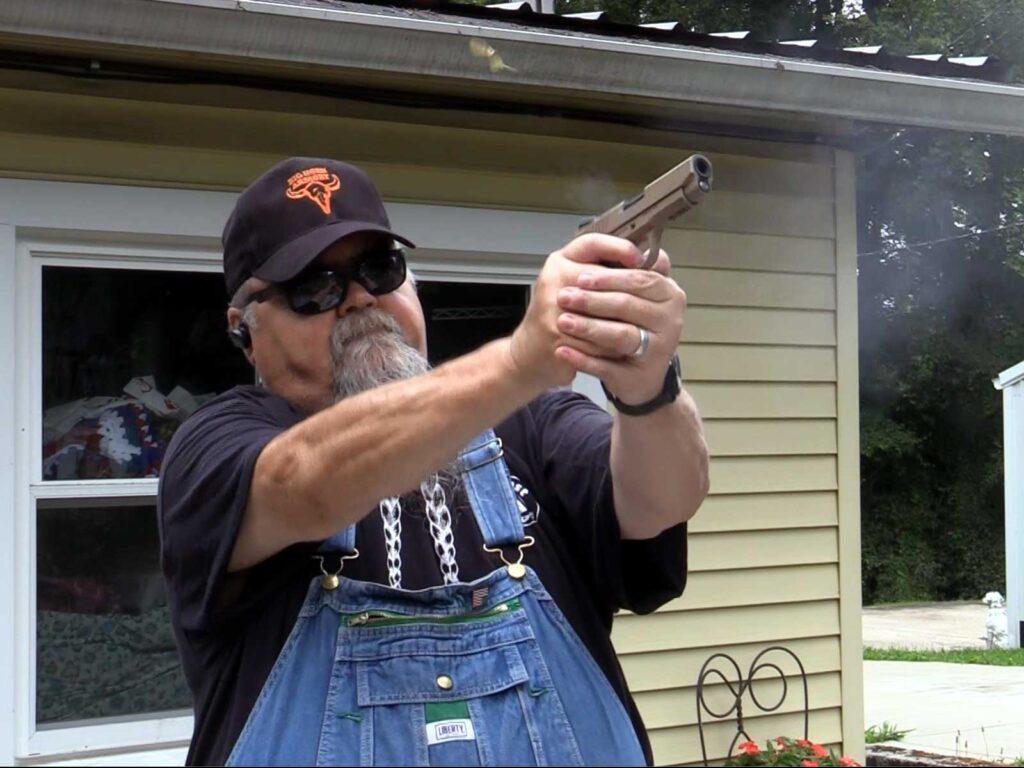 Boge Shoots the Lipsey's Exclusive Rock Island Armory M1911 CS FDE 45 ACP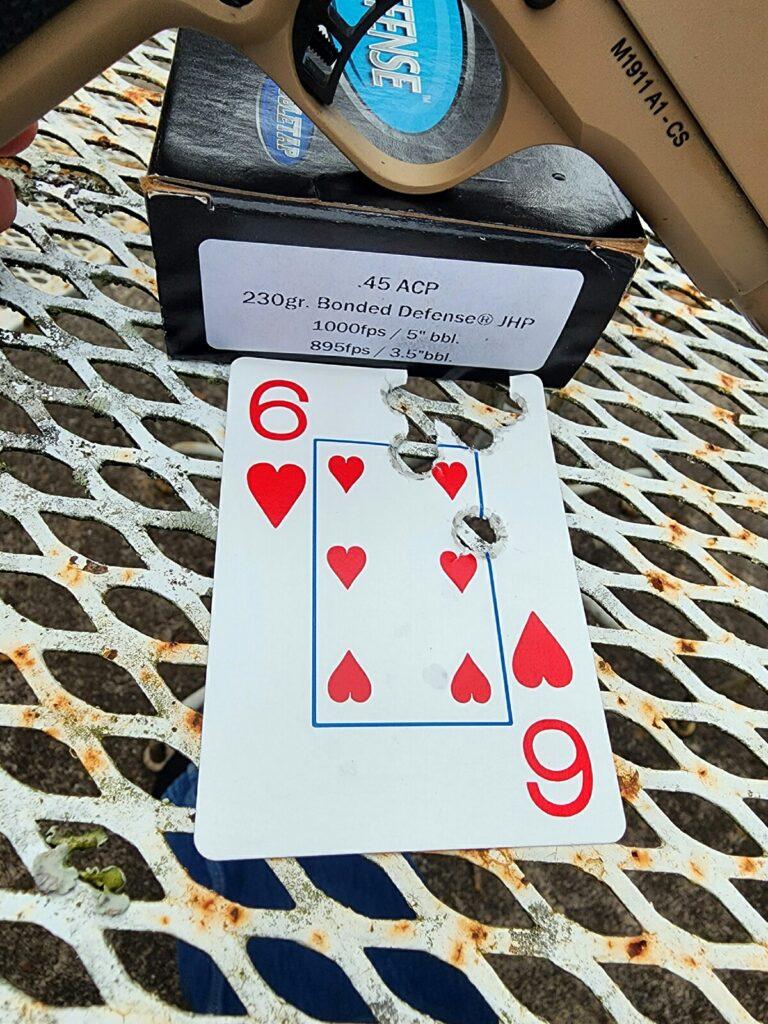 There are, of course, a great many holsters available to fit Officer's-sized 1911s, and in a pinch any 1911 holster will work, but for a compact pistol made for concealment, a minimal-footprint holster is preferred. A holster of which I am particularly fond is the "CID Slide" holster from Simply Rugged Holsters in Prescott, Arizona. Simply Rugged's honcho, Rob Leahy, designed the CID Slide years ago for a friend who is a Criminal Investigator Detective (CID); it is a basic, minimalist, pancake-style, bikini-slide holster with an exposed muzzle, so it works equally well for Officer's-length or longer slides. The CID Slide is available for right-handed or left-handed shooters, is made from fine leather, and is priced as low as $50.00; various degrees of tooling, hand-carving, or exotic leathers (such as mine, which is made from elephant hide) is available at additional cost. The CID Slide is a solid, entry-level holster made for maximum concealment.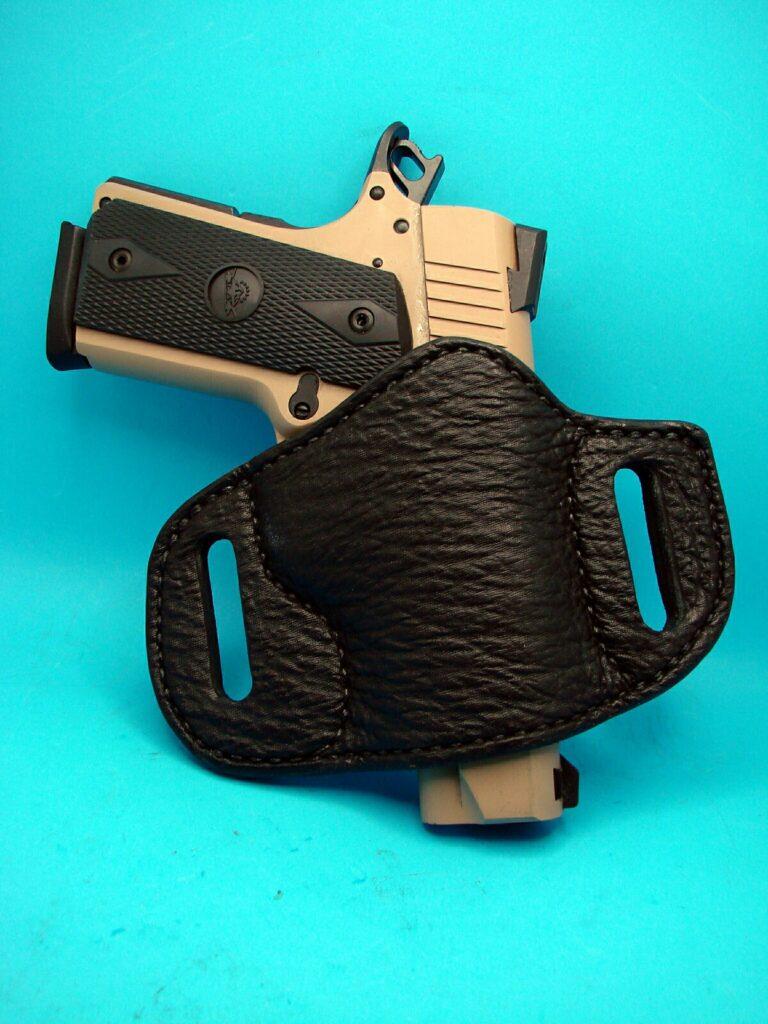 Elephant-Hide "CID Slide" Holster from Simply Rugged Holsters
Rock Island® Armory's M1911 CS Tactical FDE 45 ACP Semi-Auto Pistol is made in the Philippines, and is available Exclusively from Lipsey's distributors in Baton Rouge, Louisiana. Lipsey's is a large distributor with a nationwide network of affiliated dealers, so no matter where you reside in the Continental United States (excepting those jurisdictions living under the iron boot of "Progressivism"), there will be a Lipsey's-affiliated dealer nearby who can help you obtain one of these fine pistols.
John Browning was a true visionary, but I doubt that even his fertile mind could have conjured visions of how his Model 1911 semi-auto pistol would evolve over the course of eleven-plus decades. I obviously did not know the man, so I cannot speak to his thoughts, but I truly believe he would have been pleased with Rock Island® Armory's M1911 CS Tactical FDE 45 ACP Semi-Auto Pistol; it is a very attractive pistol that is reliable, accurate, easily concealable, and affordable.
Lipsey's Exclusive Rock Island® Armory M1911 CS Tactical FDE 45 ACP Semi-Auto Pistol
Action: Semi-Automatic, Single Action
SKU: 51543
Series: GI
Caliber: 45ACP
Frame: Stainless Steel, FDE Cerakote® Finish
Slide: Stainless Steel, FDE Cerakote® Finish
Barrel: Stainless Steel, 3.63 Inches, Black Finish
Overall Length: 7.125 inches
Overall Width: 1.29 inches
Overall Height: 5.1 inches
Weight: 2.36 pounds
Front Sight: Dovetail Mounted Standard
Rear Sight: Novak-Style Fixed ("Snag Free" type)
Grips: Tactical Black Rubber, Checkered
Trigger: MR3 Skeletonized Aluminum with Overtravel Screw
Trigger Pull: 2 Pounds, 9,3 Ounces
Magazine Capacity: 7
Magazines Supplied: 1
Accessories Included: Lockable Plastic Case, Manual, Cable Lock
MSRP as of August 2023: $598.00 US
Rock Island Armory: https://www.armscor.com/firearms
https://www.armscor.com/firearms-list/1911-a1-csp-ria
To Find a Rock Island Armory Dealer Near You, Click on the DEALER FINDER at Lipsey's: www.lipseys.com/dealerfinder
https://www.lipseys.com/itemdetail?itemno=RI51543
Simply Rugged Holsters: https://www.simplyrugged.com/
Simply Rugged CID Slide Holster: https://www.simplyrugged.com/ecommerce/CID-Slide-Holster-Leather-Holster.cfm?item_id=167&parent=669
Double Tap Ammo: https://doubletapammo.com/
About the Author:
Boge Quinn is a life-long shooter, born and raised in the Great State of Tennessee. A co-founder of Gunblast.com (https://gunblast.com/)in the year 2000, along with his brother Jeff Quinn, Boge has continued on with Gunblast after Jeff's passing in 2020. A Lifetime Endowment member of the NRA, Boge serves on the Board of Directors of The Shootists (https://shootists.org/), an organization started by John Taffin in 1985, as did his brother Jeff. Boge appreciates firearms of all types, but his soul is particularly stirred by the "older style" guns: lever-action and single-shot rifles, along with Single-Action and Double-Action revolvers and 1911-style pistols. As a former professional artist, Boge appreciates the aesthetics of a fine gun, as well as its mechanical precision and practical application. His particular affinity lies in the world of handguns, and he has hunted mostly with handguns of all types since the mid-1970s. A regionally well-known musician, Boge is also a Deacon in the same Baptist Church where his brother Jeff formerly served as Deacon, and where their Dad finished his 50-year career as Pastor.