The 10mm is and always has been a remarkable round. Packing power comparable to a .41 Magnum revolver round yet designed for an autopistol, the 10mm offers impressive performance as well as the ability for impressive capacity and fast reloads. So, it should come as no surprise that Springfield Armory has just announced a new pistol in this round for their XD-M Elite series of pistols. That pistol is the XD-M Elite 4.5" OSP 10mm.
If you're not familiar with the XD-M Elite line, it is what I would describe as the cream of the crop of striker-fired full-size pistols from Springfield Armory. The XD-M Elite line took the solid foundation of the XD-M, and added in enhancements like flared/removable magwells, the Match Enhanced Trigger Assembly (META), enlarged slide racking grooves, and an ambidextrous slide stop — making the gun fully ambi.
We at GunSpot were excited to get a hands-on look at the gun prior to its release date. Also, we were fortunate to receive some test ammunition for it from True Shot, an online ammo retailer. Upon looking at the pistol, there are some noteworthy physical characteristics to this weapon.
XD-M Elite 4.5" OSP 10mm Specifications
First of all, here are the product dimensions and specifications:
| | |
| --- | --- |
| Chambering | 10mm |
| Barrel Length | 4.5″ |
| Weight | 31 oz |
| Overall Length | 7.6″ |
| Sights | U-Dot |
| Grips | Integral Polymer |
| Action | Striker-Fired |
| Finish | Black |
| Capacity | 16+1 (2 magazines included) |
| MSRP | $653 |
The handgun has a polymer frame with a strip of Picatinny 1913 rail along the bottom of the dustcover with three grooves that should be able to accommodate any pistol accessory you could possibly want. We opted to put a Surefire X300 on ours. The frame has grip texture added on just about any place you would want it. There is a chunky, scale-like texture to it that grabs the hand well. This texture is found on the front, sides, and back of the pistol's frame.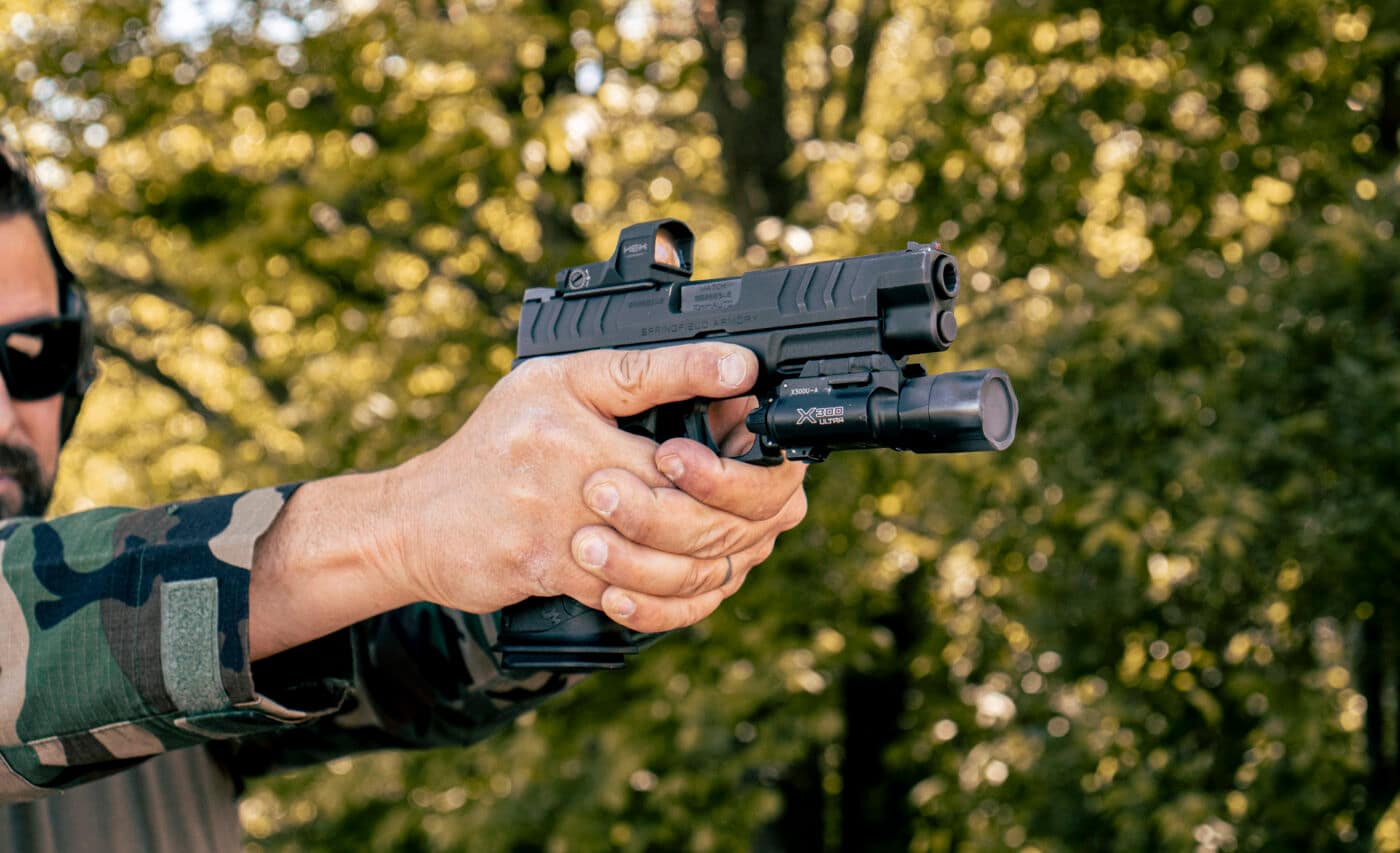 On the bottom of the grip, there is a "short" magwell added by Springfield Armory. This magwell is shorter in length compared to the "standard" flared magwells found on the XD-M precision and Tactical OSP models. This creates an all-around shorter gun in height, but still lets you have an ample flare to easily seat magazines into the pistol.
Speaking of the magazines, this gun ships with two stainless steel magazines, and both of them have a 16-round capacity. This gives you an ample 16+1 rounds on board for carrying. That is stellar capacity for a pistol in 10mm.
Topping It Off
The slide of this pistol is created from forged steel and is Melonite treated. The OSP (Optical Sight Pistol) slide comes from the factory optics-ready, milled with the "Springfield Standard" optical footprint. With this footprint, you will be able to attach just about any mainstream red dot optic in today's market through the use of available mounting plates. The pistol can be purchased alone, or as a package with the HEX Dragonfly red dot optic.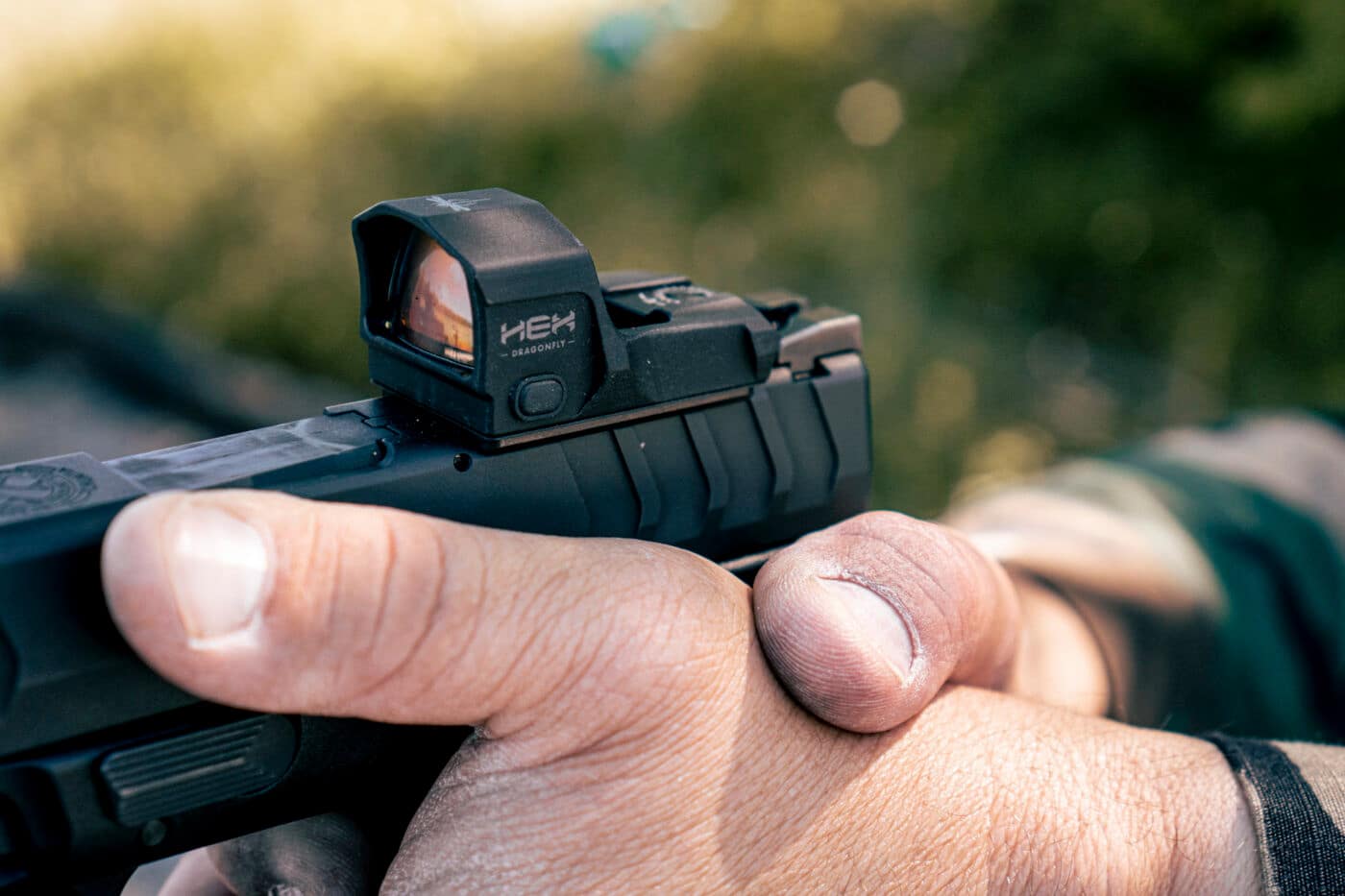 The gun comes equipped with standard-height U-Dot iron sights. The rear sight is a U-notch sight, which is identical to the rear sight on the Hellcat models. The front sight is a red fiber optic unit designed for high visibility in daylight.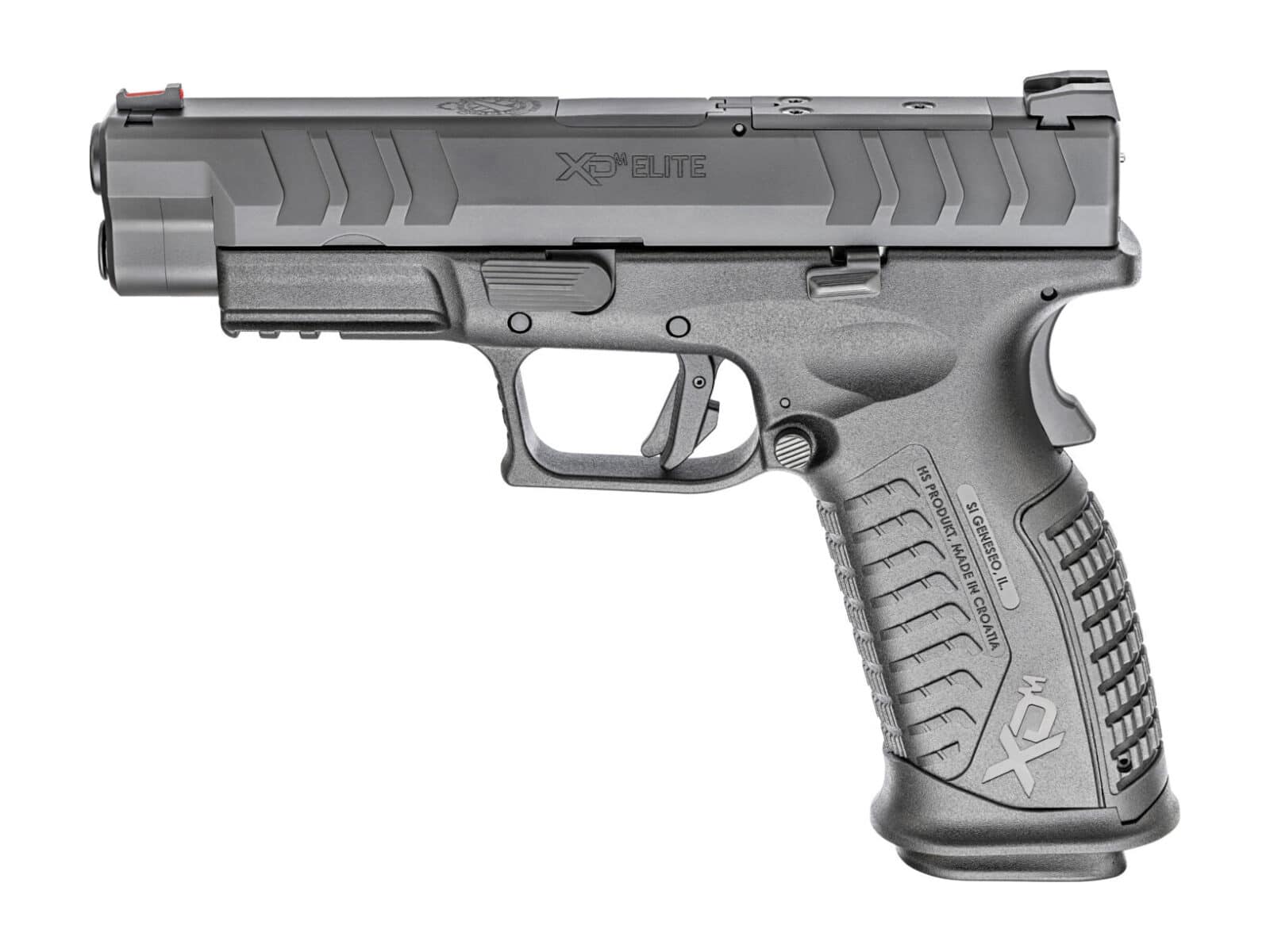 The slide has machined rear and front cocking serrations that are enlarged and enhanced over those of the XD-M. This will make functions like charging and press checks easier. On top of the ejection port area of the slide, there is also a loaded chamber indicator. When a round is present in the chamber, the indicator will be raised above the height of the slide. When in the loaded position, the indicator can be felt or visually seen.
The Other Side
The XD-M Elite line of pistols is especially kind to left-handed shooters, and this pistol is no different. The XD-M Elite 4.5" OSP 10mm pistol has mag release buttons on both sides, and it also has a slide stop on both sides of the frame as well. Left-handed users will be able to drop mags and release their slide from slide lock with ease and without doing any extra work switching stuff over from a factory configuration. This is a great tactical feature that supports shooting from either hand around cover and concealment.
Performance
To test out the XD-M Elite, we acquired three different self-defense pistol rounds with the help of True Shot and our own collection of ammo. We took each of these three loads and used them to test the pistol's performance. We particularly looked at what kind of accuracy it has and the velocity we could achieve from the 4.5" barrel.
We used three different loads from three different manufacturers. Our first load was PMC Bronze ammunition. The grain weight of this load is 170 grains and has a jacketed hollow point for the projectile. Our second load was Winchester Defender 180 grain with a bonded jacketed hollow point. The third entry was one we were very excited to have in the mix, and it provided some spice in the equation for sure. This was Doubletap 125-gr. ammunition with a full copper projectile. It probably goes without saying that 125 grain is unusually light for 10mm ammunition, and as a result, it's pretty darn fast.
The test parameters for accuracy were pretty straightforward, and the effort was made to of course remove as much human error as possible. I fired all of my shots from 15 yards away on a bench with a "Lead Sled" for support. From there, I shot four three-round groups with each ammunition. Something I want to mention is that if I had to place my pistol shooting skill level somewhere, I'd place it somewhere in the above-average level. I'm not a master by any means. I only rate myself in the above-average level because I've seen just how bad some flat range shooters are. Yikes! In all seriousness, this pistol will outperform me on my best day, especially at 15 yards.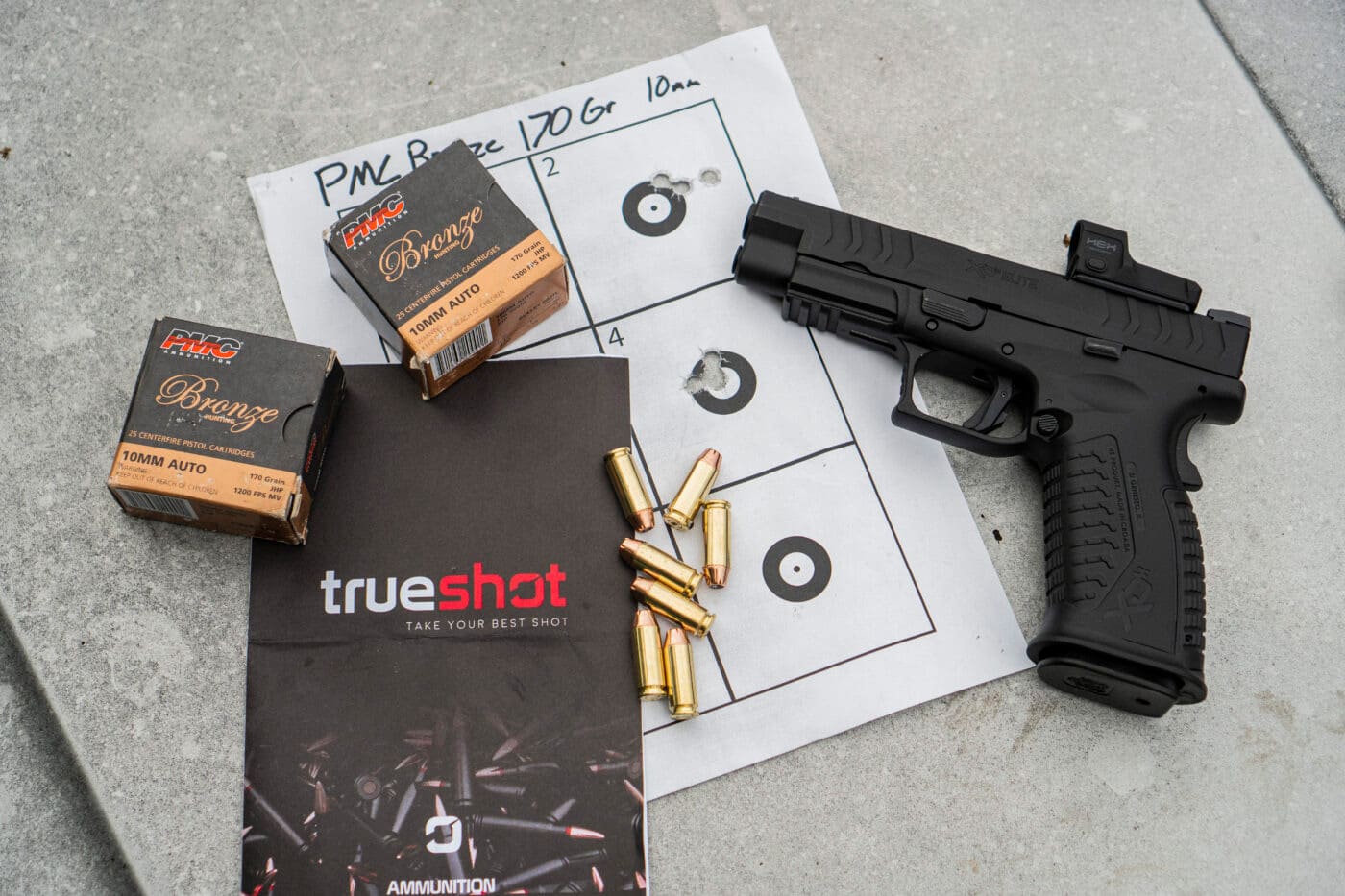 The first groupings I shot were of the PMC 170-gr. ammo. The PMC performed really well, with my tightest group being a ½" group. My second grouping was using the Winchester 180-gr. bonded jacketed hollow point. This ammo did the best for me overall. My best group was again a ½" group. The last grouping test was done with the Doubletap 125-gr. 10mm, with my best group being 1¼".
Speed Tests
We took the same ammunition and performed some tests with a chronograph to see what kind of velocity we could get out of the 4.5" barrel. For this test, we set up the chronograph on a tripod, on a cloudy day, which usually yields the best results. For each ammo choice, we fired five rounds and took an average of the five shots. The chronograph was set to measure in feet per second.
The first round tested was the PMC 170-gr. round with an average of 1,119 feet per second. The second round was the Winchester 180-gr. round with an average of 1,166 feet per second. The Doubletap round was the last one with a 125-gr. bullet that reached an average of a blistering 1,516 feet per second.
Ammunition Performance
| | | | |
| --- | --- | --- | --- |
| Ammunition | Velocity | Energy | Group Size |
| Doubletap 125 gr SCHP | 1,516 fps | 638 ft-lbs | 1.25″ |
| PMC 170 gr JHP | 1,119 fps | 473 ft-lbs | 0.5″ |
| Winchester 180 gr BJHP | 1,166 fps | 543 ft-lbs | 0.5″ |
Abbreviations: BJHP (bonded jacketed hollow point), JHP (jacketed hollow point), SCHP (solid copper hollow point). Velocity is the average of five rounds fired across a Competition Electronics ProChrono DLX Chronograph 7 ft. from the muzzle.
No doubt this gun and ammo pack a punch; enough to fend off anything located on the North American continent, for sure.
Personal Experience
Our GunSpot team was able to provide a unique perspective on this gun from two different views. Both Grant and I shot the pistol. For me, it was the first 10mm I had ever shot. Grant, a more experienced shooter, has shot most of the calibers in the gun world. The conclusion amongst us was that this gun handles the 10mm recoil pretty easily.
If you watch the video above, you can see in the slow-motion footage how well Grant handles the recoil, with the red dot returning to line of sight nicely each time. The pistol's META trigger is great, with a crisp break and an integral overtravel stop. The gun has an amazing capacity to go along with it, as well. Add in the option to easily add a red dot, and you have the total package in a high-end pistol.
Target Market?
If you love 10mm, I'm sure you will love this gun. This is true especially if you're already a fan of the XD-M Elite line. In a practical use for this pistol, it'd be fantastic as a sidearm for those of you in parts of the country where game animals are large. Going up against a raging moose, bear, elk or cougar with your 9mm Hellcat would not be as favorable as packing the punch this bad boy does. If you are hiking or backpacking in those territories, this could be a good investment, and a reasonably cheap one at that. The MSRP of this gun comes in at just $653 dollars, which means that the street price could be seen lower possibly.
Re-posted from Springfield Aromry's www.TheArmoryLife.com