For most of us the name Mauser is synonymous with German engineering and military rifles. The German gun-maker is still around and today its focus has shifted from battle to hunting rifles. For those of you that are a fan of Mauser rifles you may wish to check out a new variant of the Mauser built for the hunting field. The Mauser M18 was unveiled at SHOT Show 2018 and was widely successful in hunting circles. The newest variety of the M18 is the Savanna M18 and has been released to the American market via Blaser Group in 2022.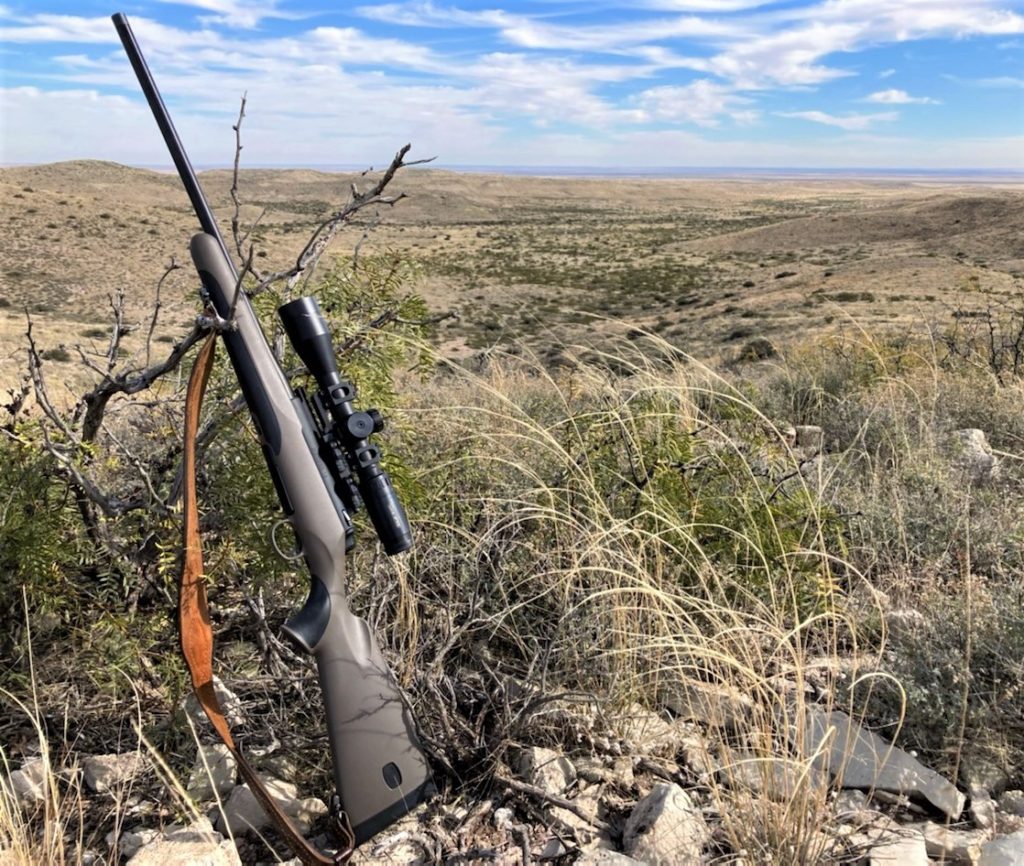 According to Jason Evans, CEO of Blaser Group, "The new Mauser M18 Savanna presents the opportunity for even more American hunters to experience the benefits of German engineering and manufacturing, this ultra-rugged rifle is a true value delivering superior reliability, durability, and accuracy in its class."
Overview of the Mauser M18 Savanna
This newest M18 features a Savanna tan stock that fits in with most hunting environments along with rubberized grip inserts that provide a solid grip in wet weather. It also features a cold hammer-forged German-steel barrel that is completely free floated and a threaded to accept the addition of a suppressor or muzzle brake.
Other features include a three-position safety, and adjustable trigger that allows you to set your own preferred pull weight from 2.25 – 4.25 lbs.
The three safety positions are:
Fire
Bolt open, but firing not possible
Completely locked
The 60-degree oversized bolt with three locking lugs and two extractor pins allows for quick and smooth cycling of cartridges from the standard five-round magazine. Ten-round magazines are also available.
Another nice feature is the removable rubber shoulder pad that covers a hollow space in the stock for a bore snake, or other small items such as fire-starting materials. The total weight of the Savanna is 6.4 pounds without scope and mount.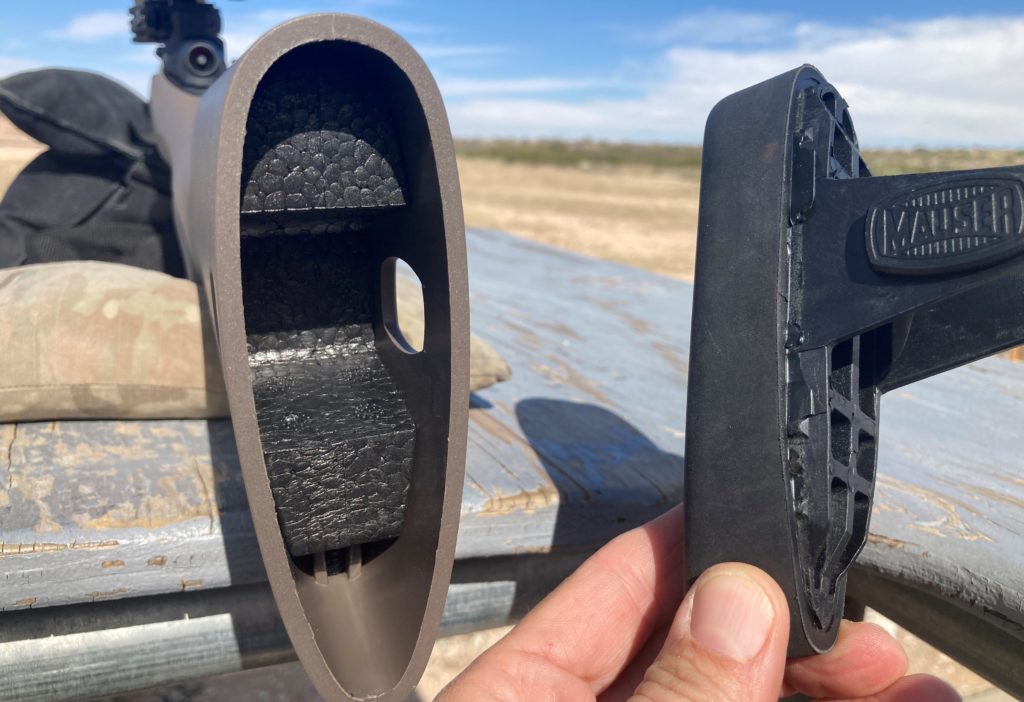 The Savanna accepts Remington 700 LA-style mounts and is available with a 1/2 x 28 threaded barrel in .223 Rem, .243 Win, .270 Win, 6.5 Creedmoor, 6.5 PRC, and 7mm Rem Mag chamberings. The 9/16 x 24 threaded barrel is offered in .30-06, .300 Win Mag and .308 Win.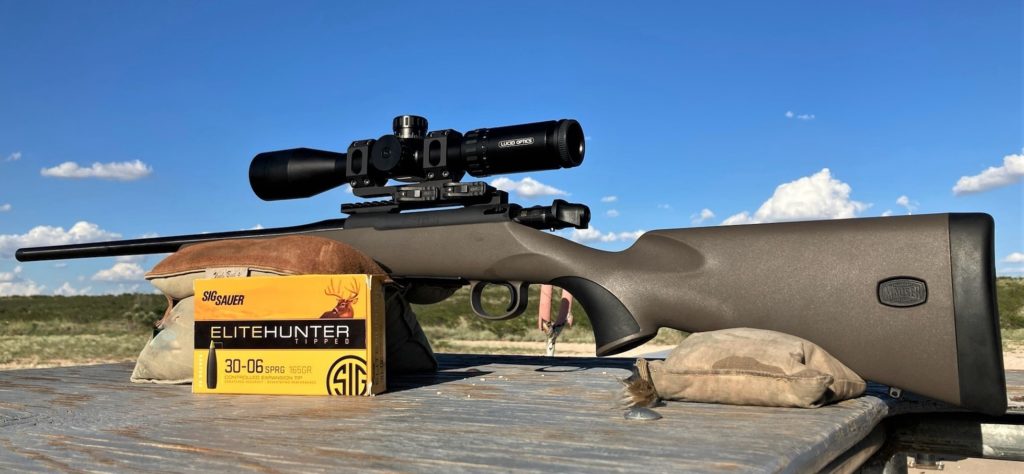 The M18 Savanna could be considered the working man's rifle with sub-MOA accuracy guarantee and 10-year factory warranty along with an MSPR of $849.00 and real-world pricing coming in the $600 to $700.
On the Range
Once getting the M18 Savanna chambered in 30-06 in my hands, field testing began by outfitting the rifle with the LUCID L5 4x-16×44 Rifle Scope.
The Lucid L5 rifle scope with 30mm tube, provides precise 1/8 MOA windage and elevation adjustments on lockable, tactical style turrets. Side parallax adjustment along with the ocular diopter adjustment creates a crisp target image over the entire magnification range of 4x-16x. The L5 Reticle also allows for precise MOA measuring with 2 MOA increments below the rifle's zero along with viable windage values built in.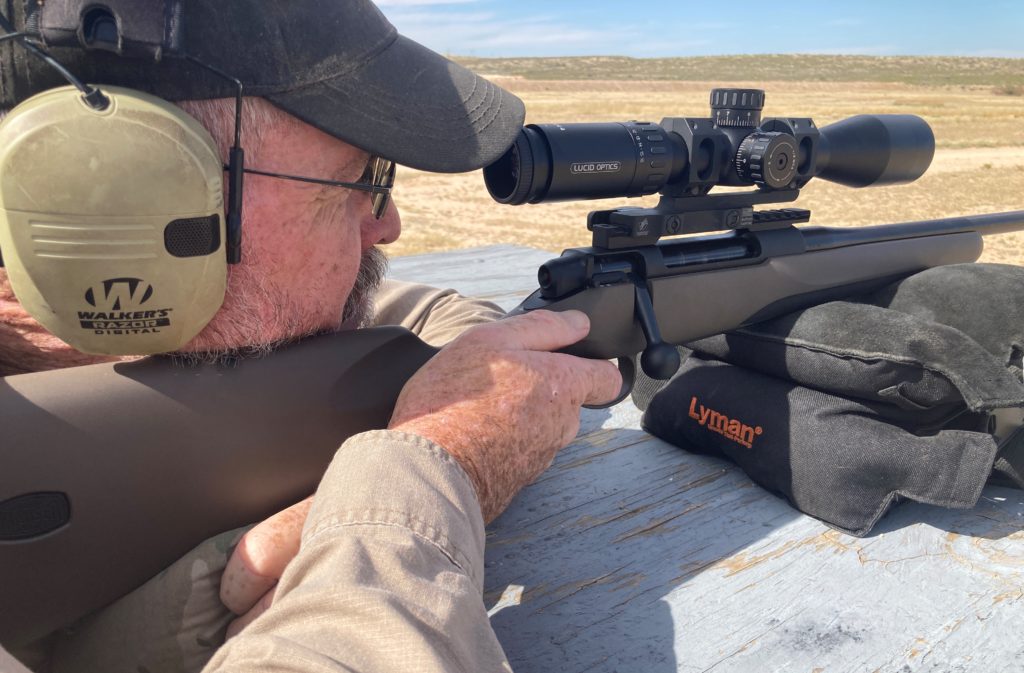 Mounting the L5 to the M18 was accomplished using the American Defense Recon (quick release cantilever) medium height scope mount. Past experience with this mount has always proven to be rock solid.
Once at the range I tested three brands of ammo and found they all performed exceptionally well in the M18.
Starting with Sig Sauers Elite Hunter Tipped 165 grain ammo, I found sub ½ MOA 3 shot groups were easily obtainable at 100 yards.
Next up was Hornady Outfitter 180gr performed nearly as well with groups that were in the ¾ MOA class.
The old standby, Remington Core Lokt in 165gr likewise performed well off the bench with groups in the ¾ to 1 inch class.
The Mauser M18 certainly proved to be an accurate rifle off the bench…now to the field.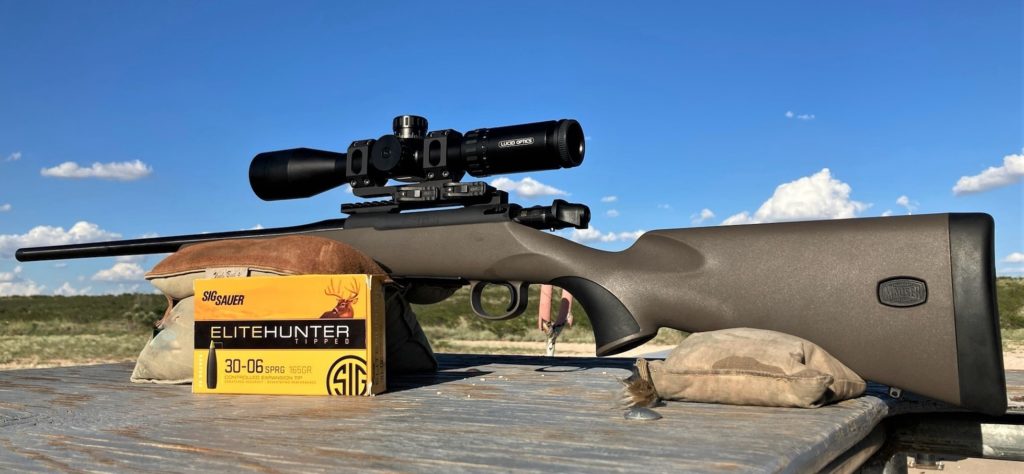 In the Hunting Field
Wanting to put the M18 to the test in a real-world hunting environment I looked to the Aoudad, also known as Barbary Sheep. These animals have become a much sought-after big game animal both in the US and abroad. Native to several countries of Northern Africa, they are also found in the Southwestern US, primarily Texas and New Mexico, where they have been introduced as an exotic game animal.
In New Mexico the Aoudad was introduced in the 1940s and 1950s by the Department of Game & Fish. Despite the debate today surrounding the topic of introducing non-native animals into the wild, there is little question these sheep provide a challenging hunting opportunity for many.
Considering the fact that rams themselves can weigh in the 300 pounds class and prefer rocky precipitous terrain along with renowned agility allowing them to elude predators and hunters alike, it is little wonder they are a top challenge for any hunter.
Mature rams are handsome animals and sport a mane of sorts that extends from the throat area down the chest and then along the front legs that are often referred to as chaps. A mature trophy ram will sport horns from around 25 inches to well over 30 inches and may exceed 36 inches in length.
Recently I decided it was time to reacquaint myself with Barbary Sheep hunting. Over 40 years ago I was fortunate to have taken rams on two different occasions, one in the 26-inch class, the other about 27 inches.
I was able to obtain written permission to hunt private land for the December hunt in a southeastern New Mexico big game unit and therefore obtained a private land carcass tag for Barbary Sheep.
My goal was putting the M18 in 30-06 caliber to the test while hunting and hopefully harvesting a New Mexico Aoudad. At 6.4 pounds minus the scope and mount, the M18 is ideal for a hunting rifle the steep rugged terrain Barbary Sheep occupy.
Aside from the Lucid L5 4x-16x scope I also made use of the Lucid SC9 Compact Spotting Scope. Aoudad blend into the Chihuahuan desert environment extremely well so quality optics for glassing are a must. The great thing about the SC9 is that it can literally be carried in a cargo pocket.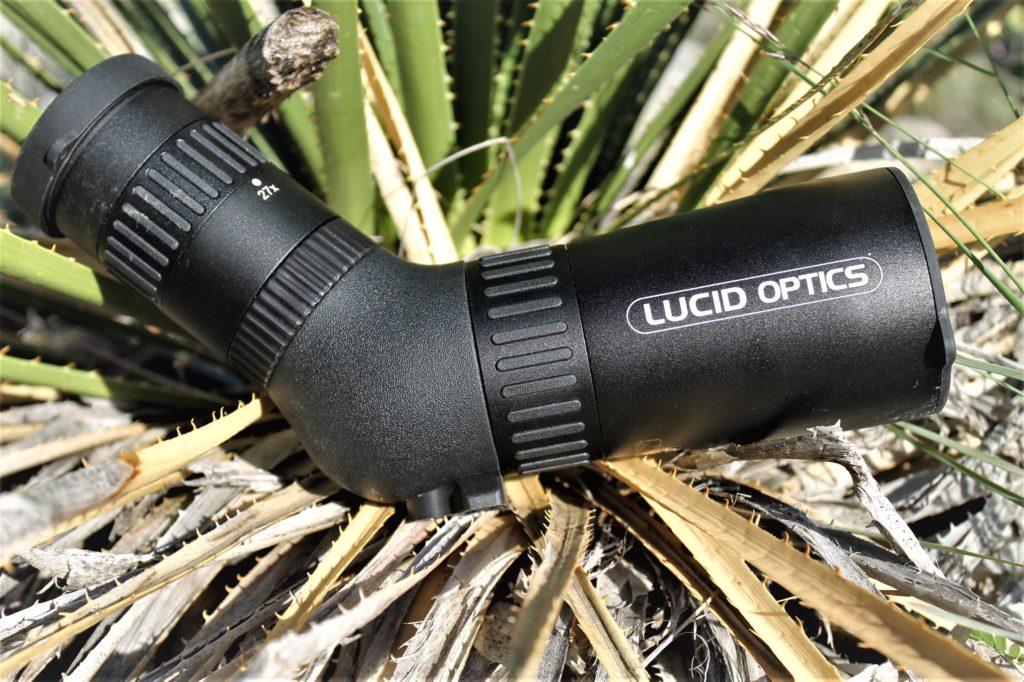 Hunting with good friend and area rancher Mark Wilkie proved to be a distinct advantage as he knew the ranch canyons well. We began each morning by moving slowly along a rough two-track jeep trail in the bottom of a canyon with towering walls.
All though sheep could be found almost anywhere in these rugged desert canyons, glassing the steep canyon walls is certainly a prime tactic. Using binoculars and spotting scopes from strategic vantage points along our route allowed for covering large swaths of prime sheep habitat.
Mark seemed to always spot sheep first. I found spotting sheep in this area much more challenging than on sheep hunts in the past. The canyon walls were enormous the sheep blend into to their background so well its truly amazing. Mark had a knack for knowing where to look in his country, and it showed.
Day one of hunting was encouraging. We spotted a herd of Aoudad with close to 30 animals in it. Two of the rams in the bunch appeared to surpass the 30-inch mark. However, the sheep were having none of it and made their way quicky up the canyon face topping out on the rim above, making any shot nearly impossible.
Later in the day a second group of about 10 animals was spotted, once again on very steep canyon walls, with only one fair ram at about 24 inches in horn length. We decided to pass opting for a larger ram.
Day two began hunting the same area with hopes of spotting the large herd from day one. We soon spotted sheep very near where the first herd was spotted the day before. The number of animals was about 15 to 20, a smaller group than from the previous day but possibly part of that same herd. We glassed two very nice rams in the bunch and worth a try for.
Another good thing about this herd was that they were only about a third of the way up the canyon wall placing them in a good position for a stalk. With the M18 in hand we quickly moved into a favorable position but found we were still about 300 yards from the sheep.
Using my small day pack as a rest on an uphill angle I was able to get the Lucid L5 cross hairs on one of the two biggest rams. The M18 and Lucid L5 were zeroed at 200 yards. Considering the distance about 300 yards uphill I quickly dialed up 1 MOA on the L5.
Settling the crosshairs just behind and center of the left shoulder of the biggest ram that was completely in the open, I pressed the trigger and immediately Mark reported a good hit.
Upon the report of the shot, the whole group of sheep scrambled uphill and for a couple of seconds my ram was lost among them. Mark quickly relocated him and reported he was still moving up hill. I rapidly recovered for a follow-up shot if needed. Mark soon reported there was no need as the ram turned back downhill, stopped on a ledge and went down for keeps.
These sheep are amazing. The ram had taken what we later discovered to be a through-and-through lung shot but still managed to go up hill at about a 40 to 50-degree angle for 100 yards o before slowing down…tough animals! The ram was down however with one shot utilizing Remington Core-Lokt 30-06, 165gr ammo from the Mauser M18 Savanna.
The ram measured out just a bit over 28 inches on each horn and is certainly a trophy class Aoudad in my book. While a 30 inch plus Barbary is always the hope and goal, the challenge of taking a Barbary on their turf makes any sheep you take well-earned.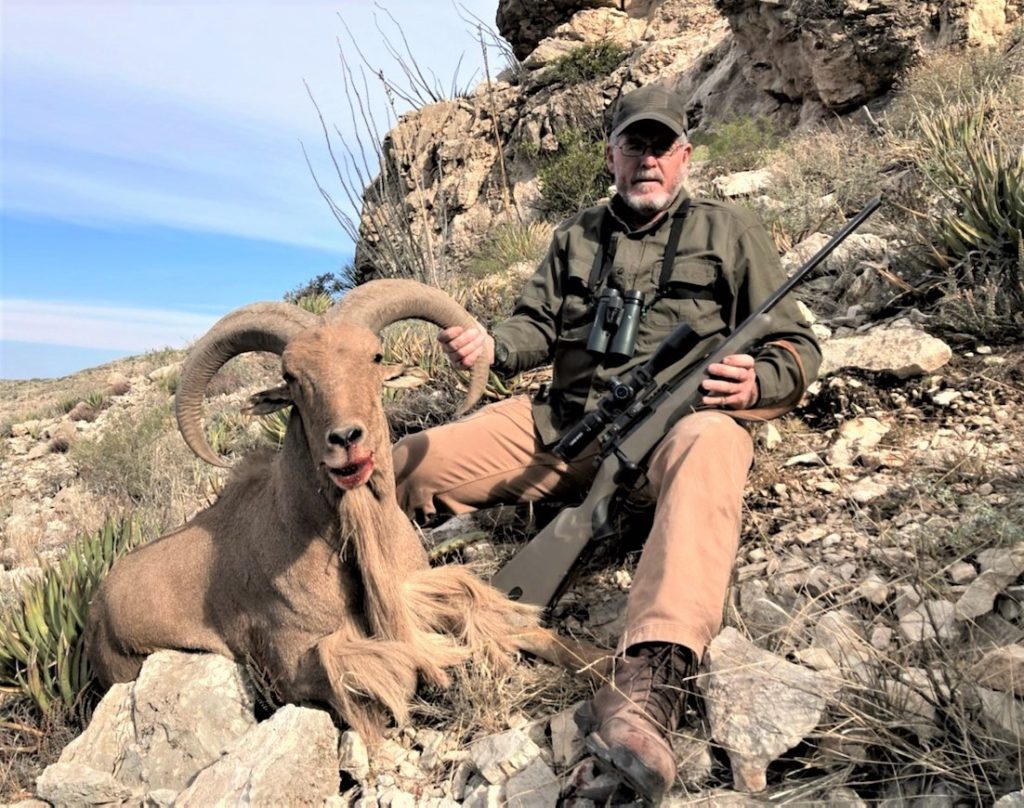 Final Thoughts
With the accuracy and light weight of this rifle (I do like the tan stock for hunting) the M18 Savanna is an affordable option for today's hunters and certainly proved itself on this sheep hunt. The shelve price of $600 to $700 also makes the Savanna competitive with most any factory-built hunting rifle on today's market.
For more information on Barbary Sheep and licensing options in New Mexico, check out the New Mexico Department of Game and Fish web site.
To locate a dealer near you visit: www.lipseys.com/dealerfinder
ABOUT THE AUTHOR
TERRY NELSON – is a 30-year veteran of law enforcement with police and sheriff agencies, including SWAT and sniper roles, and has served as a state game warden. Nelson also served seven years with New Mexico State Guard. A lifelong hunter, guide, tracker and firearms enthusiast, Terry is sought for training in multiple disciplines by both civilian and police-serving agencies and companies. Nelson also holds a Basic Tac Med instructor certification from Federal Law Enforcement Training Center.