In the last two years, some of the biggest new gun announcements were concerning new handguns and a carbine chambered in 5.7x28mm. Until now, there's not been an option in a stock-free "pistol" model, at least none that this writer has seen. Diamondback Firearms of Florida has filled that gap with their new DBX57 Pistol.
With an overall length of just 15.25 inches and weighing in at three pounds sans magazine/ammo, the DBX57 will fit pretty much anywhere except the average waistband. Its left-folding SB Tactical Picatinny brace gives the flattest possible profile.
Flexibility is the name of the game with this gun. Its tidy eight-inch barrel is threaded, and its gas tubes are easily adjustable, making it a great suppressor host for an already rather quiet and low-recoil cartridge. Its left-side charging handle is reversible, making it a little more friendly for southpaw users, though the right-side ejection has to stay.
A full-length rail on top allows the user to set up both irons and lens-based optics if desired. The A2-angle, flat-sided Magpul MOE-K pistol grip allows easier stowing and operation by people with smaller hands. The milspec trigger and selector switch likewise will feel familiar to AR users. Need to attach a sling, or light, or other accessory? The rear of the receiver has a sling swivel loop, and up front the aluminum handguard has plenty of M-LOK.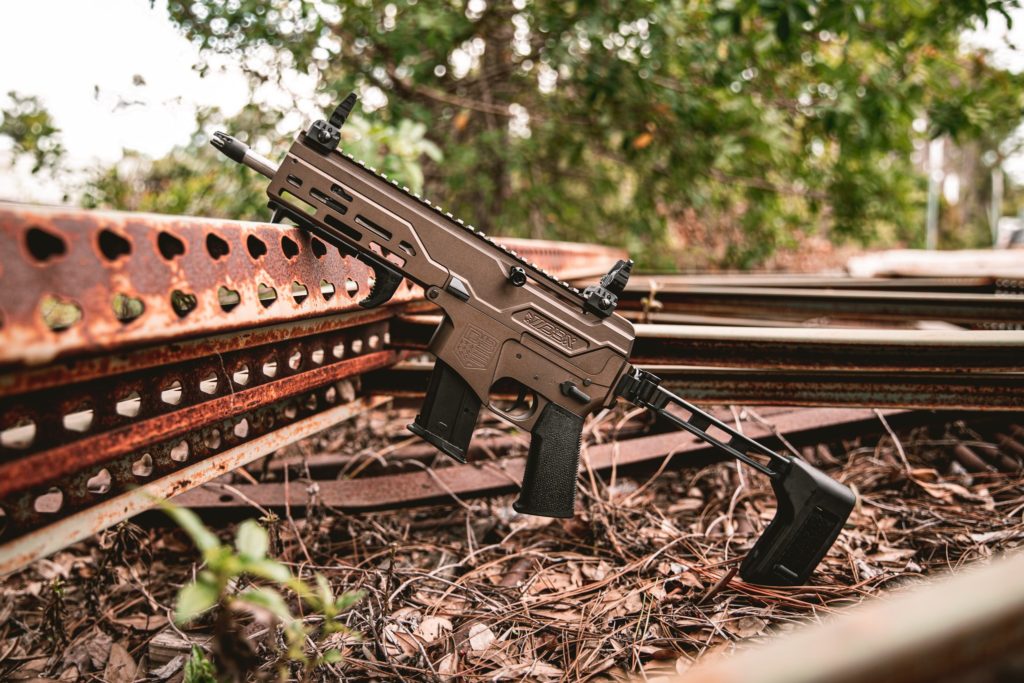 Adjusting the gas block is easily done with a screwdriver or coin. Since the gun is a dual-pistol system, it is necessary to adjust the gas tubes equally on each side. There are four positions, which are numbered for clarification. Unequal adjustment of gas blocks can cause malfunctions or even damage to the gun. This preventable problem does void the lifetime warranty for manufacturing defects.

Field stripping the DBX57 is its own process. Thankfully it is well-detailed with pictures and descriptions in the user manual. Diamonback invested some time here to make sure users have the resource the need for maintenance. They also provide good video instruction for care and maintenance on their website.
There's no need to fret over magazines with the DBX57. It accepts the 20-round magazines for the FN Five-SeveN. That's yet another thing Diamondback has done right with this pistol.
Midnight bronze, dark gray, and black are the standard colors for this gun. Davidson's distributors also have access to "brown," which most of us would call coyote tan. MSRP is $1,145.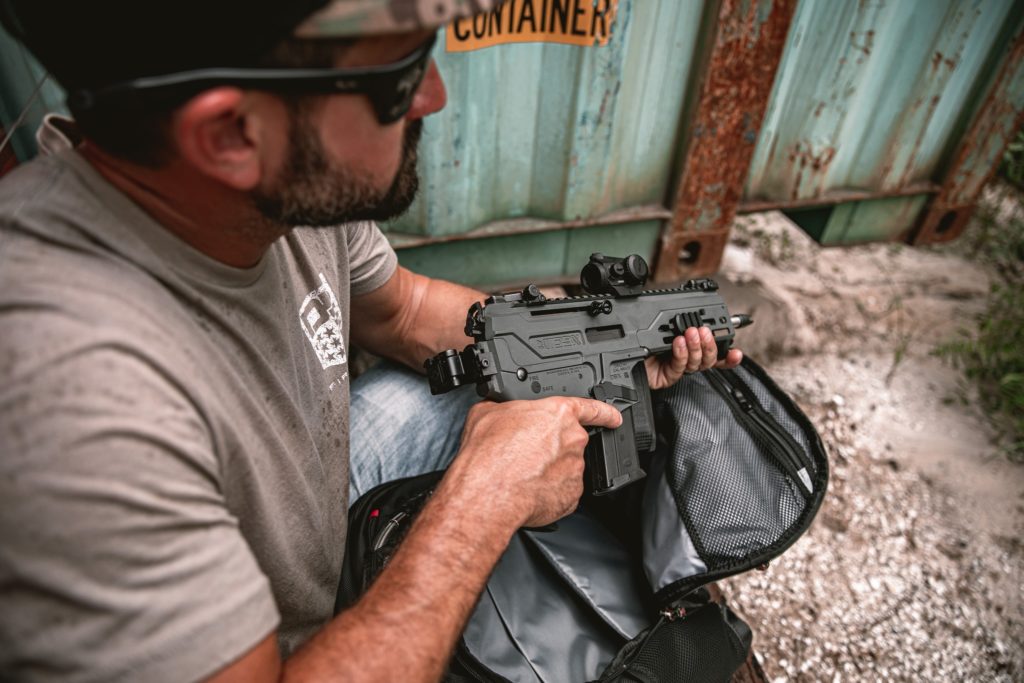 This user-friendly gun should, with training, be operable by anyone in the family who can safety handle a firearm. With virtually no recoil and light handling, along with multiple sighting options, it will serve home defense purposes for even the frail. I think it stands out as having great potential for varmint control for the same reasons. It'll pack into tight spaces in a vehicle and stay subtly out of the way until needed. And as a recreational gun, it may not be running the least expensive ammunition, but it should deliver plenty of enjoyment and, if fitted with a bipod or on a rest, provide solid mileage for precision shooting practice.
Specifications: Diamondback Firearms DBX57 Pistol

Operating System: Locked Breech, Dual Gas Piston
Caliber: 5.7x28mm
Frame: 7075 Aluminum, Hard Coat Anodized
Handguard: 6061 Aluminum, Hard Coat Anodized, M-LOK Compatible
Barrel Length: 8"
Twist Rate: 1:9 RH
Barrel Muzzle Threads: 1/2×28 RH
Muzzle Device Included: DBX Muzzle Device
Trigger: Standard AR15 Mil-Spec
Grip: MagPul MOE K
Action-Type: Semi-Auto
Sights Included: NONE
Magazine: 20 Round (FN Five-SeveN compatible)
Overall Length: 15.25 (folded), 24.75 (open)
Overall Height: 7.3"
Overall Width: 1.75"
Weight (With Empty Magazine): 3.0 lb
MSRP: $1,145
To find a dealer near you please visit the Lipsey's dealer finder here www.lipseys.com/dealerfinder
Article review by: Eve Flanigan
Eve is a defensive shooting and lifestyle student, practitioner, and instructor based in the American Southwest. Flanigan holds numerous NRA Instructor certifications and is licensed to instruct New Mexico's intensive Concealed Carry course. She regularly designs, conducts, and co-teaches classes on concealed carry, introduction to pistol, defensive pistol, basic rifle, last-ditch medical, and use of force for civilian students. Flanigan enjoys competing in run-and-gun biathlons that include carbine and pistol.