PHOTO CREDITS: JORDAN BELL
Best as I can recall, the last real production double action (DA) revolver in .22 Long Rifle (LR) that Colt made was the Diamondback. That small D-frame sixgun went out of production in 1988. It looked like a scaled-down Python and could also be had in .38 Special. There may have been some Colt special edition after that for one of the big distributors, but I can't seem to find any record of it if there was. It seems fitting then that after some 35 years, Colt brought back the DA .22 LR revolver in the form of the King Cobra Target.
Enter the King Cobra Target .22
             Colt returned to the world of DA revolvers in 2017 when they debuted the Cobra, a steel-frame .38 Special, this was the grandchild of the famous Detective Special. This six-shooter was offered in several versions; the first King Cobra Target Model was in .357 Magnum and came out in early 2022. It was stainless-steel, with a solid rib atop the barrel and a full underlug. The rear sight was adjustable, it had a red fiber-optic front sight, and walnut target-style stocks. My son Jordan did a T&E on it and found it was accurate and reliable. We both regret sending it back to Colt. We were both excited when the press release came out about the King Cobra Target .22 revolver. I requested a test gun from Colt in March 2022 and after an interminable delay, I finally received my test gun on 21 August 2023! At present, I'm seeing them for sale through various venues, so it looks like the production facility is cranking them out.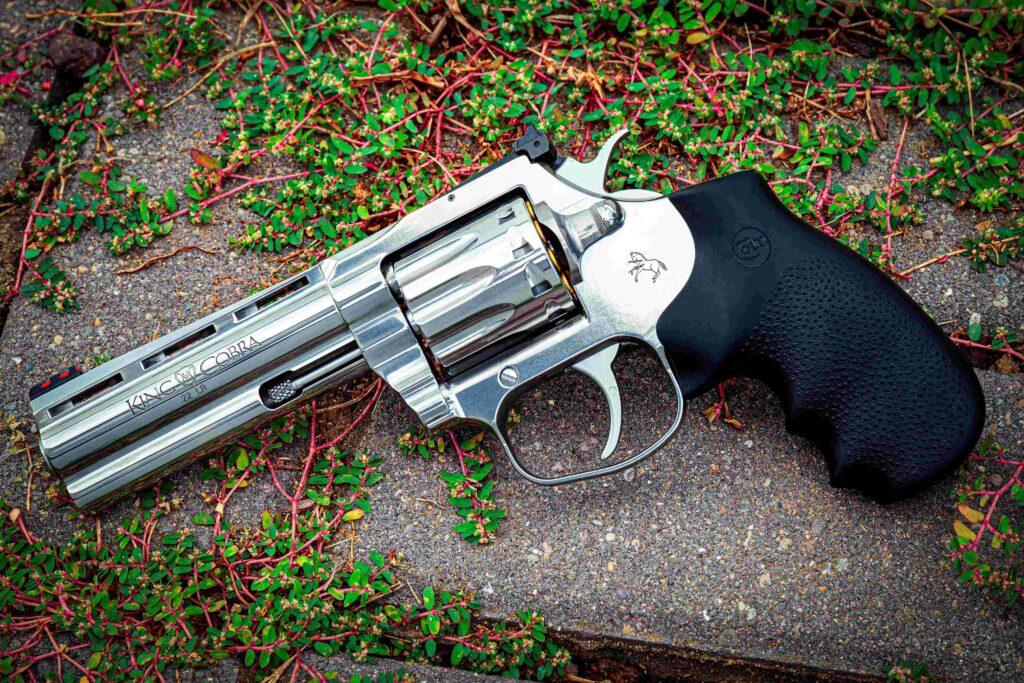 Announced in 2022 and now available is the Colt King Cobra Target revolver chambered in .22 Long Rifle.  
      The King Cobra Target .22 (KCT22) is available with a 4.25" or 6" barrel. Said barrel has a ventilated rib on top with a sloping ramp for the red fiber-optic front sight. This sight is held in place by a small screw just above the muzzle and it can be easily replaced. Like the Diamondback, it has a full underlug, which gives it some weight out front for balance. It has a linear leaf-spring powered action that makes for a 4-5 lb. single action (SA) pull weight and a 9.5-10 lb. DA pull weight. My 4.25" barrel test guns trigger had some creep in the SA mode, but the DA wasn't the least bit "stagey." The smooth-faced trigger was about 0.25" wide and contoured on the edges. The real surprise on this KCT22 was the 10-shot cylinder, a first for a Colt DA revolver. The cylinder is fluted and the cartridge case heads are not recessed in the rear of the chambers. Like all Colts, the cylinder rotates clock-wise and locks at the rear. The cylinder release latch on the left side of the frame is pulled to the rear to release the cylinder for loading or ejection of empties. The first press release I received indicated the new .22 ten-shooter would have walnut target stocks, but my test gun came with Hogue black over-molded rubber grips with pebble-grain texturing and finger grooves. The grip frame on the KCT22 is about the same as the old D-frame and I put a pair of 1973-era Detective Special stocks on it as proof. Like its predecessor, it is all stainless-steel with a semi-bright finish. It comes in a plastic carrying case, with an owner's manual, security padlock, and a round rubber cover for the rear of the cylinder that comes in handy for dry-firing.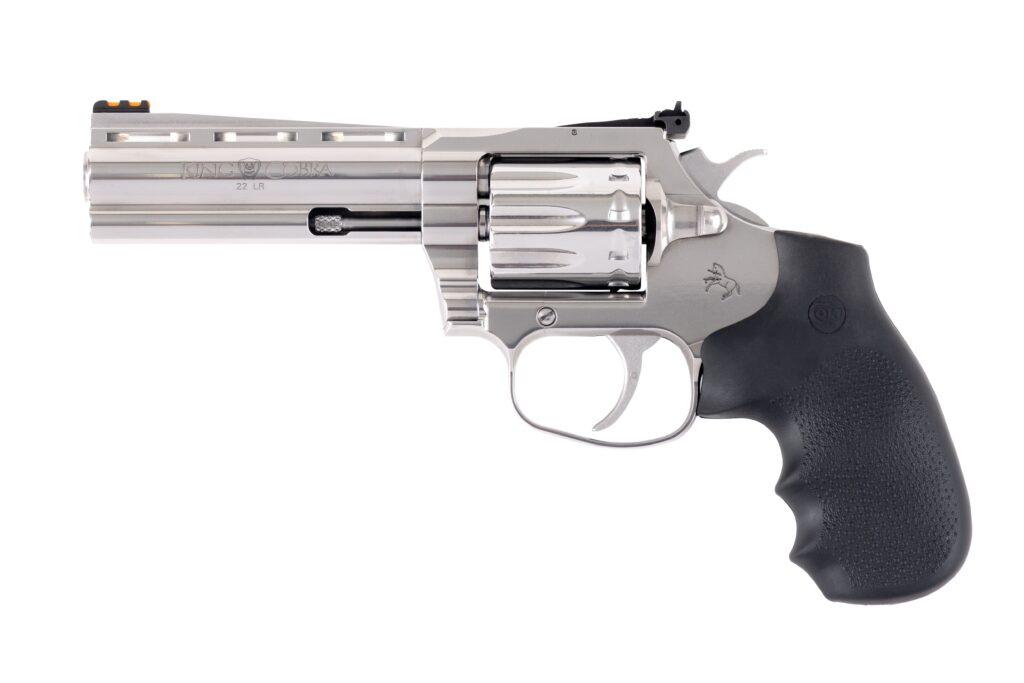 Like its predecessor the Colt Diamondback, the King Cobra Target 22 has a vent-rib barrel with a full underlug; note the King Cobra marking on the barrel.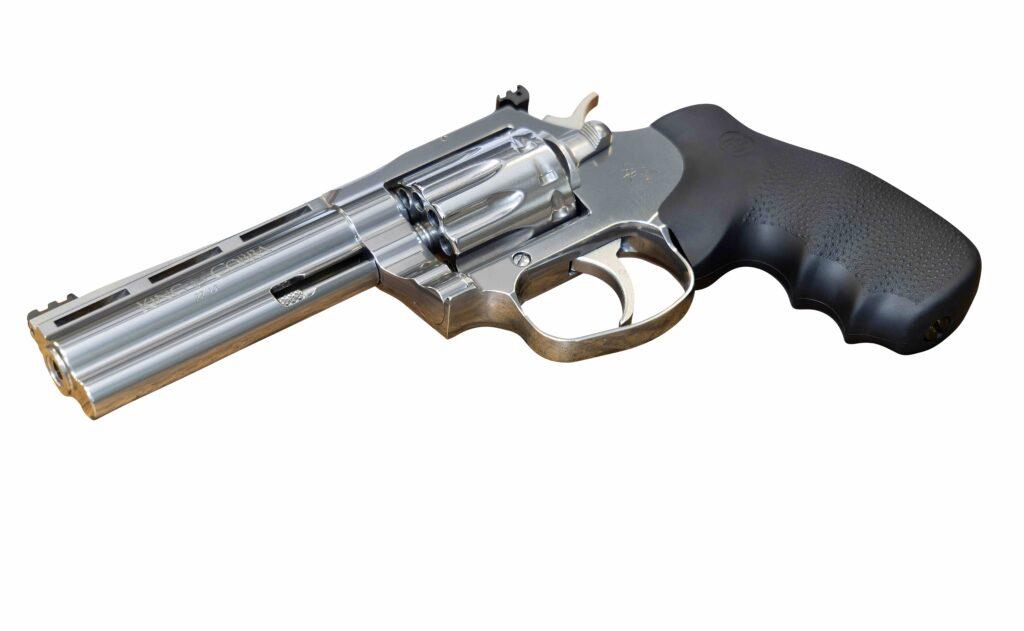 In this view, attention is directed to the smooth-faced trigger and the serrated cylinder release latch, which is pulled by to unlock the cylinder for loading.
Cartridges and Leather
            Rimfire handguns can be picky about the load(s) they shoot best with, so I used five different brands of .22 LR test cartridges with different bullet weights and configurations; all rated as high velocity. This included Armscor 36 gr. HP's, CCI 32 gr. Stinger HP's, Federal Punch 29 gr. plated lead core loads, Remington Golden Bullet 40 gr. solid points, and Winchester Wildcat 40 gr. solid points. All of these cartridges were fired in the Colt KCT22 with its 4.25" barrel to measure velocity using my Oehler Model 35P chronograph; the data is included in the performance table below    
To pack the Colt KCT22 on my belt, I wanted a leather holster, and contacted Rob Leahy at Simply Rugged Holsters as I'd seen one of his rigs advertised that interested me. This holster is an improved Tom Threepersons style; it rides high on the belt, is open-topped, but the revolvers trigger guard and cylinder are completely encased in leather. There's a tension-adjustment screw for security and the tunnel loop sewn to the back will fit a belt up to 1.75" in width. Mine was tan finished, but it can also be had in black or oxblood, and there are several options available. Rob also sent me one of his cartridge pouches with the same finish. It fits around a 1.75" belt and can hold loose rounds or a speed-strip. Being the great guy that he is, Rob sent along a pair of QuickStrips from Tuff Products that each hold ten .22 LR cartridges. They are made of a black neoprene material and allow you t load two rounds at a time into the cylinder.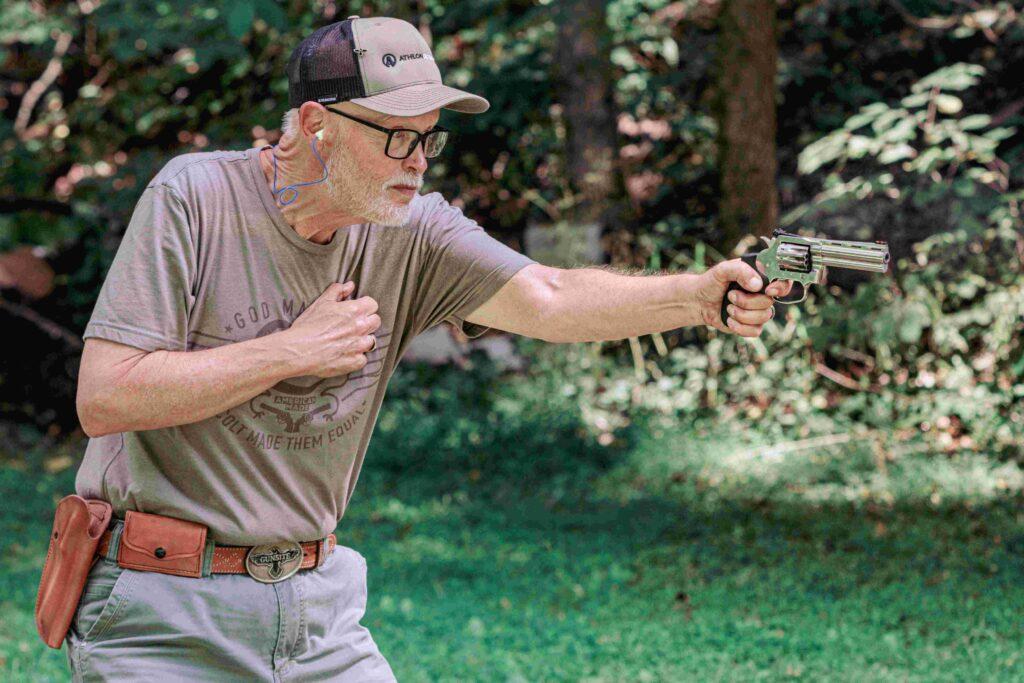 For a practical shooting exercise, a 30-shot course was devised, with shooting at 3, 7 and 15 yards, all DA; note the Simply Rugger Holster rig and cartridge pouch.
Range Results
Given the Colt KCT22 has a 4.25" barrel, adjustable sights, and a decent SA trigger, plus it's a "Target" revolver, I decided to do my accuracy evaluation at 25 yards. I used 8" oval-shaped targets with an orange center and fired three 5-shot groups with each of the test cartridges. This was done from the bench, using a sandbag rest and in the single action mode. My best 5-shot group would have been smaller, but a flyer opened it up to 1.77" and this was with the Federal Punch cartridges. The Armscor load came in a close second with a 1.89" group. A few groups went just over three inches, but were around the 2.5" mark. You can see the information in the performance table.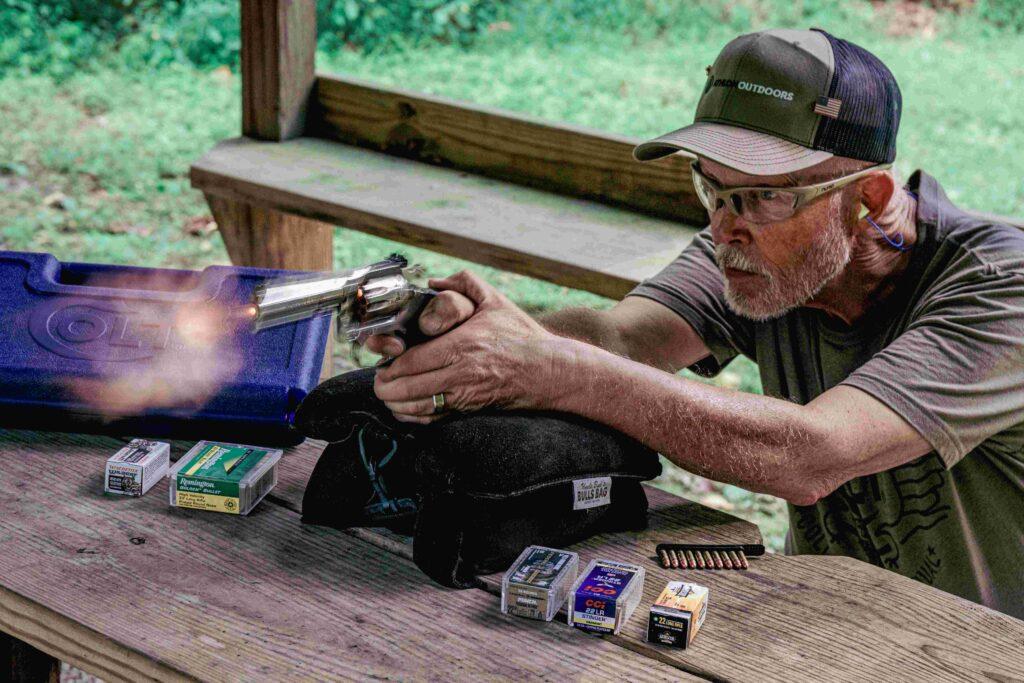 To evaluate accuracy, the King Cobra Target 22 was shot from the bench, using a sandbag rest at targets placed at the 25-yard line; 5 brands of .22 LR ammo was used.
     Strapping on my Simply Rugged Holster and cartridge pouch; I loaded my QuickStrips and the Colt and had 30 rounds in the gun and on my person. I put up a reduced-size "bad guy" target at 15 yards, and then advanced up to the 3-yard line. From this distance, I drew the Colt and shot 5 rounds strong hand only, transitioned to the support hand, and fired the other 5 rounds. This was done from a point-shoulder stance, looking over the sights. I the reloaded using a QuickStrip, re-holstered, and moved to the 7-yard line. Here, using a two-handed isosceles stance, and utilizing the sights, I shots a series of triple-taps; 2 center-mass and 1 head shot, re-holstering between strings. I did this three times and shot number 10 was made at the head. I again reloaded and re-holstered and repaired to the 15-yard line, where I used a post to simulate a barricade. Using the barricade as cover, I shot 5 rounds standing right-side barricade, the 5 more from a kneeling position, all center-mass. The center-mass shots on the "bad guy" were, with one exception, in the oval scoring rings of the target. My head shots left something to be desired, with 2 misses and 2 hits in the lower face/throat area.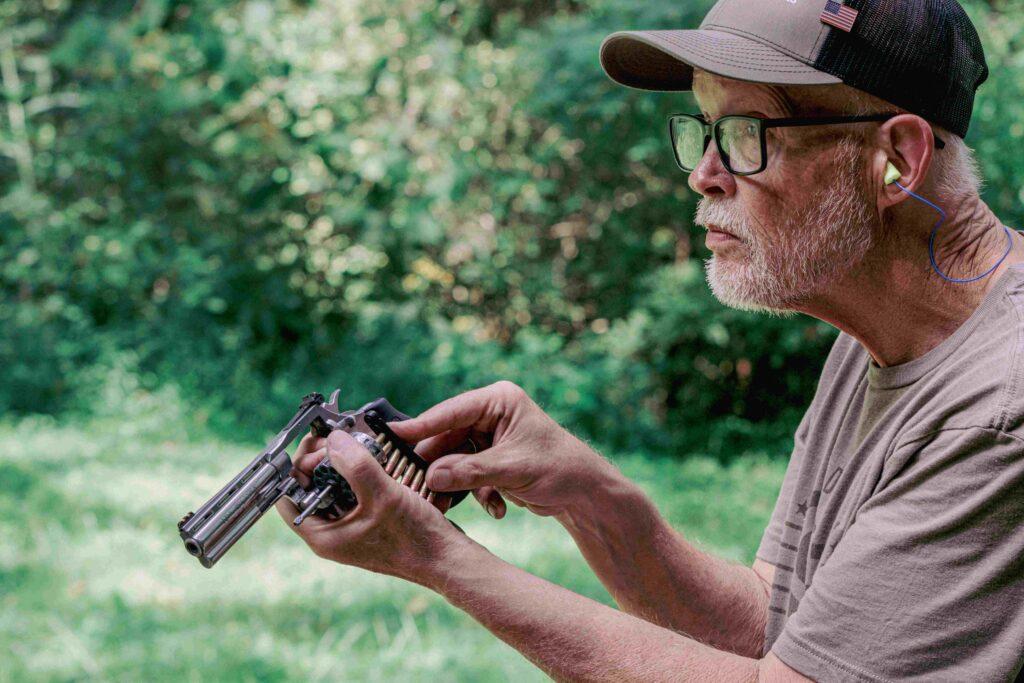 Between shooting stages on the course, the Colt King Cobra Target 22 was reloaded using the QuickStrips held in the Simply Rugged cartridge pouch.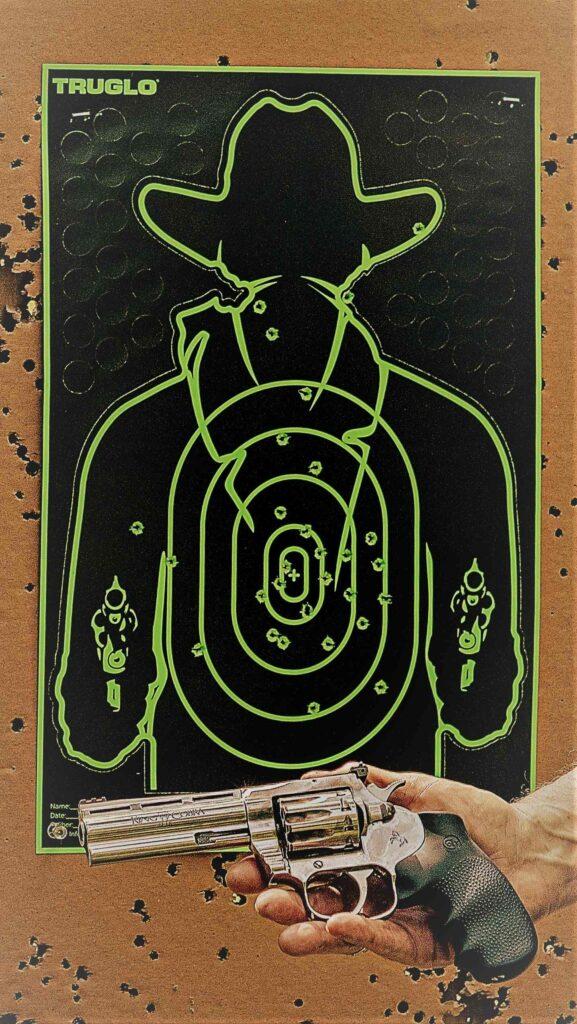 Here are the results of the 30-round course; the center-mass shots weren't too shabby, but the author was disappointed with the head shots.
Colt KCT22 Appraisal
            During the entire shooting evaluation, I had one misfire and that was a dud round, not a fault of the revolver. The Colt handled well and ran well. Of course, with its weight and the Hogue stocks, recoil and muzzle flip was not an issue. Single and double action shooting was aided by the linear leaf-spring action and the wide, smooth-faced trigger. Loading with the QuikStrips posed no problems and ejection of empties was positive. The sights were fast and easy to acquire during the DA shooting exercise. I believe the accuracy potential is there, BUT I am not a fan of the red fiber-optic sight. For shooting steel or in a combat course it is fine, but for dedicated paper-punching, I find it wanting. The rear sight is a whole other issue. It has a good-sized, flat-head screw for the elevation adjustment and it seems to stay in place once set. The windage screw is tiny and I had to use the smallest screwdriver in my kit to turn it. Once the adjustment is made, an equally tiny hex-head screw is used to lock it in place. Again, it took the smallest hex-wrench in my kit to turn it. I was also unsure when I had it tight enough and found the windage setting coming loose twice during the T&E shooting. It would be nice if Colt supplied a little multi-tool for this rear sight.
The Simply Rugged Holster and cartridge pouch worked as intended, as did the Tuff Product QuickStrips, so no complaints. Overall, I'm very pleased with the Colt King Cobra Target .22 revolver. It is well-made with the fit and finish in the "Top Drawer" category, I really like the King Cobra marking on the left side of the barrel that duplicates the original. In my humble opinion, this ten-shooter lives up to its heritage and brings forward the lineage of the Colt Diamondback.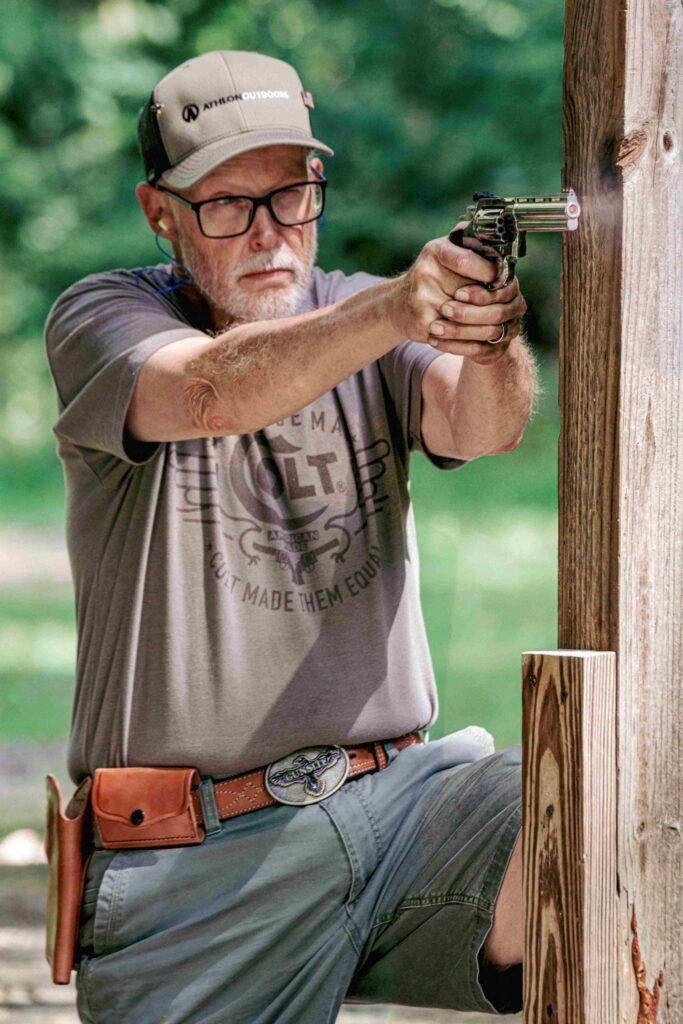 At 15 yards, a post was used as a barricade to simulate cover; shooting was done both standing and kneeling from the right side.
Additional Information
Colt Manufacturing Co., LLC www.colt.com
Simply Rugged Holsters www.simplyrugged.com
Tuff Products www.tuffproducts.com
Colt King Cobra Target .22 Specifications
MECHANISM:             Traditional DA/SA revolver
CALIBER:                    .22 Long Rifle
CAPACITY:                 10 cartridges
BARREL:                     4.25 in. (6 in. also available)
OA LENGTH:              9.25 in.
EMPTY WEIGHT:       34 oz.
SIGHTS:                      Adjustable rear, red fiber-optic front
FINISH:                       Semi-bright stainless
STOCKS:                     Hogue black over-molded rubber
MSRP:                         $999.99
Colt King Cobra Target .22 LR Performance
| | | | |
| --- | --- | --- | --- |
| Cartridge | Ave. Velocity | Best Group | Average Group |
| Armscor Precision 36 gr. HV-HP | 1042 FPS | 1.84" | 2.59" |
| CCI Stinger 32 gr. Copper-Plated HV-HP | 1238 FPS | 1.98" | 2.68" |
| Federal Punch 29 gr. Nickel-Plated Lead Core HV | 1264 FPS | 1.77" | 2.51" |
| Remington Golden Bullet 40 gr. Brass-Plated HV Solid Point | 936 FPS | 2.18" | 2.50" |
| Winchester Wildcat 40 gr. HV Lead Solid Point | 1067 FPS | 2.41" | 2.58" |
NOTE:  Bullet weight measured in grains, velocity in feet per second 10 ft. from the muzzle by an Oehler Model 35P chronograph, and accuracy in inches for three 5-shot groups at 25 yards.
To locate a dealer near you visit www.lipseys.com/dealerfinder