John Moses Browning's iconic 1911 pistol design has been with us for well over a century, for one very simple reason: it WORKS. The function, ruggedness, utility, balance, and beauty of the 1911 design has kept the old warhorse among the world's most popular pistols throughout this time. While fashions and fads have come and gone, the 1911 pistol has soldiered on, remaining as relevant today as at any time in its long and storied history, and is currently being offered by more large-scale factories and small-scale custom shops than I care to count.
Among the most prolific and most respected makers of 1911 pistols today is Springfield Armory®. Located in Geneseo, IL, Springfield Armory has positioned itself over almost five decades at the forefront of modern firearms design and manufacture, as well as a premier maker of time-proven designs such as their M1A® rifle series and their various 1911 pistol offerings. Springfield Armory's 1911 series spans a large gulf; from their dandy little EMP® 9mm compact pistol, to Mil-Spec 1911 models, to their custom Professional series models, Springfield Armory offers a 1911 pistol perfectly suited to any desire or any wallet.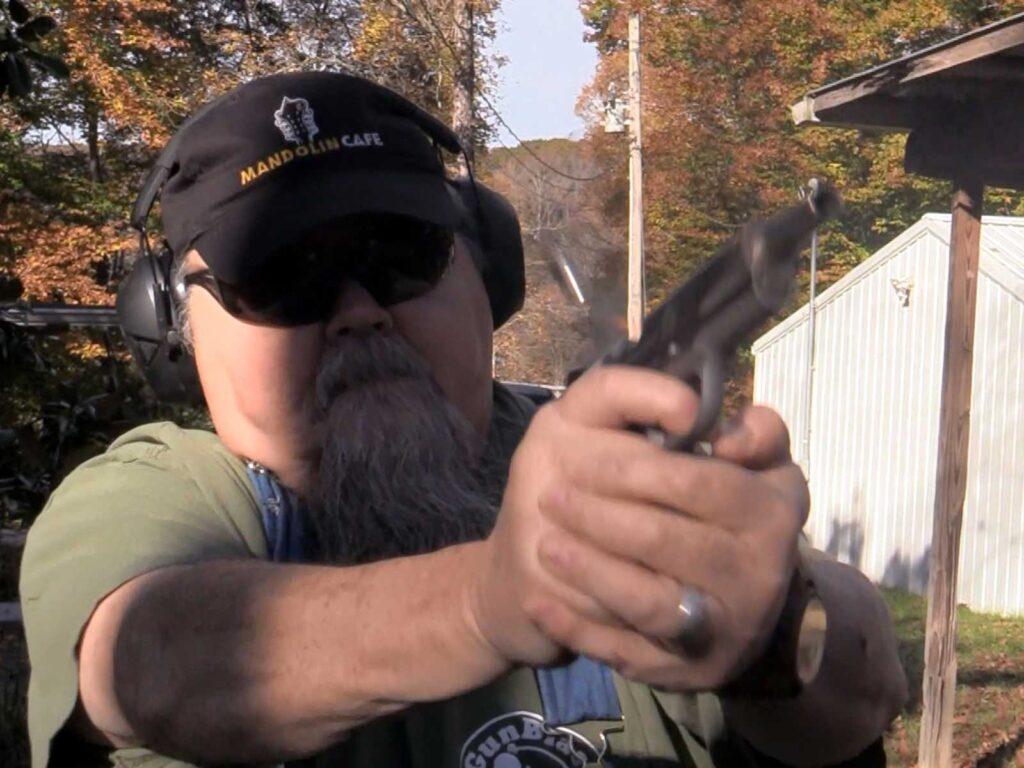 In order to offer a budget-friendly, all-forged-steel 1911 that offers upgraded features desired by today's 1911 aficionado, Springfield Armory introduced their 1911 Garrison 45 ACP pistol in November of 2021. Occupying a position just above the Mil-Spec series in price, the Garrison represents an even better bargain than the Mil-Spec, as it features significant upgrades in several areas, all for a nominal cost increase over the basic Mil-Spec model.
More recently, as a companion to the 1911 Garrison 45, Springfield Armory has expanded the 1911 Garrison line to include a 9mm version. The 1911 Garrison 9mm includes the same features as the 45 version, and sells for the same price as the 45 version. Also, like the 1911 Garrison 45, the 1911 Garrison 9mm is available in either blued-finished forged carbon steel, or in corrosion-resistant forged stainless steel. The blued-steel Garrison features a very nice hot salt blued finish, which is an upgrade to the Mil-Spec model's parkerized finish. The stainless steel version is also very attractively finished. The flats of the slide and frame of either are polished, while the rounded areas of the slide (top and bottom) and frame (front and back) are matte-finished; this yields a very pleasing appearance, but more importantly, having the top of the slide matte-finished means that reflected glare is all but eliminated. This allows a greatly-improved sight picture, especially in bright lighting conditions.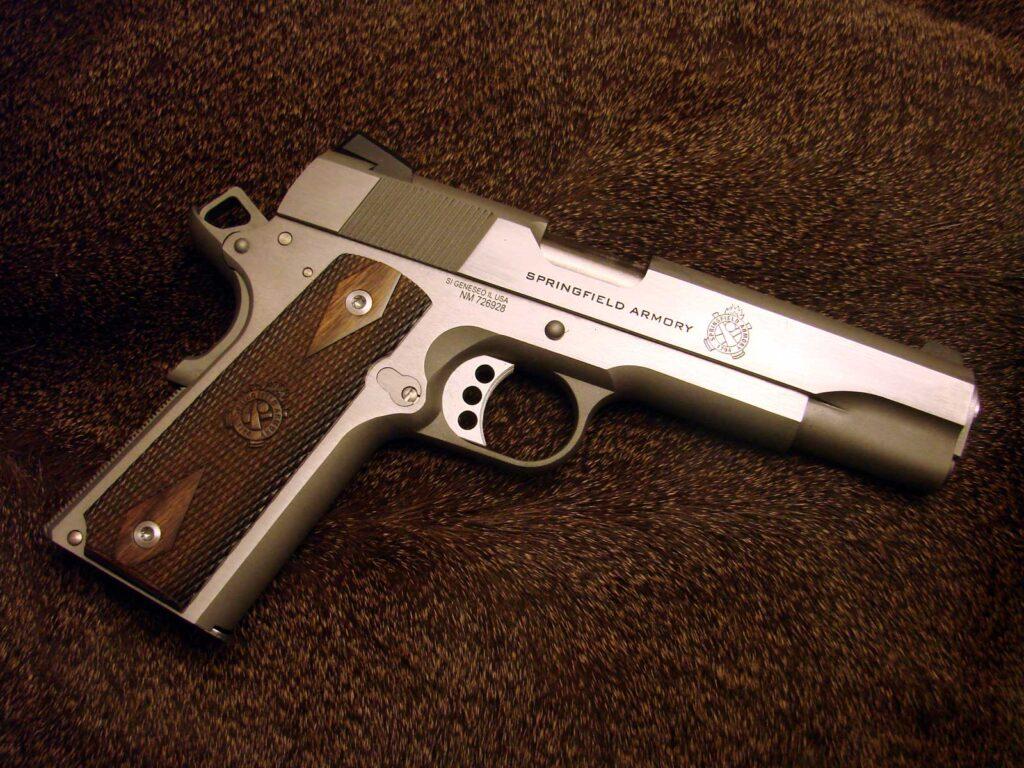 As for the sights themselves, again Springfield Armory has upgraded the Mil-Spec model. Consisting of a steel single-dot squared-post front sight and a steel drift-adjustable two-dot rear sight, the sights on the Mil-Spec model are already an improvement over the plain rounded front sight blade and tiny plain rear sight found on GI 1911 pistols. The Garrison improves on the Mil-Spec's sight system even further, with a steel serrated post single-dot front sight that is dovetail-adjustable for windage, and a steel two-dot Novak-style slanted rear sight that is dovetail-adjustable for windage and equipped with a set screw. The resulting "three-dot" sight picture is rightly the most popular among today's shooters, as it offers a quick, easy, precise, and repeatable sight picture.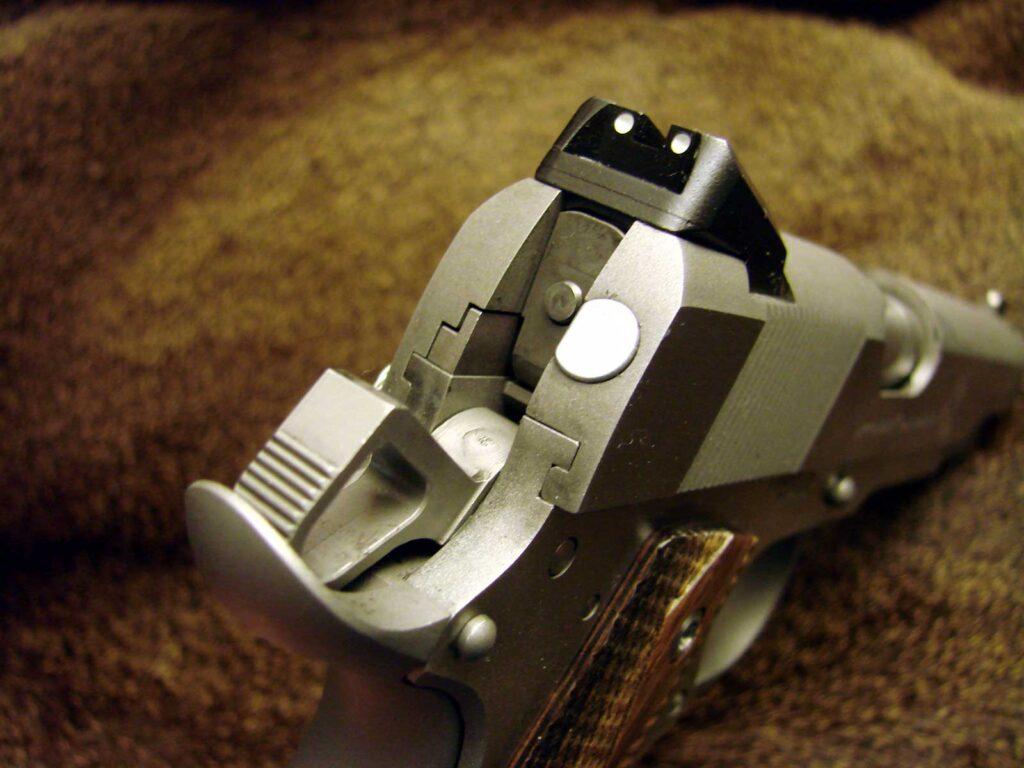 The Garrison's barrel is match grade, 5 inches in length, and made from forged stainless steel. The barrel's fit to the slide is superb, allowing no slop or play either fore or aft when the pistol is in battery. Coupled with the excellent sighting system, the quality of the barrel and the precision of the barrel's fitting combine to create a pistol capable of excellent accuracy.
Like the Mil-Spec model, the Garrison uses the tried-and-true GI-style recoil system, consisting of a recoil spring and plug underneath the barrel. Full-length guide rod recoil systems have been quite popular for decades, but there is nothing wrong with the spring-and-plug system as originally designed. I own many pistols with full-length guide rods, but I do have a preference for the original system's design. If it was good enough for John Browning, who am I to argue?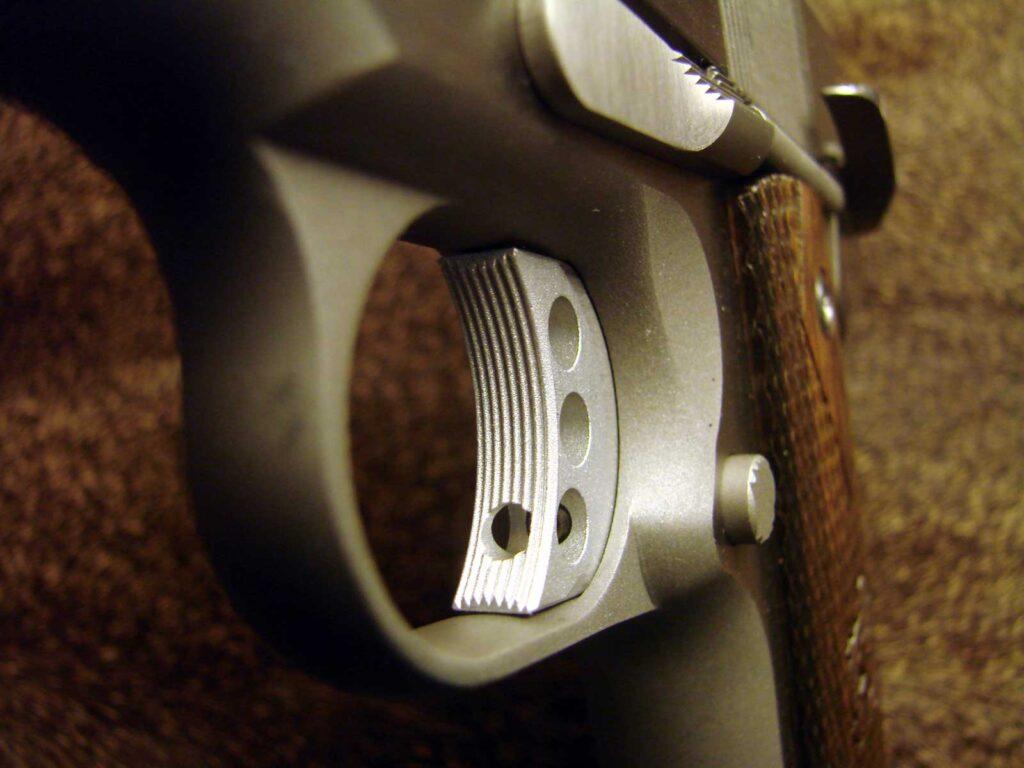 The Garrison's hammer is rounded and skeletonized, which allows for faster lock time, thus further aiding practical accuracy. The hammer perfectly nestles into the extended upswept beavertail grip safety, effectively eliminating hammer "bite" while properly positioning the hand high on the grip for a low bore axis. The grip safety also features a prominent "memory bump" to aid in its deactivation; this is a very useful feature for many shooters who, like myself, sometimes have trouble consistently deactivating the grip safety when maintaining a proper high grip and keeping the right thumb on the thumb safety.
The Garrison's thumb safety is right-hand only, grooved, and extended just the right amount for easy operation without getting in the way. The safety is perfectly fit, and it clicks on and off easily and positively.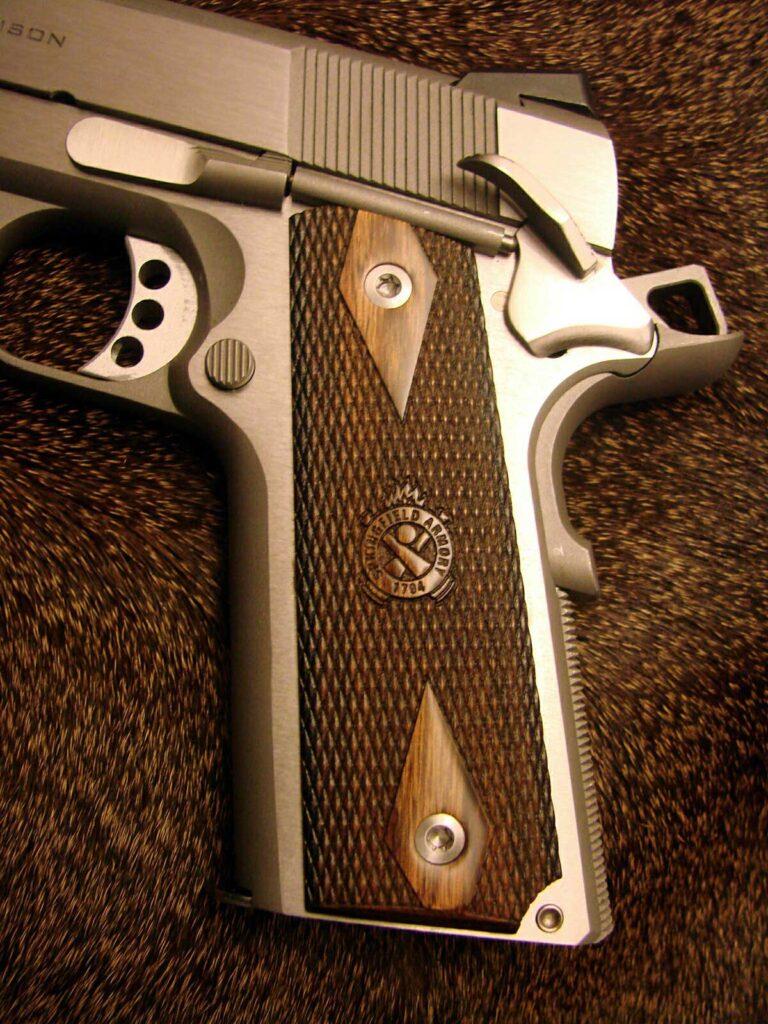 Further aiding in a proper and comfortable grip is the mainspring housing, which is flat and checkered, as is favored by many shooters, including myself.
The grips are both attractive and effective; I greatly prefer thin-profile grip panels, and the thickness of the Garrison's grip panels are perfect. The grip panels are made from nicely colored and figured rosewood, and are checkered in the classic "double-diamond" pattern with an etched Springfield Armory "crossed-cannons" logo.
The trigger on the Garrison is a long, skeletonized aluminum unit, with three holes to further reduce weight. The face of the trigger is vertically grooved, and an overtravel adjustment screw is included, which did not need to be adjusted on my Garrison. The trigger's action is very nice: after 1/10″ of takeup, the trigger releases at an average pull weight of 2 pounds, 13.9 ounces, as measured on my Lyman Electronic Digital Trigger Pull Gauge.
Specifications – Springfield Armory® "Garrison" 1911 Semi-Auto Pistol
Caliber: 45 ACP (as tested) or 9mm Luger
Frame / Slide: Forged Stainless Steel (Model #PX9419S 9mm, Model #PX9420S 45 ACP, as tested) or Forged Carbon Steel (Model #PX9420 45 ACP, Model PX9419 9mm)
Barrel: 5 Inches, Stainless Steel, Match Grade, 1:16 Twist
Sights: Low Profile Combat 3-Dot
Recoil System: GI Style
Grips: Thin Profile, Wood Laminate, Double-Diamond Checkered with "Crossed-Cannon" Emblem
Overall Height: 5.5 Inches
Overall Length: 8.6 Inches
Weight, Unloaded: 37 Ounces (45 ACP), 38 Ounces (9mm)
Trigger Pull, As Tested: 2 Pounds, 13.9 Ounces
Magazines Included: One 7-Round (45 ACP) or One 9-Round (9mm)
Accessories Included: Box, Manual, Zippered Gun Rug with Springfield Armory Logo, Cable Lock
MSRP as of October 2023: $917.00 (Stainless), $868.00 (Blued)
Shooting the Garrison was a joy – after all, it is a 1911 – and the pistol proved to be as reliable and accurate as it is beautiful. I spent a pleasant afternoon shooting a wide variety of ammo through the Garrison 45; everything from Military "Ball" to lead SWC loads to lightweight JHPs and lead-free loads functioned flawlessly, with zero malfunctions of any kind. A couple of loads that exhibited fine accuracy were Buffalo Bore's excellent 45 ACP +P TAC-XP load using Barnes® all-copper bullet, and Double Tap's 230-grain FMJ Flat-Point. A load that I often use and carry is Federal's 230-grain Hi-Shok® JHP, which combines good accuracy with excellent bullet performance at a modest price.
Obviously, there are a great many holsters available for the 1911 pistol, and I own a bunch of them. One of my favorites for concealed carry is the "CID Slide" from Rob Leahy at Simply Rugged Holsters. The CID Slide is a minimalist pancake design, with an open slide. The CID Slide is designed for compact pistols, but I find that it works wonderfully on full-sized 1911s; even though it does not offer full protection for the service-sized pistol, its bare-minimum design makes it less bulky and easier to conceal than many holsters. It is rugged, reliable, and economical, starting at only $50.00. Many extra-cost options are available, from tooling to stamping to hand carving, as well as exotic leathers such as mine, which is shark skin.
The 1911 Garrison pistols currently occupy a middle-ground in Springfield Armory's 1911 pistol line: a Mil-Spec 1911 pistol with upgraded sights, trigger, and controls, offering many features that the 1911 shooter wants, at a price that is not much higher than the basic Mil-Spec model. The 1911 Garrison's purchase price includes one magazine (additional magazines are available from the Springfield Armory Store, as well as many other sources), box, zippered nylon gun rug with Springfield Armory logo, manual, and Allen wrench sized to fit the rear sight set screw. Nicely made from forged steel and quality components, and proudly made in the USA, the 1911 Garrison pistols from Springfield Armory represent a great value on today's market.
Springfield Armory: https://www.springfield-armory.com/
To find a Lipsey's dealer in your area, click on the Dealer Finder at Lipsey's: https://www.lipseys.com/dealerfinder
Simply Rugged Holsters: https://www.simplyrugged.com/
Buffalo Bore Ammo: https://www.buffalobore.com/
Double Tap Ammo: https://doubletapammo.com/ Federal Premium Ammo: https://www.federalpremium.com/
About the Author:
Boge Quinn is a life-long shooter, born and raised in the Great State of Tennessee. A co-founder of Gunblast.com (https://gunblast.com/)in the year 2000, along with his brother Jeff Quinn, Boge has continued on with Gunblast after Jeff's passing in 2020. A Lifetime Endowment member of the NRA, Boge serves on the Board of Directors of The Shootists (https://shootists.org/), an organization started by John Taffin in 1985, as did his brother Jeff. Boge appreciates firearms of all types, but his soul is particularly stirred by the "older style" guns: lever-action and single-shot rifles, along with Single-Action and Double-Action revolvers and 1911-style pistols. As a former professional artist, Boge appreciates the aesthetics of a fine gun, as well as its mechanical precision and practical application. His particular affinity lies in the world of handguns, and he has hunted mostly with handguns of all types since the mid-1970s. A regionally well-known musician, Boge is also a Deacon in the same Baptist Church where his brother Jeff formerly served as Deacon, and where their Dad finished his 50-year career as Pastor.