When Sturm, Ruger & Company introduced the Single-Six 22 Single-Action sixgun in 1953, they really set the revolver world on its ear. As Colt's venerable Single Action Army was out of production, Ruger's little revolver single-handedly revived the single-action sixgun design, which had long since been pronounced dead and buried. The Single-Six was chambered for the 22 Long Rifle cartridge, and was reminiscent of the sixguns being used by characters of the then-popular Western movies and TV shows; but despite its conventional "Colt-like" appearance, the Single-Six featured a modernized design and materials, making it superior to the original sixguns it evoked. The Single-Six proved to be wildly successful, and much more than just a nostalgic revolver: for generations it has served many thousands of woodsmen, campers, and hunters as a reliable companion. The New Model Single-Six continues to appeal to the traditionalist in us all, as it remains in production to this day, with many varieties from which to choose.
In 2019, Ruger introduced their Wrangler® 22 Long Rifle sixgun, once again setting the revolver world on its ear. The Wrangler took the design and features of the Single-Six to a new low in pricing, and a new high in value for the dollar. Thanks to the use of lower-cost metals in non-stress areas, applied finishes rather than the more traditional and labor-intensive finishing techniques, and corresponding savings in manufacturing costs, Ruger's Wrangler costs a bit more than one-third the price of the least-expensive Single-Six model currently available.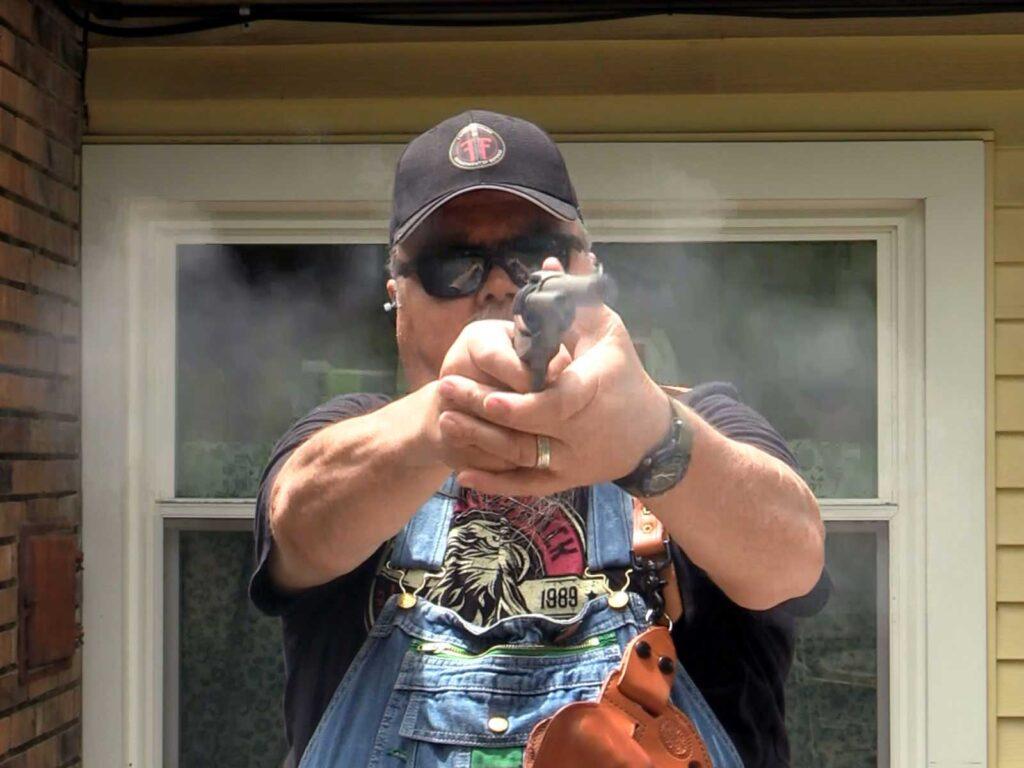 Author Boge Quinn shoots the 7-1/2″ Wrangler
At its introduction in 1953, the "Old Model" Single-Six sold for $57.50. Seven decades later, rampant inflation and the ever-increasing devaluation of the dollar means that $57.50 would equal $661.20 in today's money. The Ruger Wrangler sells for a suggested retail price of only $269.00 US, which would have been $23.39 in 1953. In simpler terms, the new Wrangler costs significantly less than half the price of the original Single-Six in real money.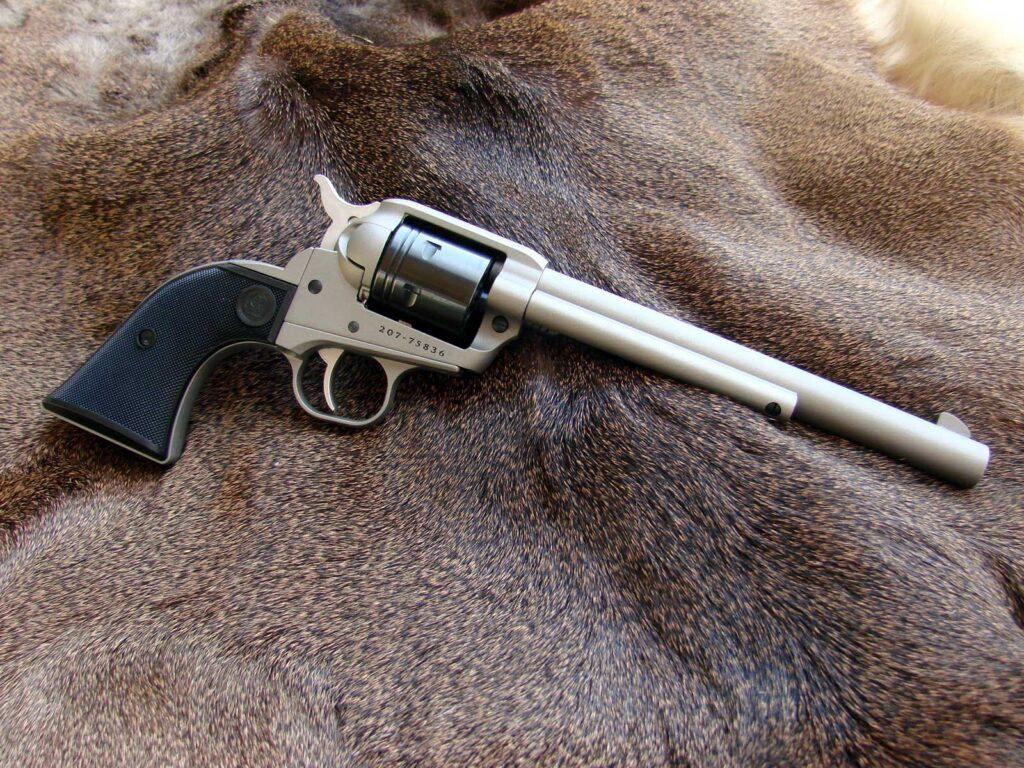 Ruger's 7-1/2″ Wrangler
Internally, the new Wrangler is pretty much a Ruger "New Model" Single-Six, with a couple of changes. Like all Single-Sixes made since the model's inception, the Wrangler uses coil springs for reliability and durability. Like Ruger's New Model Single-Sixes produced since 1973, the Wrangler features Ruger's transfer bar safety, so that, unlike the original Single-Six of 1953 through 1973, the Wrangler can be safely carried with all six chambers loaded. One notable internal change is that the new Wrangler has a "free-spin pawl", allowing the cylinder to rotate in either direction when the loading gate is open. This makes for easy alignment of the chambers with the loading gate when loading and unloading the sixgun; if one is familiar with loading & unloading the Single-Six, it has always been a bit exasperating that if the cylinder is rotated until it "clicks" on the next chamber, the chambers will not align with the loading gate, and the cylinder has to be rotated back around. The free-spin pawl makes this exasperation a thing of the past.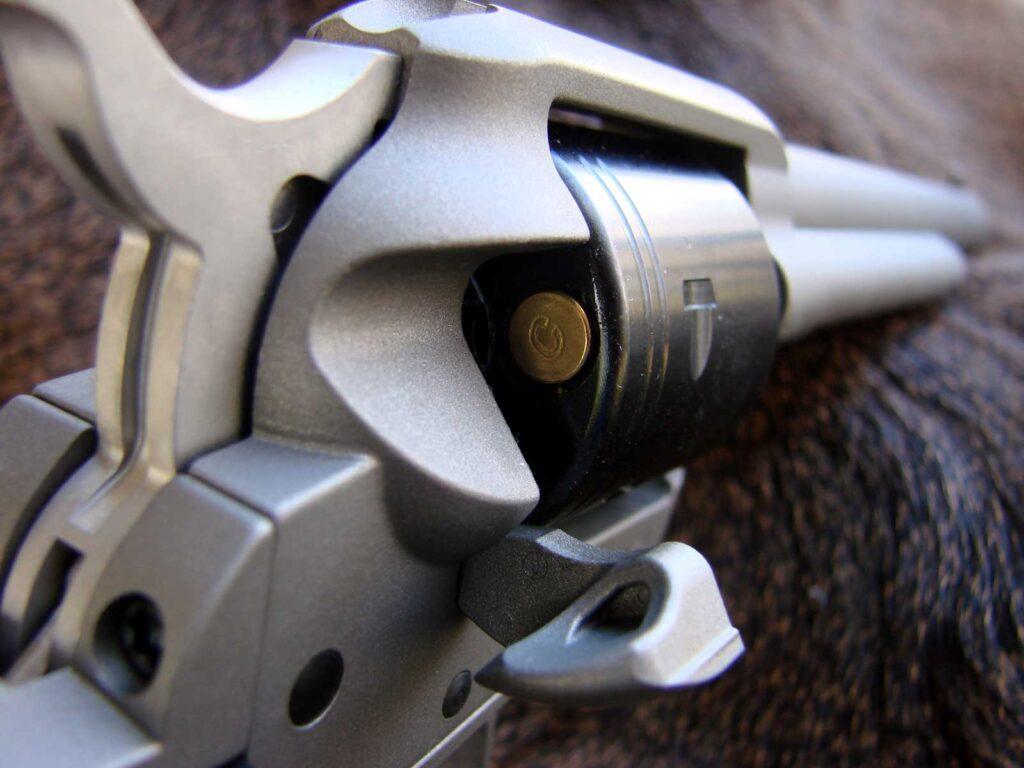 Opening the Loading Gate engages Ruger's Loading Gate Interlock, which prevents the gun from firing during loading/unloading procedures. Free-Spin Pawl allows the cylinder to rotate in either direction for easier loading/unloading.
The Wrangler has an aluminum grip frame and aluminum cylinder frame for lighter weight, along with a zinc alloy grip frame for further weight and cost savings. The ejector rod housing is also made of aluminum. The barrel, cylinder, and small parts are made of steel. Most of the revolver is finished in a satin Cerakote, which is handsome and durable, while offering protection from rust. Three different finishes are offered at this time: Black, Silver, and Burnt Bronze. Cylinders are blued steel. The hammer and trigger are a satin silver. Grips are checkered black plastic, and are of the XR3-RED pattern used on most Single-Six and Blackhawk revolvers, as well as the Single-Seven, Single-Nine, and Single-Ten.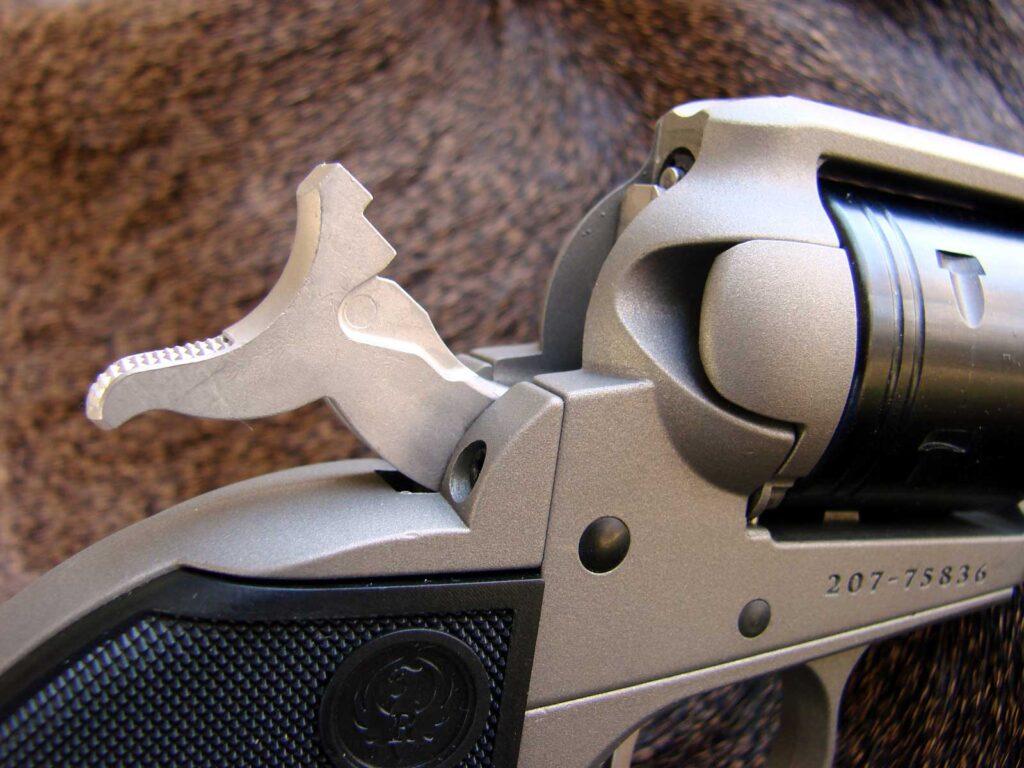 Ruger's Transfer Bar Safety System allows the sixgun to be safely carried with a live round under the hammer.
The sights consist of a fixed-blade front and a notched-frame rear, much like those on the Ruger Vaquero and Colt Single-Action Army style revolvers. The trigger pull on my example was crisp, with just a bit of pre-travel before releasing cleanly at just under three pounds, as measured on my Lyman Electronic Digital Trigger Pull Gauge. This is an excellent trigger, much better than one would expect on a sixgun in the Wrangler's price range.
Wrangler models are currently offered in several barrel lengths to suit just about any use: 3.75″, 4.62″, 6.5″, and now 7.5″ as is the subject of this article.  The longer barrel offers a slight velocity advantage over the shorter-barreled versions, along with greater practical accuracy potential. Longer barrels are not really more accurate than shorter versions, but the increased sight radius afforded by the longer tube means that less angular deflection will result from the shooter's natural sight wobble. The longer barrel also shifts the weight balance forward, making it easier for many shooters to hold the sights on target. Combined with this Wrangler's excellent trigger pull, the longer sight radius and forward balance makes for pleasant shooting, with satisfying accuracy using a variety of ammunition types.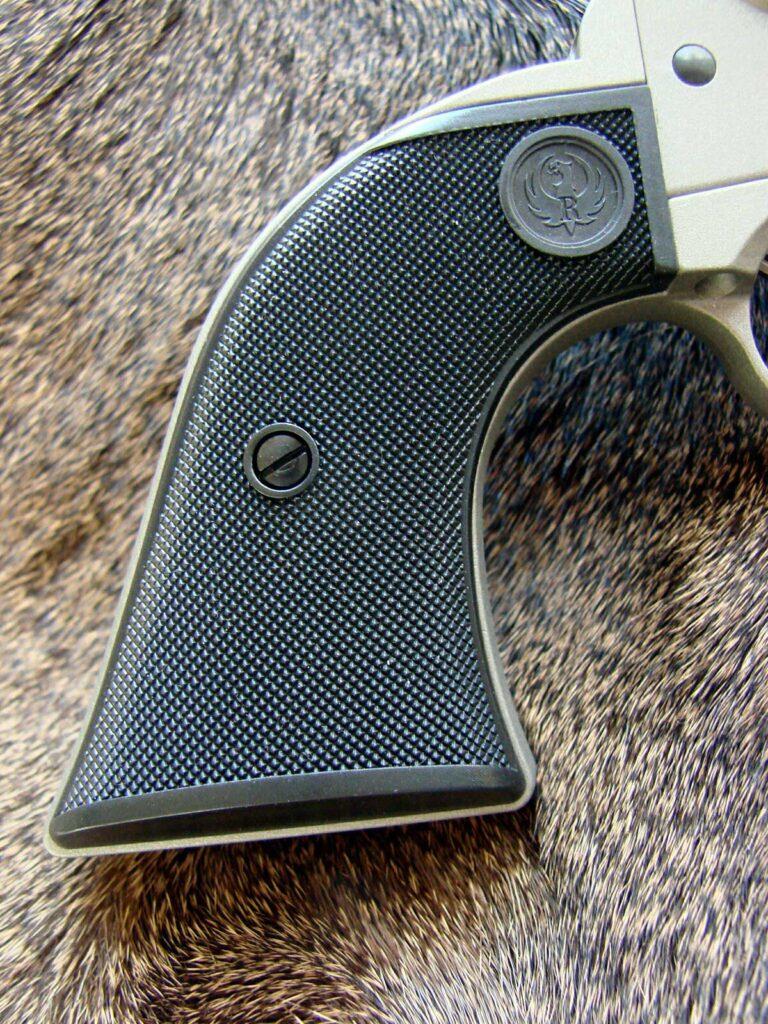 Checkered Synthetic Grips on Single-Six® Pattern Grip Frame. Aftermarket grips made to fit the Single-Six will fit the Wrangler.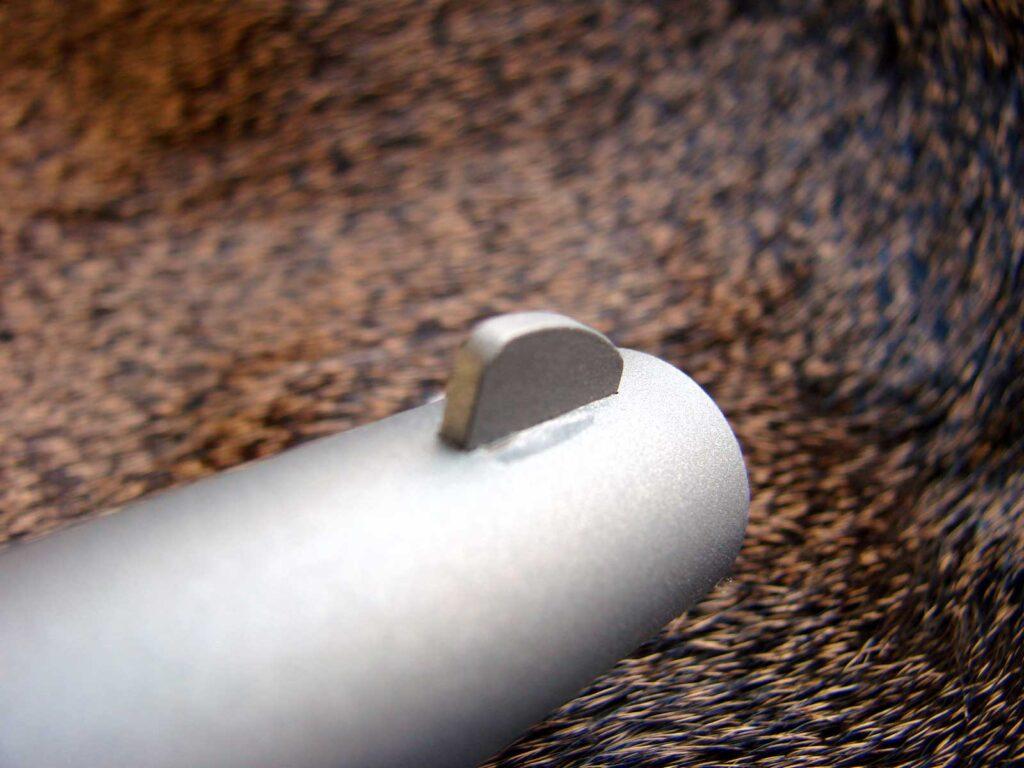 Fixed Sights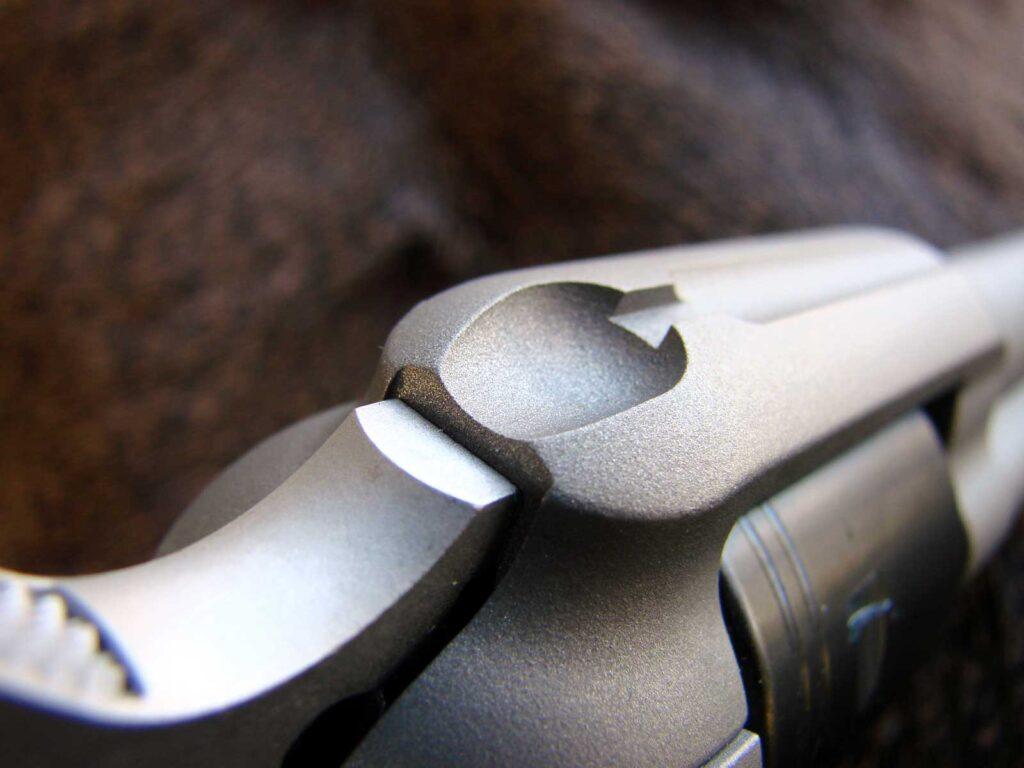 Chambered for the 22 Long Rifle cartridge, the Wrangler will also fire 22 Short, 22 Long, 22 LR Shotshells, and 22 CB Caps, if desired. The cylinder has six chambers. No 22 Magnum cylinder is offered at this time, but Ruger does currently offer a dual-cylinder 22 Magnum / 22 Long Rifle "Super Wrangler" with adjustable sights; at this time, the only barrel length available for the Super Wrangler is 5-1/2 inches, and the Super Wrangler costs $60.00 more than the standard Wrangler.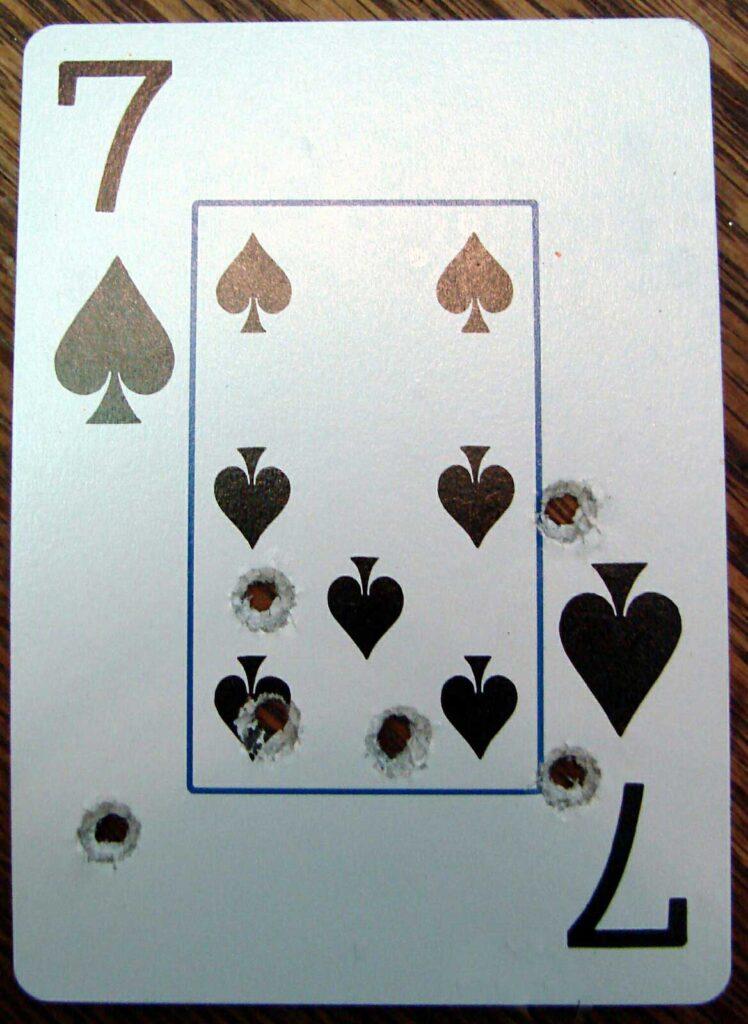 Federal Champion 36-Grain High-Velocity Bulk Pack: Six-Shot Group at 15 Yards, Standing Offhand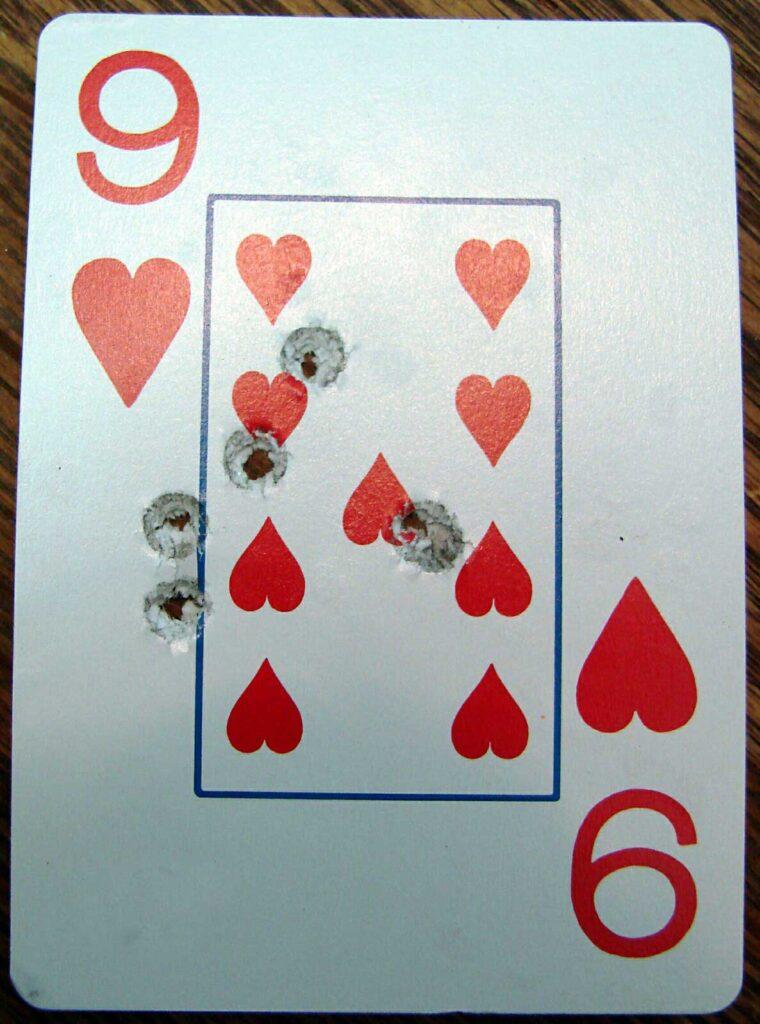 CCI Standard Velocity 40-Grain LRN: Six-Shot Group at 15 Yards, Standing Offhand
SPECS – Ruger® Wrangler® 22 LR Sixgun with 7-1/2″ Barrel
Model #: 2039
Caliber: 22 Long Rifle
Action Type: Revolver, Single Action
Cylinder Capacity: 6 Shots
Overall Length: 13 Inches
Weight: 34.1 Ounces
Cylinder Frame: Aluminum Alloy, Silver Cerakote® Finish
Grip Frame: Zinc Alloy, Silver Cerakote® Finish
Barrel: 7.50 Inches, Cold Hammer Forged Steel, Silver Cerakote® Finish, 6 Grooves, 1:14″ RH Twist
Cylinder: Steel, Blued Finish
Front Sight: Fixed Blade
Rear Sight: Integral Groove
Grips: Checkered Synthetic
Safety Features: Transfer Bar, Loading Gate Interlock
Trigger Pull: 2 Pounds, 14.7 Ounces
UPC #: 7-36676-02039-3
MSRP as of September 2023: $269.00 US
Holster options for the Wrangler abound, as any holster that will fit a Single-Six, as well as many other 22 sixguns, including the Colt Frontier Scout, will work perfectly. A holster of which I am particularly fond is the "Eldorado" by Rob Leahy at Simply Rugged Holsters. The Eldorado is a simple, traditionally-styled open-mouth Western style leather holster for Single-Action and Double-Action revolvers. It is sleek, practical, attractive, and reasonably priced, selling for a starting price of $80.00, with many options available from border-stamping to full-stamping to hand-carving.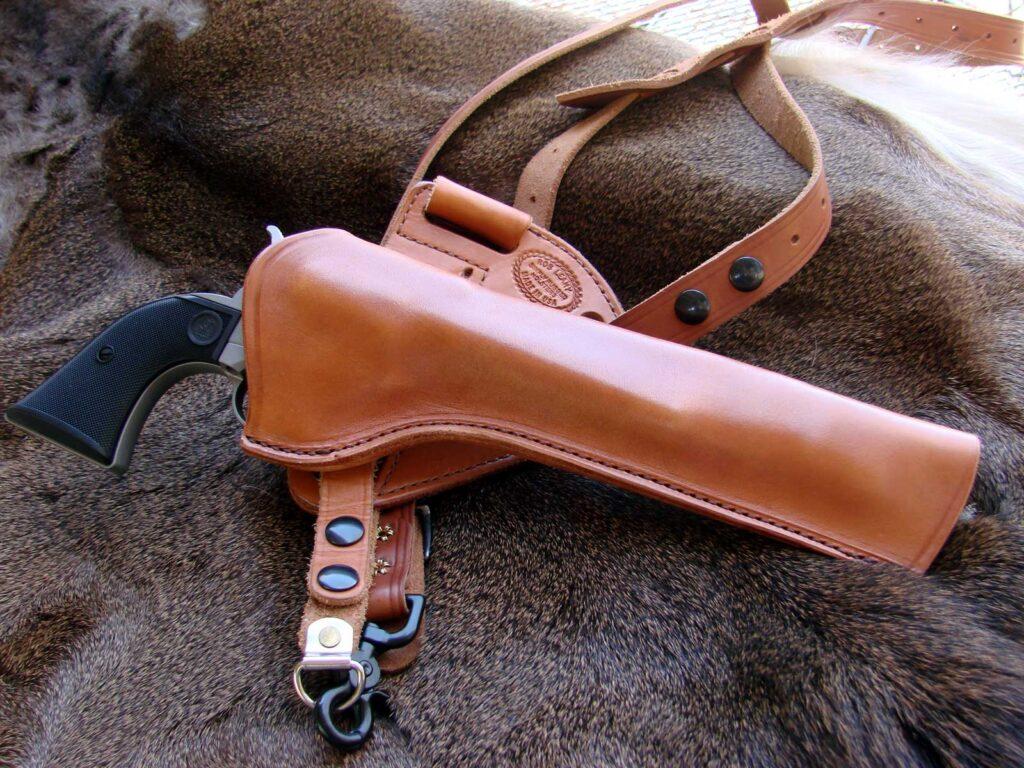 Simply Rugged Holsters "Eldorado" Leather Holster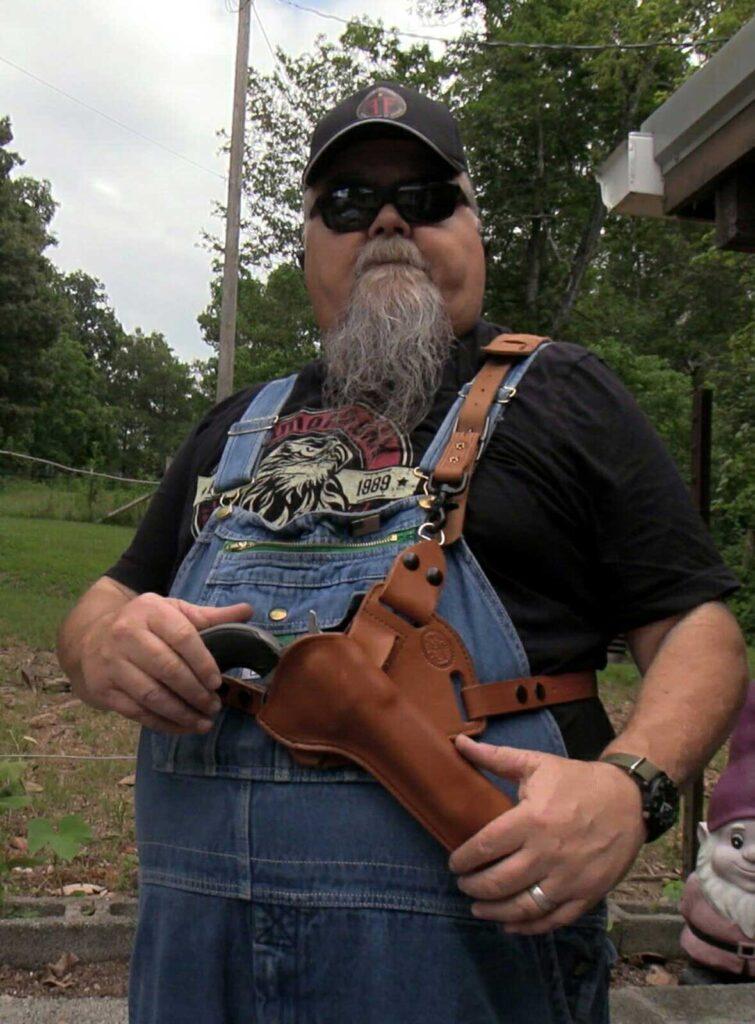 Simply Rugged Holsters "Eldorado" holster mounted to Simply Rugged's "Chesty Puller Suspension System" with Conventional Holster Adapter
Unless one is blessed with James Arness' 6-foot, 7-inch frame and is able to carry a 7-1/2″ sixgun on the hip as Marshal Matt Dillon did on "Gunsmoke", holster-carrying a long-barreled revolver can be something of a problem, especially when seated. Because of this, and because I rarely wear "regular" pants with a belt (favoring the comfort and practicality of overalls), I prefer a chest carry option. One of the slickest and most versatile chest rigs I have ever seen is the "Chesty Puller Suspension System" from Simply Rugged Holsters. Rob Leahy developed the Chesty Puller system when he was living in Alaska, and needed his hands free and his sixgun accessible while wading in rivers after piscan game; when a Grizzly charges from the river bank, looking to kill your mama's favorite boy over his string of fish, you don't have time to fumble around inside your waders for a sixgun; the Chesty Puller is a very effective means of carrying a holster on your chest, quickly and easily accessible. The Chesty Puller evenly distributes the weight of even the heaviest sixguns, and costs only $70.00. The Chesty Puller can accommodate any Pancake-style holster with three slots; a traditional-style belt holster, such as the Eldorado, can be adapted for use on the Chesty Puller rig by means of a Conventional Adapter that Rob offers for only $30.00. Using this adapter, 95% of belt holsters can be used with the Chesty Puller system, making it the most versatile and cost-effective chest-carry rig available.
Ruger Firearms: https://ruger.com/
7-1/2″ Wrangler®, Silver Cerakote®: https://ruger.com/products/wrangler/specSheets/2039.html
To Find a Ruger Dealer Near You, Click on the DEALER FINDER at Lipsey's: http://www.lipseys.com/
Federal Ammo: https://www.federalpremium.com/
CCI Ammo: https://www.cci-ammunition.com/
Simply Rugged Holsters: https://www.simplyrugged.com/
"Eldorado" holster: https://www.simplyrugged.com/ecommerce/Eldorado.cfm?item_id=1205&parent=669
"Chesty Puller Suspension System": https://www.simplyrugged.com/ecommerce/Chesty-Puller-Suspension-System.cfm?item_id=160&parent=672
Conventional Adapter for the Chesty Puller System: https://www.simplyrugged.com/ecommerce/Conventional-Adapter.cfm?item_id=546&parent=672
To find a dealer near you, visit www.lipseys.com/dealerfinder