Colt produced their first "Snake Gun" in 1950, when they made an aluminum alloy framed version of the .38 Detective Special and called it the "Cobra." Five years later, Colt introduced a medium-frame .357 Magnum revolver that they named the "Python." It was built on the E-frame, like the "Official Police," but as it had an internal firing pin, and was referred to as the I-frame. This sixgun broke the mold, as the barrel had a ventilated rib and full-length ejector rod shroud. A sloping ramp atop the rib ended at the muzzle with a Baughman-style front sight. The rear sight was fully adjustable. It also had a wide checkered target hammer and a grooved trigger. It was offered with 4- or 6-inch barrels and checkered walnut target stocks. Finish options were a polished Royal Blue or nickel plate. Later a 2.5" version with service stocks was offered. As time went on, a limited number of Pythons with 3- and 8- barrels were produced and in the 1980's stainless-steel became an option. Sadly, regular production of the Python ended in 1999, but it remained available through the Colt Custom Shop until 2005.
The Return of the Python
The popularity of the Python never really lessened as used gun prices skyrocketed. Then in 2020, Colt surprised the shooting world and reintroduced the Python. To keep production costs reasonable, some redesigning was done to reduce the amount of hand-fitting that had been needed on the original, plus the frame was beefed up near the rear sight. The entire revolver was crafted from stainless-steel and it looked very much like a Python from back-in-the-day. It had a ramp front sight with a red insert, but the rear sight was redesigned. While the checkered walnut stocks were somewhat reconfigured, the grip frame was the same as the older Pythons so that any grips/stocks that fit the old models would fit the 2020 Python.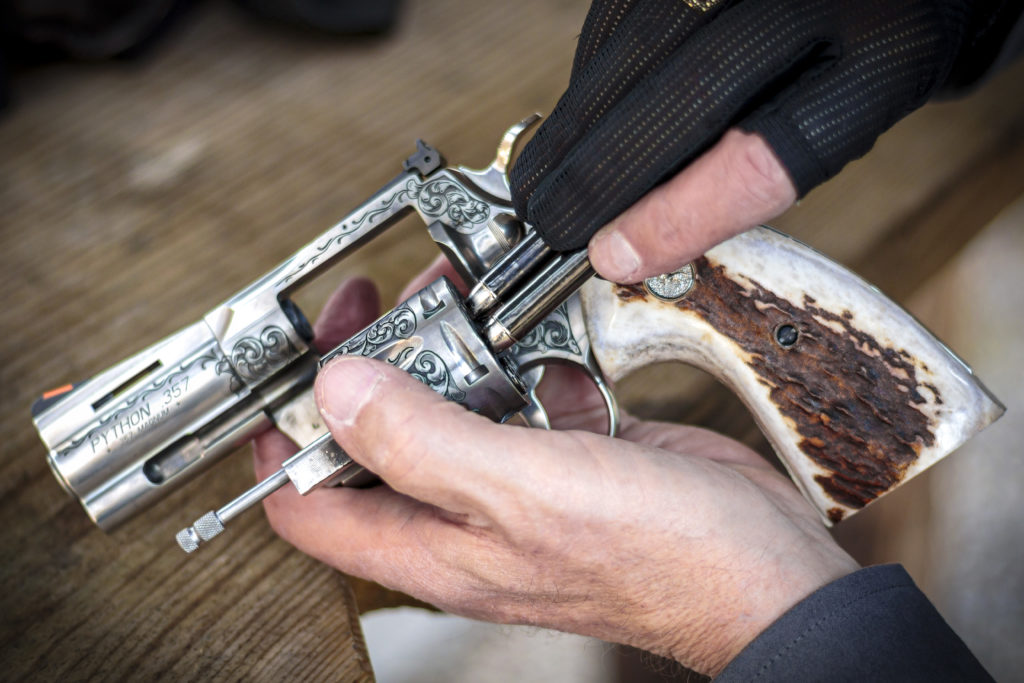 In 2022 Colt produced another shocker; instead of making a 2.5" barrel Python like they had done before, they opted for the rear 3" barrel instead. Excellent choice IMHO. At the 2023 SHOT Show I visited the Lipsey's Wholesale Firearms booth and spoke with VP Jason Cloessner. He showed me a handsome engraved 3" Python that would be a Lipsey's Exclusive offering. He advised that Lipsey's orders the Pythons from Colt and they are shipped to Tyler Gun Works (TGW). There the revolvers undergo some light action work to be sure the trigger pull is smooth and the timing just right, then the engraving design is hand-drawn and hand-chased by engraver Rocky Sharp. About 2/3 of the revolver is engraved in high-relief floral scroll-work, which emphasizes the factory marking on the barrel and frame. This done, the Python is fitting with Tyler's American Elk stag grips that have silver Colt medallions. Now you have a Premier Grade Python!
Yes, I'm Going to Shoot it!
Not one for "Safe Queens," I decided to see if this Premier Grade Python would shoot as good as it looks. I assembled five different brands of .357 Magnum cartridges. They included a 158 gr. JHP from Black Hills, a 125 gr. JHP from Fiocchi, some 125 gr. XTP-HP's from Hornady, Cowboy Action loads from HSM that have a 158 gr. lead SWC bullet, and Liberty Ammunition 70 gr. monolithic HP's. At the range I first shot the test ammo through my Oehler Model 35P chronograph to get velocity readings. Then, from the bench, using a sandbag rest, I shot three 5-shot groups, with each of the test loads. The shooting was done single action, using oval-shaped bullseye targets at a distance of 45 feet. My best 5-shot group measured 1.42" with the HSM ammunition. Group averages ran from 1.58" to 2.48." All the data is contained in the accompanying table.
For a practical shooting exercise to test reliability, I used a realistic-looking "Bad Guy" target overlayed with scoring rings. I utilized a 30-round combat course and donned an OWB pancake-style holster and a belt pouch that held a speed strip for a reload. For ammo, I picked the Black Hills 158 gr. JHP load.  Shooting began at 3 yards and after drawing the Python from the holster, 6 shots were fired strong-hand only, from a point shoulder stance, looking over the sights. A reload was performed, the handgun transitioned to the support hand and 6 more rounds were fired. Moving to 7 yards, 3 strings of double-taps were fired, using a two-handed, isosceles-type stance. After the first string, which began from the holster, the gun was lowered to a high-ready position for the two subsequent strings. Reloading again, I remained at 7 yards and performed a malfunction/body armor drill, drawing and shooting 2 rounds center-mass, then 1 to the head in 2 strings. The final stage was at 15 yards and a post was used to simulate a barricade. Drawing the Python, I fired two shots, using the same hold and stance that I used at 7 yards, but from the left-side barricade, then 2 right-side barricade, and 2 shots kneeling, right-side barricade. I ended up with a score of 245/300 points and no X's.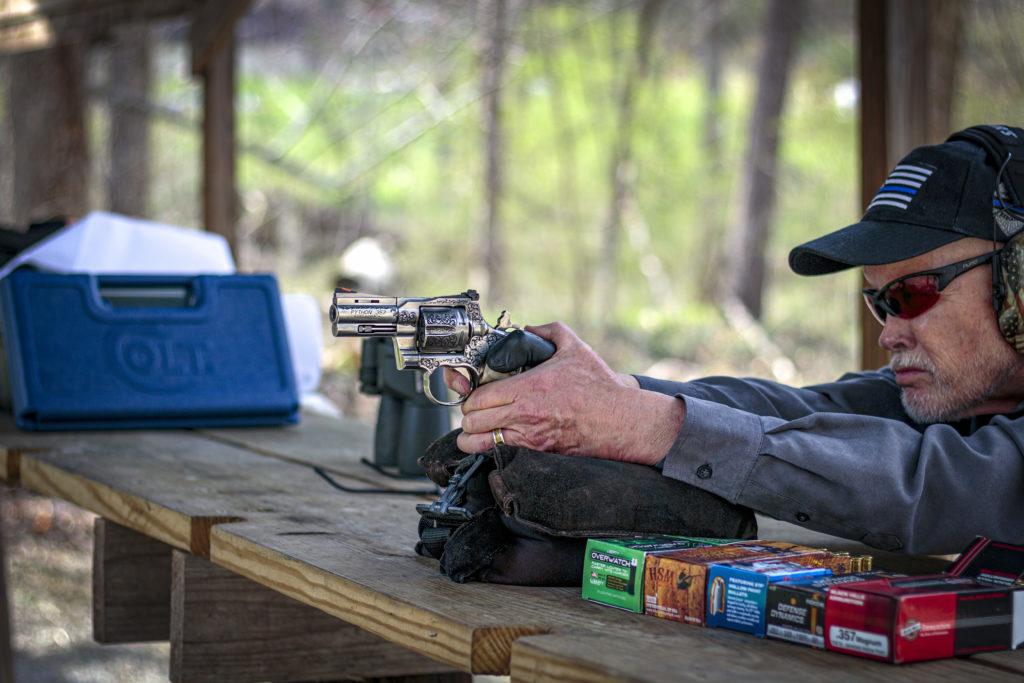 Evaluation Findings
There were a few of "hiccups" during the T&E. First, after some 55 rounds, the ejector rod became loose, unscrewing itself, and binding the cylinder. This happened several other times during the test. On my return home, I administered some Blue Locktite to the threads of the ejector rod, so hopefully that cures this problem. During the combat shoot, I noted that speed-ejection of spent brass was hampered by the thickness of the left-side stag grip panel. A brisk shake freed the brass to tumble to the ground. Lastly, after the combat shoot, it was observed that the point of aim, point of impact was off. The gun was shooting way left. Turns out the square-notch blade on the adjustable rear sight had moved due to recoil and the adjustment screw was loose. That's an issue that Colt will have to see to.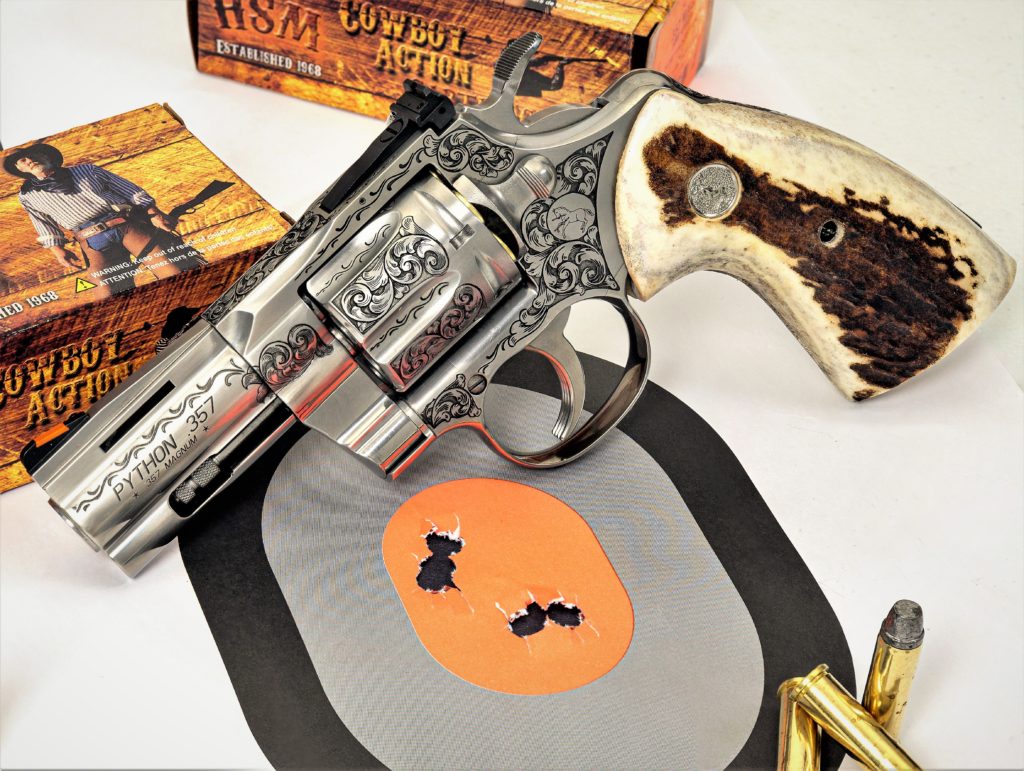 On a whole, I was very pleased with the Lipsey's/TGW Premier Grade Colt Python. If the owner wishes to carry it for self-defense, it is certainly up to the task. As far as accuracy goes, this is more than sufficient and the weight of the sixgun, combined with the rough surfaces on the stag grips, help tame recoil and muzzle flip. It'll no-doubt be a real "pussycat" with .38 Special +P loads. I found the sights easy to acquire quickly and the balance with the 3" barrel was just right. I do believe Lipsey's has already made a sale as far as my test sample is concerned. BTW, the Python comes in a nice Colt blue plastic case. Inside is a Thank You card, which provides directions on how to obtain an exclusive Python holster from Simply Rugged Holsters at a special price from TGW. You can't beat that!                                                                         
Lipsey's/TGW Premier Grade Colt Python Specifications
MECHANISM: Traditional DA Revolver
CALIBER: .357 Magnum/.38 Special +P
CAPACITY: 6 Cartridges
BARREL: 3.0"
OA LENGTH: 8.5"
EMPTY WEIGHT: 40.0 oz.
SIGHTS: Adjustable Rear, Red Ramp Front
FINISH: Satin Stainless-Steel, Engraved
STOCKS: American Elk Stag
MSRP: $2,400.00
Lipsey's/TGW Python .357 Magnum Performance
| | | | |
| --- | --- | --- | --- |
| Cartridge | Ave. Velocity | Best Group | Average Group |
| Black Hills Factory New 158 gr. JHP | 1117 FPS | 1.85" | 2.48" |
| Fiocchi Defense Dynamics 125 gr. JHP | 1212 FPS | 1.75" | 2.22" |
| Hornady American Gunner 125 gr. XTP-HP | 1370 FPS | 1.81" | 2.33" |
| HSM Cowboy Action 158 gr. Lead SWC | 1172 FPS | 1.42" | 1.58" |
| Liberty Overwatch 70 gr. Monolithic HP | 1742 FPS | 2.20" | 2.44" |
NOTE:  Bullet weight measured in grains, velocity in feet per second 10 ft. from the muzzle by an Oehler Model 35P chronograph, and accuracy in inches for three 5-shot groups at 45 feet.
To locate a dealer near you visit: www.lipseys.com/dealerfinder
About the Author
William Bell has been a shooter for over 50 years. He was self-taught and received his first formal instruction as an Army ROTC cadet. Later, he was a member of the Combat Pistol Team with his MP Battalion in the Kentucky Army National Guard. After getting a BS degree in Criminal Justice, he embarked on a 38-year law enforcement career, that encompassed work as a small town cop, deputy sheriff, Border Patrol Agent and U.S. Customs Officer. During that time, he shot on a PPC team, was involved in IPSC competition, and served as a collateral-duty firearms instruction for 17 years. Bell retired in 2014. While a rookie Border Patrolman, he had his first gun article published in 1983. He began writing for COMBAT HANDGUNS magazine in 1988 and up to the present, has written several hundred articles for various publications. He also maintains a Facebook page called THE FIRING PEN and contributes to Linked-In and Instagram.  
Photos By: Jordan Bell