KelTec CNC Industries, Inc. has been a major innovator in the firearms industry for over thirty years. Shortly after the ignominious Federal Assault Weapons Ban of 1994 made magazines over 10 rounds illegal, KelTec trumped this ridiculous law with the P11 pistol; a truly compact steel and polymer 9mm with a 10+1 cartridge capacity. I had KelTec send me one for a T&E article in COMBAT HANDGUNS magazine, then bought it from them to use as an off-duty gun, as it would take the same magazines as my S&W Model 6946 duty sidearm. The P11 was discontinued in 2019.
Enter the P15
I saw the KelTec P15 for the first time at the 2022 SHOT Show. As so often happens, I wasn't able to get a test sample until just a couple of weeks before the 2023 SHOT Show. While the P11 had a flush-fit, spur-less, low-mass hammer and DAO mechanism, the new P15 is striker-fired and has a factory-set, single action pull weight of some 5 pounds. Typically, it has a somewhat "mushy" take-up, but surprisingly soft break, making it one of the better triggers I've encountered on a compact pistol. Although it has a 4" barrel, the rest of its dimensions make it perfect for concealed carry. It has an OAL of just 6.6," a height of 5.0" and is 0.875" at the widest point; empty weight is just 14 oz. Add to this a 15-round magazine with an extended base, plus a spare 12-round flush-fit magazine, and you have quite a combination.
But that's not all. Atop the slide is a fully adjustable rear sight with Tritium dots on either side of the square notch and up front is a combo fiber-optic and Tritium sight. At the rear of the ejection port is a loaded chamber indicator. I assume to hold down the weight, the rear portion of the slide has a polymer "slide cover." Controls on the polymer frame are unobtrusive. The slide stop is easy to use, but the triangular-shaped magazine release behind the trigger guard is hard to activate without radically changing your grip on the pistol. It is reversible for southpaws. The sides of the grip frame are waffle-like, with raised and textured "cubes." Both the front and backstraps are serrated. You will note that the P15 has a grip safety and an internal magazine disconnect. These two safety features can be deactivated using a screw visible at the right rear of the frame, with the slide removed. Further, it has a backstrap extension that can be attached with tabs on the top and bottom, and secured by an add-on to the grip safety. There is also an accessory rail integral to the frames dust cover.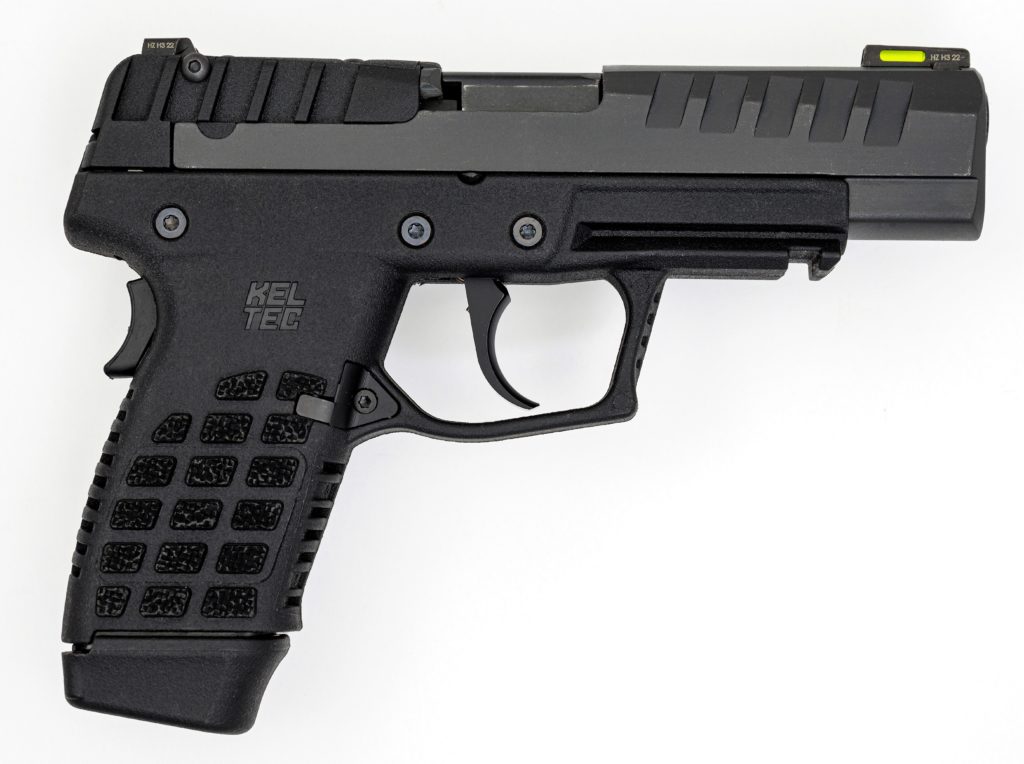 Range Time
A broken bone in my left foot kept me away from the outdoor range I usually use for testing, so my T&E on the P15 was done at an indoor range. This precluded me from drawing from a holster and a few other deviations from my usual protocol. From my ammo locker I selected five different 9mm cartridges from Black Hills, Federal, Norma, PMC, and Speer. Bullet weights ran from 108 to 147 grains and I had FMJ, synthetic-coated bullets and JHP's represented. To evaluate accuracy potential, I shot three 5-shot groups with each of the test cartridges at a distance of 30 feet. The lanes at the range had a shelf to serve as a bench; plus, I used my shooting bag as a rest and had brought a tall folding stool from home. I was able to obtain multi-bullseye target sheets from the range staff.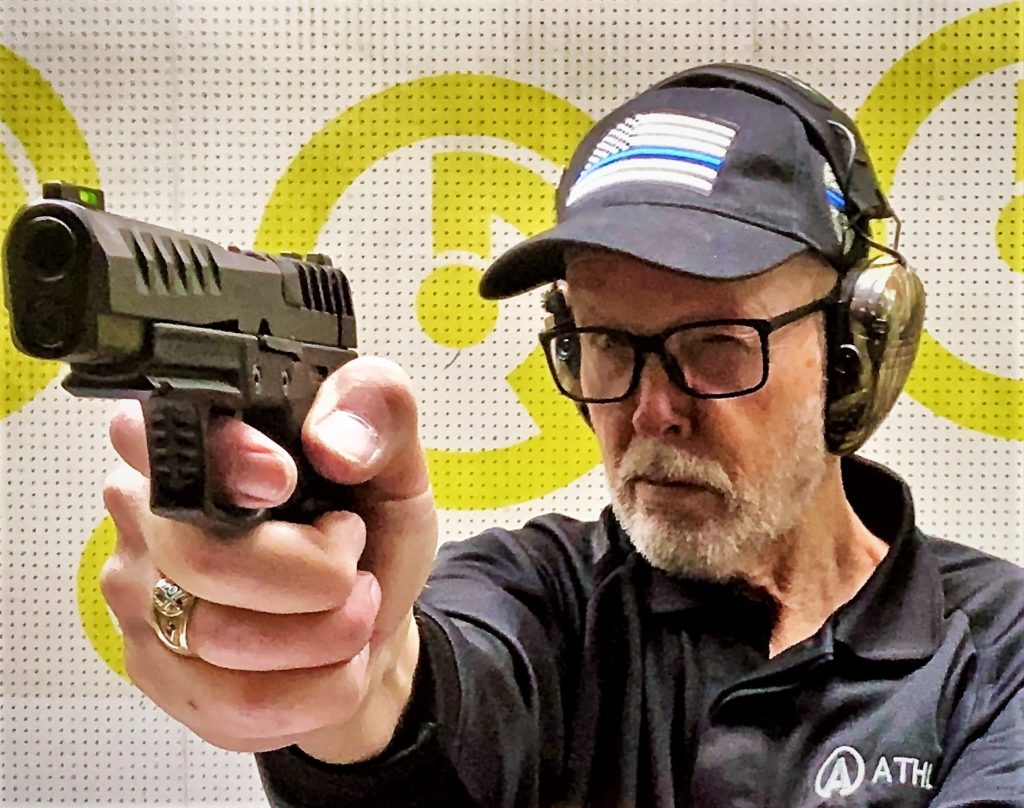 After shooting a couple of groups, I noted that the impacts were to the left of my point of aim. Unfortunately, I didn't note until later at home that the rear sight had been moved over to the left. I used some "Kentucky Windage" and kept shooting. During this test phase, I had two rounds that failed to go completely into battery and I had to nudge the slide forward. The green-glowing front sight dot covered the center aiming point of the bullseye, and I moved it slightly right to obtain center hits. My best 5-shot group was with First Generation Speer 147 gr. Gold-Dot HP cartridges; it measured 1.53" and second place went to Norma MHP 108 gr. HP's at 1.94". Group averages ran from 2.19" to 2.92," which under the circumstances I felt was perfectly adequate.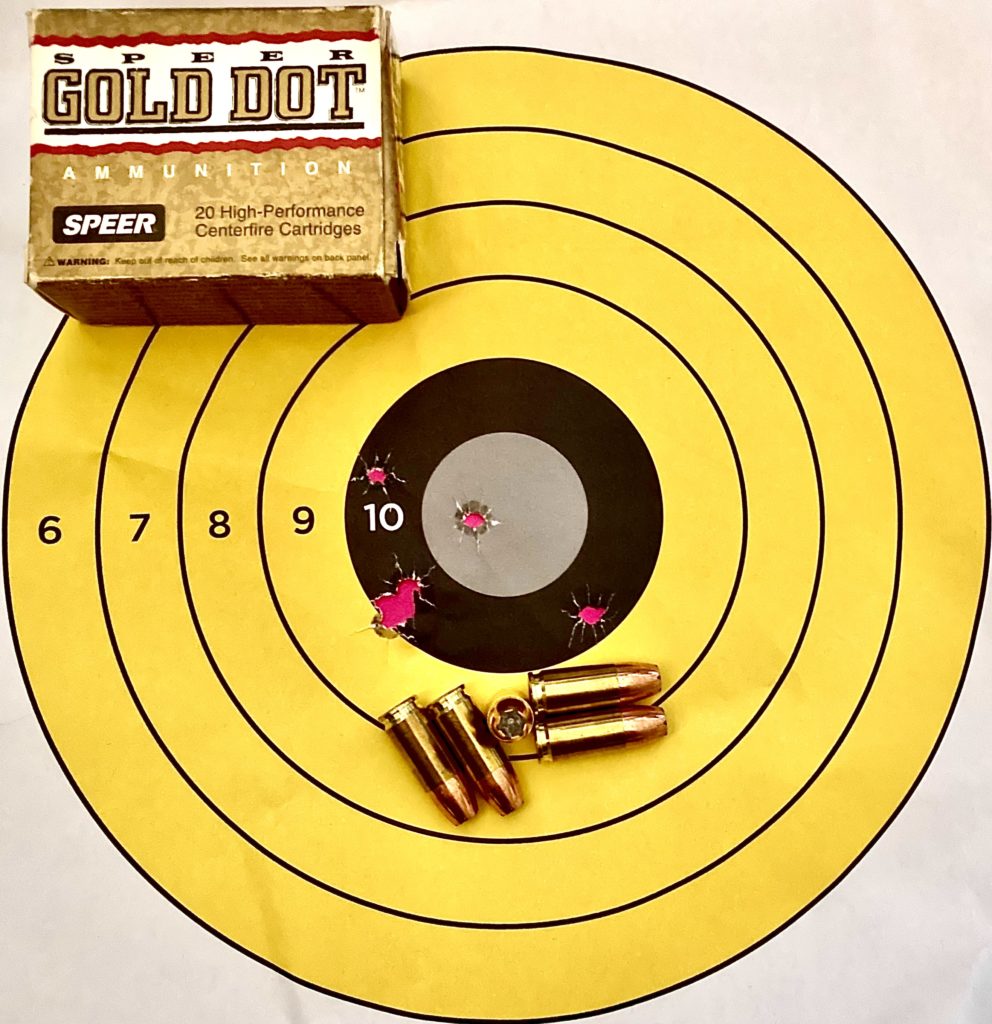 Next, I sent a milk-bottle shaped silhouette target down-range to the 10-yard line to do a modified 5×5 Handgun Skill Test developed by Bill Wilson. It required 25 rounds of ammo, so I loaded my two magazines with a mix of the test cartridges. Five 5-shot strings are fired on the clock, and I started from the low-ready as I couldn't draw from a holster per range rules. Shooting included two-handed "free-style", one-handed, a rapid magazine reload and the final stage was 4 shots center-mass and 1 to the head. When the electronic carrier brought my target back to me, I noted immediately that I didn't score Master Class; it was more the Marksman level. The good news was that I had no malfunctions, the P15 handled superbly, and the sights were easy to acquire in the somewhat dim lighting at the range. For the price point the P15 is hard to beat.
KelTec www.keltecweapons.com
KelTec P15 Specifications
MECHANISM: Striker-fired, SA, semi-auto
CALIBER: 9mm Luger
CAPACITY: 15+1 cartridges (plus 12-round magazine)
BARREL: 4.0 "
OA LENGTH: 6.6 "
EMPTY WEIGHT: 14 oz.
SIGHTS: Adj. tritium rear, fiber-optic/tritium front
FINISH: Matte black
STOCKS: Black textured polymer
MSRP: $450.00
To locate a dealer near you, visit www.lipseys.com/dealerfinder
About the Author
William Bell has been a shooter for over 50 years. He was self-taught and received his first formal instruction as an Army ROTC cadet. Later, he was a member of the Combat Pistol Team with his MP Battalion in the Kentucky Army National Guard. After getting a BS degree in Criminal Justice, he embarked on a 38-year law enforcement career, that encompassed work as a small town cop, deputy sheriff, Border Patrol Agent and U.S. Customs Officer. During that time, he shot on a PPC team, was involved in IPSC competition, and served as a collateral-duty firearms instruction for 17 years. Bell retired in 2014. While a rookie Border Patrolman, he had his first gun article published in 1983. He began writing for COMBAT HANDGUNS magazine in 1988 and up to the present, has written several hundred articles for various publications. He also maintains a Facebook page called THE FIRING PEN and contributes to Linked-In and Instagram.