When is come to one-of-a-kind tribute rifles, Henry Repeating Arms leads the pack. Based in New Jersey with another factory in Wisconsin, Henry produces more tribute rifles than any other company. In 2019, Henry added a real work of art to their tribute lineup: the American Eagle lever action in .22 short, long, or long rifle.

Giving tribute to the American Bald Eagle, the iconic symbol of America since 1782, the Henry American Eagle rifle blend styles of the old west, US history, and heritage. Building this rifle on the Golden Boy platform for which Henry is well known, the American Eagle sports a nickel-plated receiver, butt plate, and barrel bands with a blued octagon barrel instead of the usual gold accents of the Golden Boy. Another unique feature of the American Eagle is the wood finish stock with a look of ivory, making this rifle truly a one-of-a-kind offering with stunning eye appeal.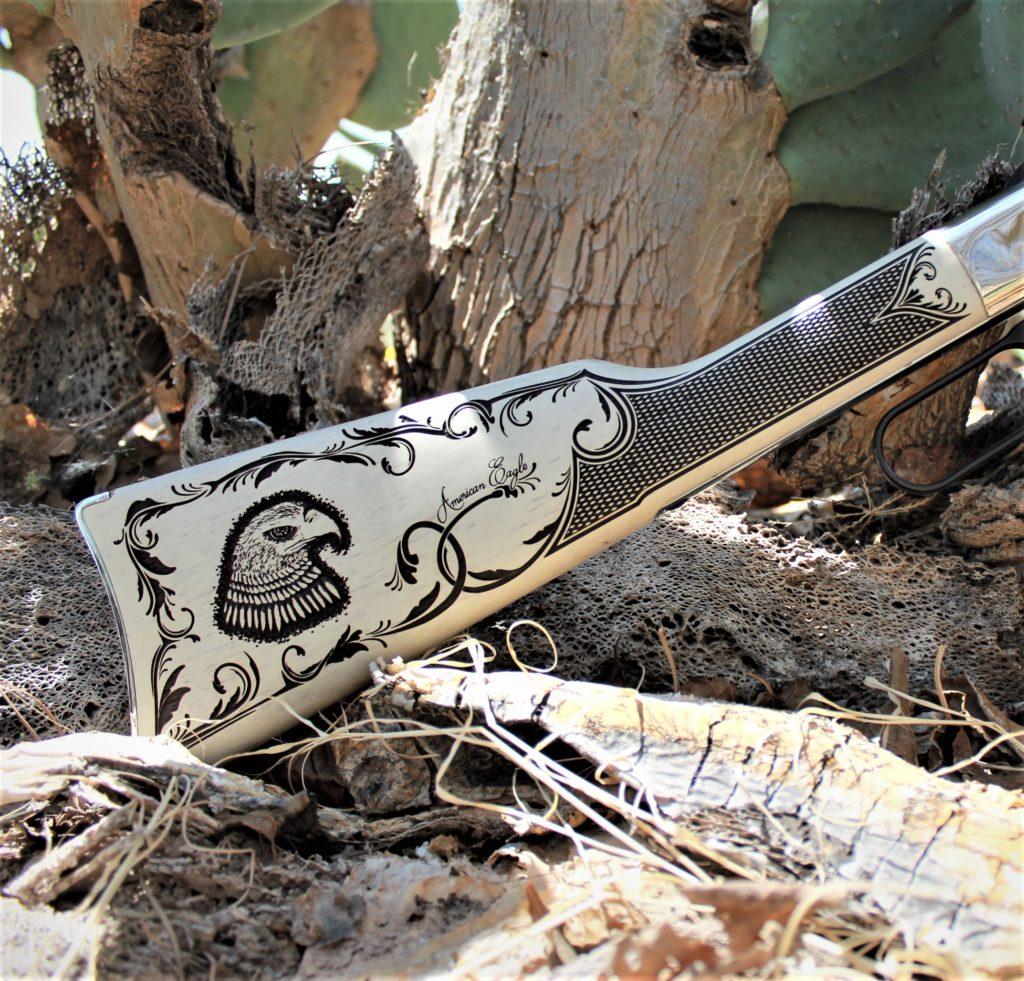 The Bald Eagle Engraving on the Henry is a true Statement piece!
The American Walnut Stock goes through a process receiving "layers of primers and ivory color that are sanded down between applications to highlight the wood grain and achieve a natural look," according to company literature. The ivory-colored walnut stock is then deeply engraved with the buttstock featuring the head of a bald eagle centered in a leafy, vine-engraved pattern. In addition, the American Eagle's forend sports deep checkering and scrollwork, giving the look and feel of the old west.
The slogan of Henry Repeating Arms is "made in America or not at all." The company has a proud legacy as an American employer as backs each rifle with a lifetime guarantee.
Features and specifications of the American Eagle include:
Caliber, 22 S/L/LR
Lever action
Magazine capacity: 16 LR/21 S
Barrel length: 20 inches
Octagon blue steel barrel
Overall length: 38.5 inches
Weight: 6.75 pounds
Length of pull: 14 inches
Receiver and butt plate: nickel finish
Rear sight: fully adjustable Buckhorn with diamond insert
Front sight, brass bead
Receiver drilled and tapped for scope mounts
Stock, American Walnut
Safety, ¼ cock
Extras: Ivory colored stock and forearms with engravings
MSRP is $950 To locate a dealer near you visit www.lipseys.com/dealerfinder
If a person does some shopping, the American Eagle can be found in the $700 to $800 price range. Understanding the amazing craftsmanship and appeal this rifle has to offer, I would say it's well worth the money. To keep a beautiful rifle like this in top-notch condition, take a look at Lucas Oil Outdoor products. Their gun oil and bore cleaner make a perfect match to the American Eagle or any firearm for that matter.
If you are looking for a wonderful heirloom for the kids or grandkids with a twist of Americana, the Henry Repeating Arms is a unique .22 lever action rifle that anyone would love to inherit one day.
ABOUT THE AUTHOR
TERRY NELSON – is a 30-year veteran of law enforcement with police and sheriff agencies, including SWAT and sniper roles, and has served as a state game warden. Nelson also served seven years with New Mexico State Guard. A lifelong hunter, guide, tracker and firearms enthusiast, Terry is sought for training in multiple disciplines by both civilian and police-serving agencies and companies. Nelson also holds a Basic Tac Med instructor certification from Federal Law Enforcement Training Center.