Photo Credit: Jordan Bell
I've lost count of the number of new cartridges over the years that have been a "flash in the pan." What role does this new cartridge fill that is truly innovative or even necessary? I thought this about the Remington .360 Buckhammer when it was recently introduced. But, after taking a good luck at it, and at cartridge requirements for deer hunting in some states, the "light bulb" came on. Several eastern and midwestern states once required the use of shotguns for deer hunting. The issue was that these states had denser populations and it was felt that powerful rifle cartridges might endanger folks living in rural areas or near state-owned hunting preserves. In the last several years some states have enacted changes to their hunting regulations and now allow the use of certain rifle cartridges, if they meet state requirements. This usually has to do with such things as bullet diameter, case length, and to some extent lethality.
Enter the Remington .360 Buckhammer. This new cartridge meets the deer hunting requirements of at least one state that I'm aware of, as its bullet diameter is .358", the case length is 1.8" and has a factory rated velocity of 2400 FPS in the 180 gr. JSP load and 2180 FPS in the 200 gr. JSP load. Unlike a similar load from another company, the .360 Buckhammer has a rimmed case, which makes it perfect for use in leaver-action rifles. The bullets used in this cartridge are Remington's well-known Core-Lokt; known for their excellent properties of weight retention and expansion in game. Remington-manufactured brass cases are used and the straight-walled case has just a slight taper. Factory figures for the 180 gr. JSP load also show a fairly flat trajectory with 0.0" drop at 100 yards and an 8.2" drop at 200 yards. At 200 yards the bullet also still has 891 foot-pounds of energy. Remington supplied me with ammunition in both bullet weights.

Quick to jump on the bandwagon with rifles in this caliber was Henry Repeating Arms (HRA) Co. The company is named after B. Tyler Henry, who patented his first lever-action rifle in 1860. Founded by father and son Louis and Anthony Imperato in 1996; they secured the rights to use the Henry name and started cranking out lever-action rifles in .22 rimfire. Today, they manufacture 8 basic models of firearms, with dozens of variations, in 13 different calibers. They are most likely the largest maker of lever-action rifles in the USA and all their firearms are made in the USA. Besides lever-action rifles and shotguns, they make single-shot long guns, pump, and bolt action rifles, semi-auto rifles, and even handguns!
In the last couple of years HRA has been making a version of their Big Boy lever-gun they call the "Side Gate." They have receivers fashioned from blue steel, color case-hardened steel or polished brass. Side Gate refers to the fact that they have a loading gate in the right side of the receiver, below the ejection port. Classic Big Boy lever-guns do not have this feature and are loaded via a slot in the magazine tube up by the barrel muzzle. The Side Gate models have retained this slot, which is useful not only for quickly loading a magazine full of cartridges, but emptying the magazine of cartridges too. Partial removal of the inner magazine tube opens the slot for loading, and full removal allows cartridges to be dumped out of the magazine tube from the muzzle end. The Side Gate feature lets you top off your magazine with cartridges as needed.
Officially called the Steel Lever Action .360 Buckhammer Side Gate, this newest Henry lever-gun is a union of blue steel and American walnut, and comes just in time for deer season. It's the perfect size for woodland hunters, with a 20" round barrel, overall length of 39" and an empty weight of 7 pounds. It has a full-length magazine with a 5-round capacity, the barrel muzzle has a recessed crown, and is fitted with a post front sight, having a gold bead, plus a step-adjustable semi-buckhorn rear sight, that has a white diamond insert below the U-shaped sight notch. The matte-finish receiver is drilled and tapped on top for a Weaver 63B rail for mounting optics. This Henry has a transfer bar safety and the rifle won't fire unless the lever is fully up and locked into position. Standard is a nicely figured American walnut stock and forend, that have a soft luster finish. Both are checkered and have sling swivel studs; the butt-stock has a rubber recoil pad and the forend has a blue steel cap. Fit and finish are top of the line.
I elected to add a scope to my Henry .360 Buckhammer. The one I chose was a new offering from Skinner Sights. It's a 1-6X variable with a 30mm black anodized aluminum tube, a 24mm objective, and is 10.4" in length, with a weight of 18.7 oz. Eye relief is 4.0", the scope is nitrogen filled, and the parallax setting is 100 yards. The reticle is SKO-1, BDC-marked for easy range holdover, plus there's a 1 MOA red lit center dot. Other features include fully coated lens, flip-open scope caps, a power ring lever, and easy-click, covered adjustment turrets. It takes one CR2032 3V lithium battery. Skinner also sent me a Picatinny rail mount and rings. Skinner's head honcho Andy Larsson, included a Biothane Super Sling. Constructed of a leather look-alike material, they come in black or OD green. They won't crack, fade, peel, rot or stretch. The sling is held together and adjusted with Chicago screws, plus it comes with steel GrovTec QD swivels.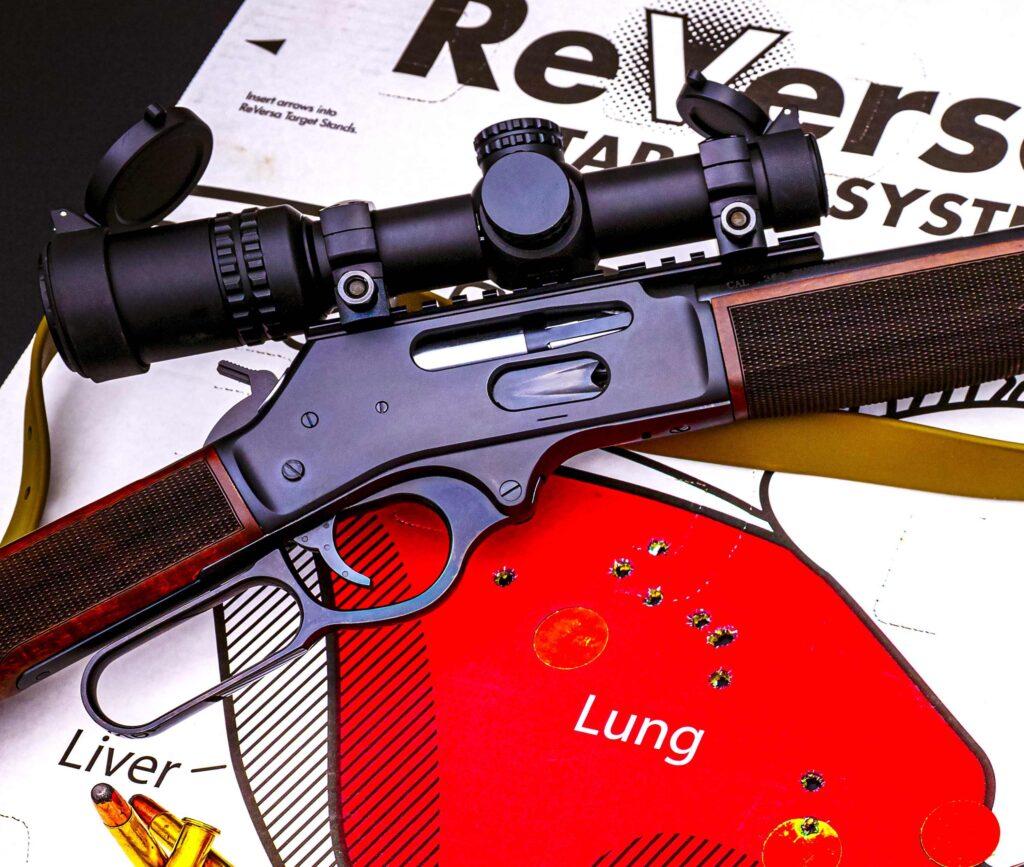 Range day was very nice for mid-November. It was cold in the AM, but warmed up by early afternoon, and the wind was negligible. First order of business was to get the scope sighted in. Shooting at 25 yards, it wasn't too far off and after less than 10 shots with both bullets weights we were zeroed. I then fine-tuned the zero for 50 yards and put the scope turrent caps back on. Next, I set up my Oehler Model 35P chronograph to see what kind of velocities I'd get using the .360 Buckhammer cartridges in the 20" barrel of the Henry. That barrel by the way has a 1:12 twist to optimize accuracy. Muzzle velocities were just a little below factory specs; you can see the data in the performance chart.
An accuracy potential evaluation was performed shooting from the bench using a sandbag rest at 50 yards. Three 5-shot groups were fired with each of the two test loads. My best 5-shot group measured 1.81" with the 200 gr. Remington load. You can see the rest of the group data in the aforementioned performance chart. I had the Skinner scope on 6X and the trigger pull on the Henry had some creep and broke at around 6.5 Lbs. The magnification coupled with the trigger pull weight combined to make my groups bigger than they should have been. At 100 yards, I shot from a rest at a deer silhouette target placed down-range at 100 yards. The vital organs of the deer were colored red. All my shots with both Remington loads hit in the vital area.
The Henry Lever Action Side Gate rifle with the Skinner scope and 6 rounds of ammunition weights around 8.5 pounds. I did a little off-hand shooting at a steel plate that was about the size of a deer's vital area at 50 yards. I used the sling wrapped around my left arm to help me hold steady. I dialed the scope down to 2X which made it seem steadier. I didn't have a lot of trouble getting hits, but if available, I'd use a tree for better support. Also, be sure and work the lever vigorously, the Henry doesn't like wimpy lever-working. It also doesn't feed ammo well if you work the lever with the muzzle up. Recoil with the .360 Buckhammer was insignificant in my book considering the weight of the rifle and its efficient recoil pad. The rifle and I seem to prefer the 200 gr. JSP load. Now from what I have read, Federal is coming out with a .360 Buckhammer load, so perhaps this new cartridge will take off. Overall, I think the Henry in .360 Buckhammer will make the perfect rifle for the deer woods in my area. HRA will not be getting this rifle back!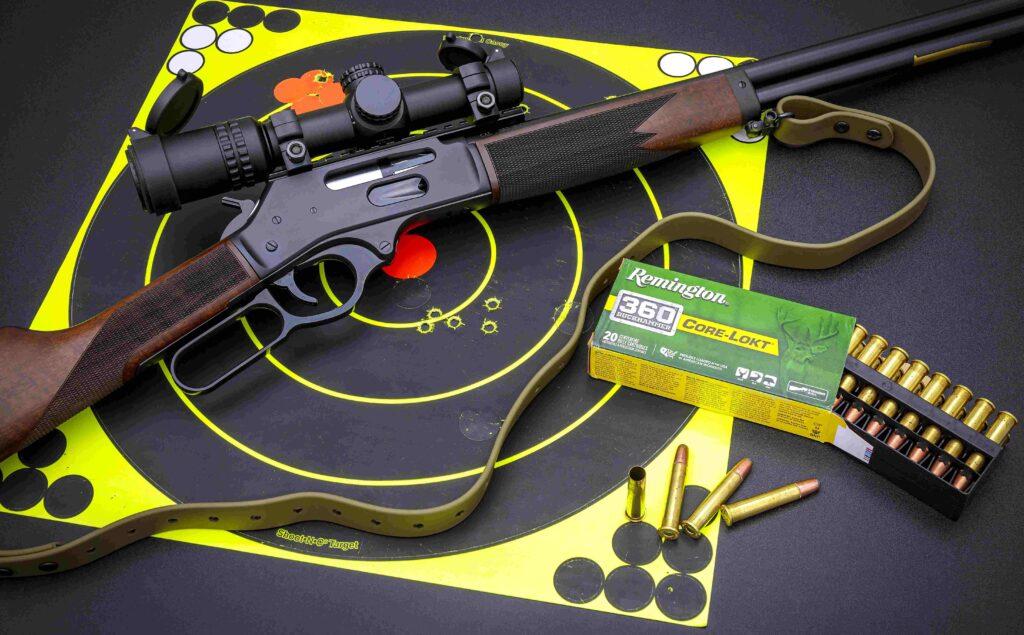 Additional Information
Remington Ammunition www.remington.com
Henry Repeating Arms www.henryusa.com
Skinner Sights www.skinnersights.comRemington Ammunition
Henry Steel Lever Action Side Gate Specifications
MECHANISM: Lever-action rifle
CALIBER: .360 Buckhammer
CAPACITY: 5+1 cartridges
BARREL: 20", 1:12 twist
OA LENGTH: 39.0"
EMPTY WEIGHT: 7.0 Lbs.
SIGHTS: Step-adjustable rear, gold bead post front
FINISH: Blued steel
STOCKS: American walnut
MSRP: $1057.00
360 Buckhammer Henry Rifle Performance
| | | | | |
| --- | --- | --- | --- | --- |
| Cartridge | Ave. Velocity | Best Group | Average Group | Ft. Lbs. Muzzle Energy |
| Remington 180 gr. Core-Lokt JSP | 2316 FPS | 1.88" | 2.15" | 2143 FPE |
| Remington 200 gr. Core-Lokt JSP | 2119 FPS | 1.81" | 2.23" | 1994 FPE |
NOTE: Bullet weight measured in grains, velocity in feet per second 10 ft. from the muzzle by an Oehler Model 35P chronograph, and accuracy in inches for three 5-shot groups at 50 yards.
To locate a dealer near you www.lipseys.com/dealerfinder