This Mid-Size New Semi-Auto May be the Home Defense Gun for You
PHOTO CREDITS: Jordan Bell
In the last few years, I have come to have more and more respect for Turkish-made firearms. I tested a couple of Turkish shotguns and more recently a Girsan MC P35 9mm pistol, which is a replica of the Browning Hi-Power. At the 2023 NRA Annual Meeting (NRAAM), I visited the European American Armory (EAA) booth, and was shown a new pistol in .380 ACP from Girsan. Designated the MC 14T, it's a medium-size pistol very reminiscent of the Beretta Model 86. As such, it has many of the same interesting features, such as a tip-up barrel, but unlike the Model 86, it has a 13+1 cartridge capacity.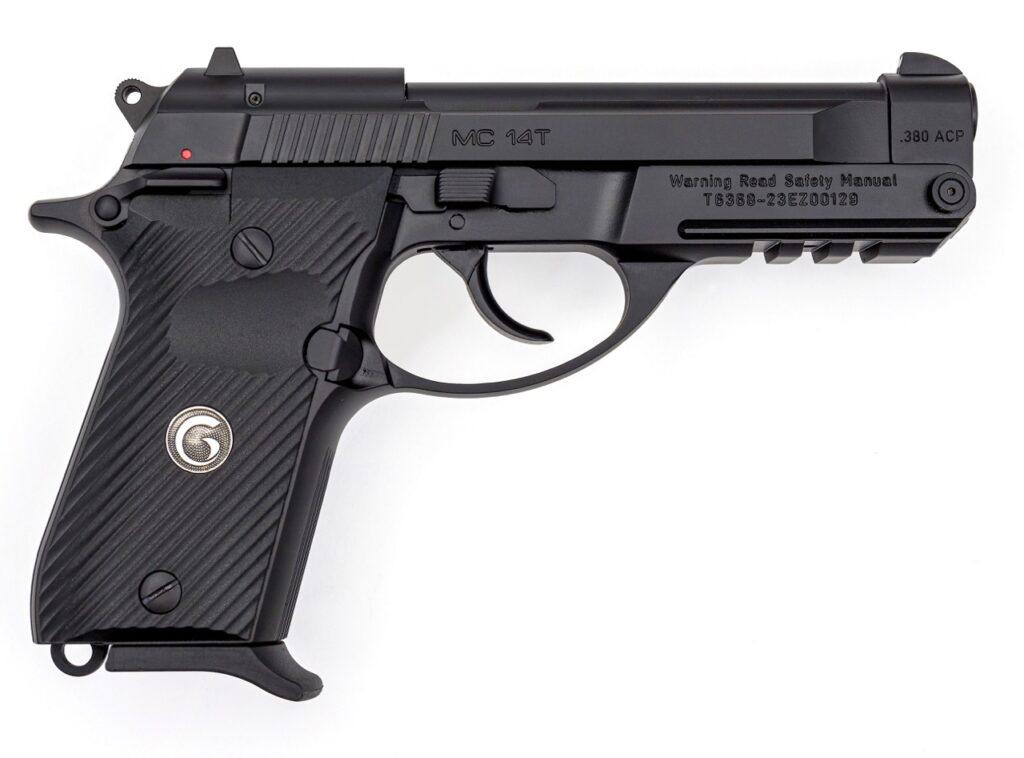 As I approach my 7th decade on this spinning rock, I have become more appreciative of cartridges and handguns that don't "bite the hand that carries it" and are easier to operate for those that suffer the effects of arthritis and declining strength. While I can still retract the slide on a semi-automatic pistol, there are lots of folks out there that have trouble with this. The Girsan MC 14T (the T is for tip-up barrel) has a blow-back action that requires a somewhat stiff recoil spring. For me the slide is a little tough to pull back, feed in a cartridge from the magazine, and cock the hammer. It's much easier to grip the pistol with my right hand and use my trigger finger to press down on the barrel release allowing the breech-end of the barrel to pop up. Now, you can insert a cartridge and press the barrel back down into place. As this is a hammer-fired DA/SA pistol, you can fire it using the trigger-cocking method or cock the hammer single action. It has an ambidextrous safety, so you can carry it "cocked-and-locked." The DA trigger is smooth, but somewhat long and pull weight is about 10-12 Lbs. The SA pull is 4.93 Lbs. and the thumb safety is easy to operate. There is no extractor on the MC 14T, so to remove a cartridge from the chamber, you must tip up the barrel.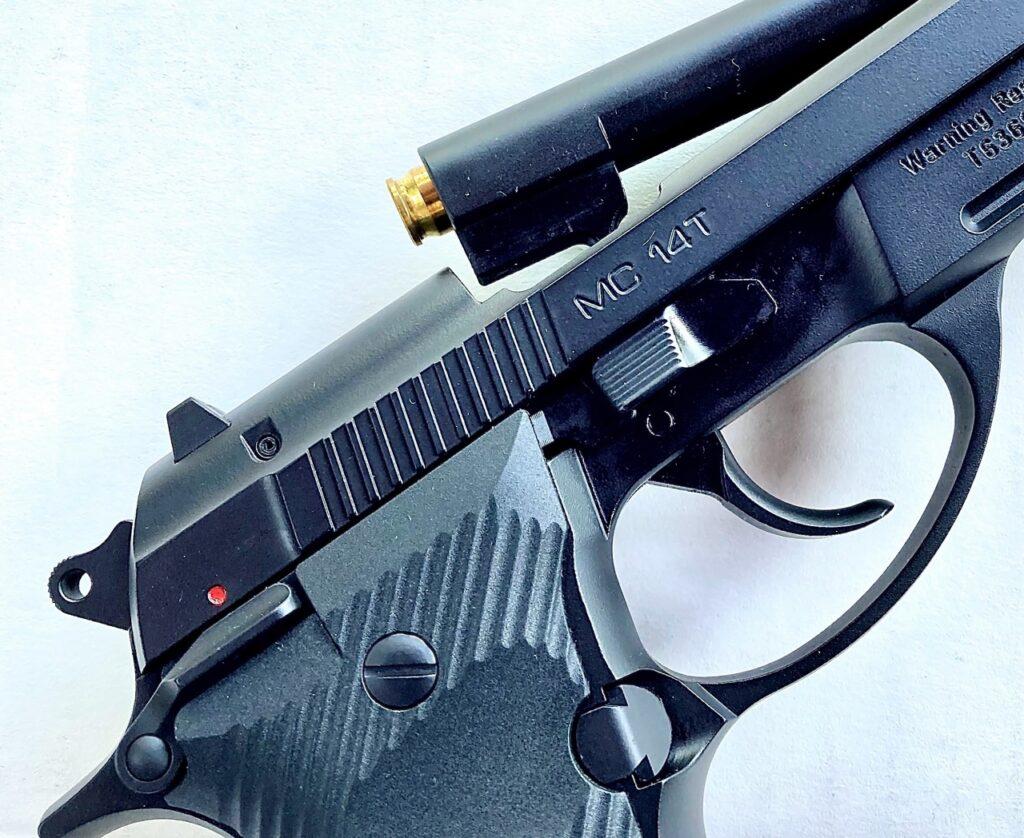 The Girsan MC 14T came to me in a black plastic carrying case, with a foam rubber interior lining and a cleaning brush, plus owner's manual. You also get one 13-round Mec-Gar magazine, with a finger-rest base-plate. A visual examination from "stem to stern" indicated very good fit and finish. The open-top slide and barrel are matte-black finished carbon steel, while the aluminum alloy frame is matte-black anodized. The sights are the fixed "3-dot" type, it has a ring-style hammer and the trigger is wide and smooth-faced. The controls are easy to reach and manipulate. The slide-stop is generous in size and the magazine catch is just to the rear of the trigger guard, where us American shooters like it. The dustcover of the frame has an integral accessory rail and up near the muzzle is the hinge for the tip-up barrel. Grips on the MC 14T are a black grooved composite with silver Girsan medallions, and the front and back-straps of the grip frame are serrated. Behind the mag well is a lanyard ring.
Lots of folks these days deride the .380 ACP cartridge, but it consistently makes it into the top 5 handgun cartridges in many articles and polls I've seen. The five loads selected for my MC 14T evaluation are all suitable for self-defense use. From Black Hills Ammunition was their 60 gr. Honey Badger load that features a 60 gr. solid copper Lehigh bullet with a fluted X-shaped bullet nose. Still made today, my next load was a 90 gr. JHP from Cor-Bon PDA that is +P rated. A favorite is Federal's Personal Defense, which has a 90 gr. Hydra-Shok JHP bullet. Another unconventional round is the Inceptor from Quantum Ammunition. It has a 56 gr. ARX bullet made from a polymer-copper matrix and uses flutes in the bullet nose to create a "Venturi-effect" that imparts the bullet energy to the target. My final load was Winchester PDX1 (Defender) which features a 95 gr. notched-jacketed HP bullet, with a lead core bonded to jacket.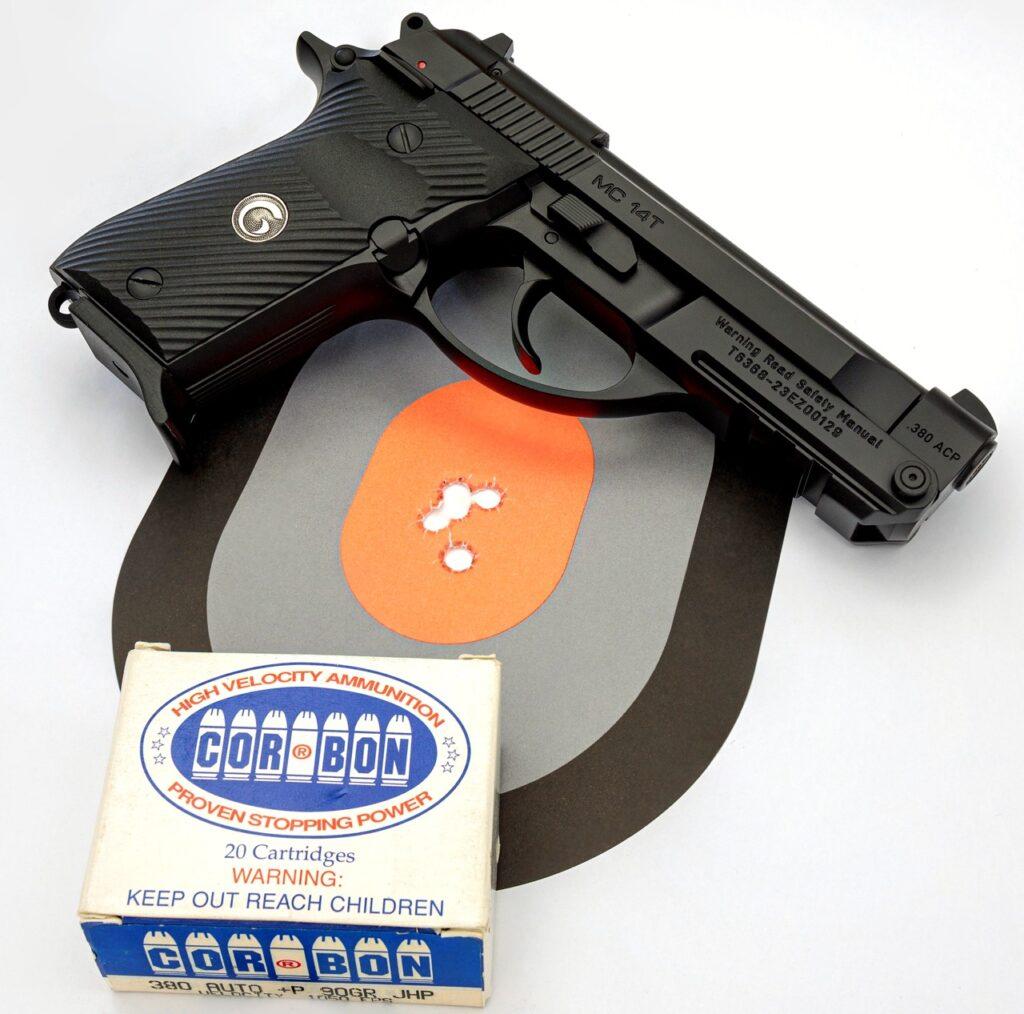 To perform a practical shooting test I needed a holster and magazine pouch. I couldn't find anything specific to the Girsan MC 14T, so I went with a generic fit rig from Versacarry called the Insurgent, which is a thumb break OWB holster. It's crafted from vegetable tanned water buffalo leather, is lock-stitched together with industrial-grade bonded nylon thread, and made for a 1.5" wide belt. Mine is a black and brown two-tone that matches my Versacarry Underground premium carry belt and deluxe adjustable magazine pouch.
My protocol at the range is to first set up my Oehler Model 35P chronograph to get some velocity measurements. I noted that in a couple of cases that the velocity averages I obtained were somewhat higher than the factory specifications. I expected the 56 gr. Inceptor round would be speediest, and it was; all the velocity data is in the performance table. For an accuracy potential evaluation, I shot the Girsan MC 14T from the bench, using a sandbag rest, at a distance of 15 yards. All shooting was done SA and I fired three 5-shot groups with each of the test loads. Targets were 8" tall, oval-shaped bullseyes with black, gray and red "scoring" zones. My best 5-shot group was made using the vintage Cor-Bon 90 gr. JHP +P loads at 0.66". Second place went to the Inceptor ARC load, with a 0.69" cluster. Group averages ran from 1.30"–1.96"; so, all loads averaged under 2 inches.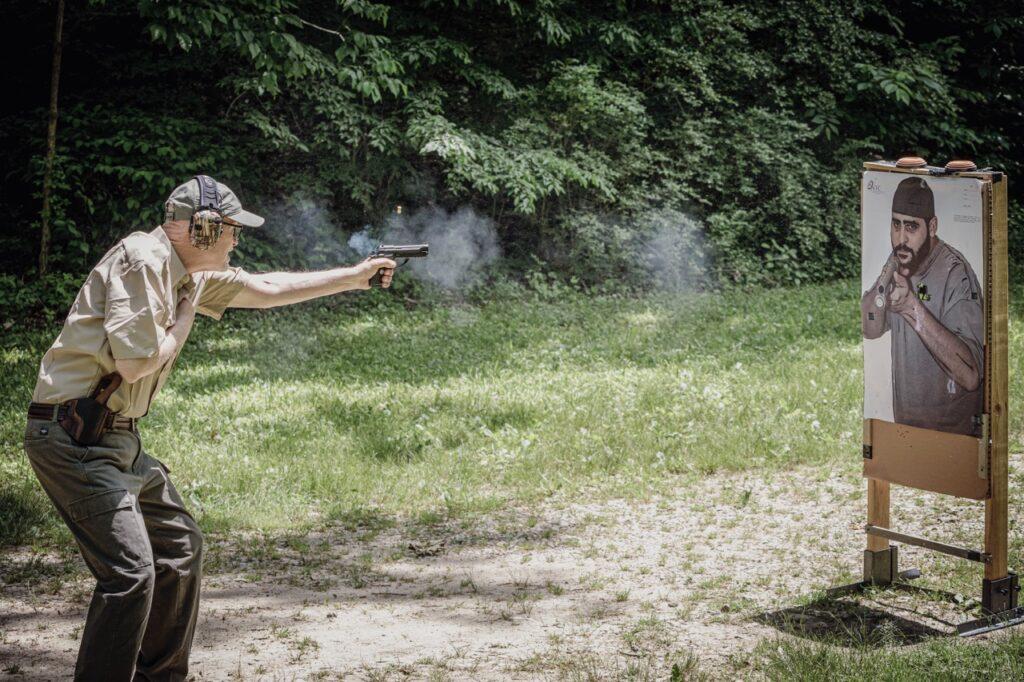 As the Inceptor ARX ammo shot neck-to-neck with the Cor-Bon load, I decided to use it for my 30-round combat qualification course. EAA sent me two extra magazines for the MC 14T and I loaded all three magazines with 10 rounds each of Inceptor, then put on my Versacarry rig and mag pouch. The target stand was placed at 15 yards and my target was a realistic-sized "bad guy" with a shotgun. Another protocol…all shooting began from the leather, I loaded as needed, and at the end of each string, a threat assessment was made, before the gun was worked back into the holster. At three yards, on signal, I side-stepped and fired 6 shots strong-hand only, using a point-shoulder stance. Then, I transitioned to the support-hand only and fired 6 more shots. Moving to the 7-yard line, I performed a series of 3 double-taps at the targets center-mass, using a two-handed isosceles stance, and the sights. Remaining at 7 yards, I shot two body armor/failure drills (2 shots center-mass and 1 to the ocular triangle). Lastly, from behind a barricade at 15 yards, I shot twice, standing, from both sides of the barricade, then 2 shots kneeling from the right side of the barricade.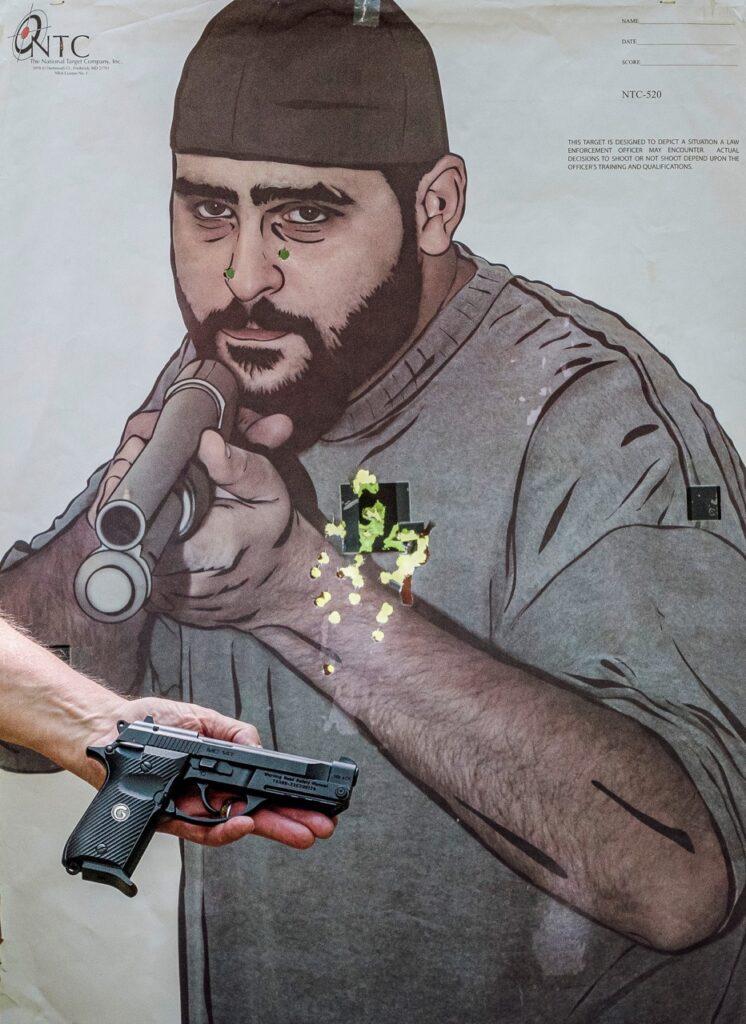 The Girsan MC 14T ran perfectly with the Inceptor cartridges. I had no malfunctions and almost everything worked as it should. I did note that the tip-up barrel hinge pin at the front of the frame caught inside the holster when the pistol was presented. A Kydex outfit might work better as this pin protrudes about 0.25" from each side of the pistol. At the bench, I had feed ramp jams with the Honey Badger (1), the Cor-Bon (1) and Winchester (3) cartridges. This pistol has an almost straight feed from the magazine and a steep a feed ramp, so make sure the cartridge you select will feed every time. For fixed sights, point-of-aim/point-of-impact was above average. I generally held a couple of inches above the red aiming center of the targets with light-bullet loads to obtain center hits. The trigger pull definitely contributed to the high level of accuracy. While the size and weight of this pistol might be more than some folks want to pack around, for a home defense gun, especially for those with limited hand strength, this might just be the gun you're looking for.
Additional Information
EAA/Girsan www.eaacorp.com
Versacarry www.versacarry.com
Girsan MC 14T Specifications
MECHANISM: DA/SA Blow-back, semi-automatic
CALIBER: .380 ACP
CAPACITY: 13+1 cartridges
BARREL: 3.81"
OA LENGTH: 6.8"
EMPTY WEIGHT: 1.4 Lbs.
SIGHTS: Fixed 3-dot
FINISH: Blue barrel/slide, black anodized frame
STOCKS: Black grooved composite
MSRP: $498.00
Girsan MC 14T .380 ACP Performance
| | | | |
| --- | --- | --- | --- |
| Cartridge | Ave. Velocity | Best Group | Average Group |
| Black Hills 60 gr. Solid Copper Honey Badger | 1151 FPS | 1.71" | 1.96" |
| Cor-Bon 90 gr. JHP +P | 1094 FPS | 0.66" | 1.42" |
| Federal Personal Defense 90 gr. Hydra-Shok HP | 971 FPS | 1.40" | 1.86" |
| Quantum Inceptor 56 gr. ARX | 1361 FPS | 0.69" | 1.57" |
| Winchester PDX1 Defender 95 gr. Bonded JHP | 962 FPS | 1.34" | 1.93" |
NOTE: Bullet weight measured in grains, velocity in feet per second 10 ft. from the muzzle by an Oehler Model 35P chronograph, and accuracy in inches for three 5-shot groups at 15 yards.
To Locate a dealer near you visit www.lipseys.com/dealerfinder