How can one describe being on safari in Africa? It can be difficult to put into words. Many who have been to the Dark Continent say that once you have set foot there, the thirst to be there can never be satisfied…that Africa captures the soul.
I am no expert nor authority on travel to, or hunting in, Africa. But I've been exceedingly fortunate to have gone twice now. That urge to go back is already driving me to plan yet another African excursion, though I just deplaned from my last one less than a week ago as of this writing.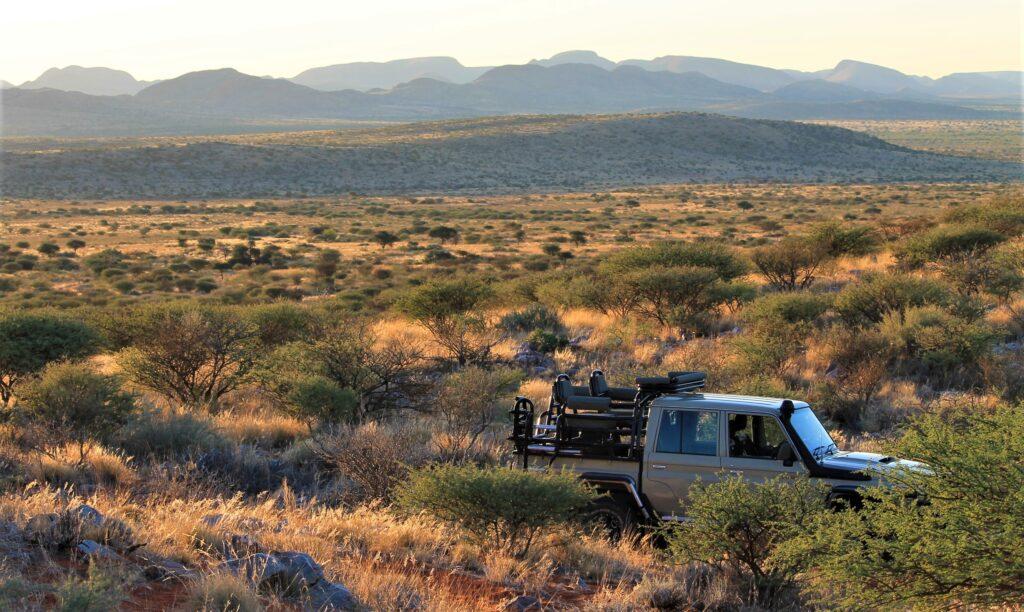 In late May of 2023, I enjoyed a hunt in the Northern Cape of South Africa. It had been 38 years prior that I spent a month in Zambia. Both trips were nothing short of spectacular.
This latest outing really began in January at a meeting with Professional Hunter (PH) Stephen Bann, owner/operator of SB Hunting Safaris. We had scheduled a chat at the Houston Safari Club Convention in Texas this year. Stephen's name had come up via a mutual friend who had hunted with him several times before, and I wanted to meet face-to-face to see if SB Hunting Safaris was a good fit for the plains game hunt I had in mind. Plans were soon made for a hunt in the Northern Cape of South Africa in May of this year. I was keenly interested in the four color phases of Springbok (common, copper, black, and white), otherwise known as the Springbok Slam. In addition, the immense diversity of other plains game species was sure to offer many other chances for variety on the Dark Continent.
The Rifles
On this hunt I elected to take my old tried and trusted Model 70 .270 Winchester, a rifle that has traveled many thousands of miles with me and taken much big game.
But a key focus of this safari was to put a rifle and a brand through its paces that I had never tried before. The Christensen Arms Mesa FFT is based on a traditional bolt action platform rifle built with the hunter in mind. Weighing only 5.5 pounds without scope and hardware, this rifle has the lines and feel of a serious hunting rifle.
Christensen Arms was established in 1995 and based in Gunnison, Utah. The company stands on their claim of always made in America, from the first prototype to their state-of-the-art current production models. Christensen is "focused on incorporating top-tier aerospace materials and processes into production – resulting in some of the most lightweight, precise, and accurate firearms in the industry and around the globe," according to a company spokesman. Their rifles are widely respected among big game hunters.
The particular Mesa FFT that accompanied me on this safari came with Burnt Bronze Cerakote finish on the barrel and action. Its carbon fiber stock is dark green with tan accents, a camo pattern ideal for most any hunting venue, but especially well-suited for the Kalahari region of South Africa. Other camo finishes are available from Christensen. Sling studs are included and the receiver tapped and drilled for scope bases.
Introduced in the first half of 2022, the Mesa "FFT" stands for "Flash Forged Technology." What does FFT technology consist of? The construction of the stock and other components utilizes the latest advancements in carbon fiber composites. Mesa FFT rifles are light in weight and heavy on precision, strength, and innovation. The light but strong sporter style stock, floor plate, and bolt knob all share in helping to eliminate up to one pound of weight compared to most other rifles of the same dimensions.
The Mesa FFT features a Christensen Arms 416R stainless steel barrel with Featherlight Contour, a removable stainless steel "Seamless" radial muzzle brake, a 1/2 × 28 threaded muzzle, a precision-machined receiver, and as mentioned earlier, a carbon fiber FFT Stock. Accuracy is backed by a sub-MOA guarantee.
My caliber of choice for Africa was .300 Winchester Magnum, a tried-and-true option for African plains game such as eland, roan, sable, and wildebeest to mention a few. The Mesa FFT is also available in no less than 15 other chamberings including many of the newer caliber offerings such as 7MM PRC and .300 PRC.
The Ammo
All of the pre-hunt range work was completed on my home range in New Mexico. This included a specific barrel break-in procedure consisting of a series of shooting and cleaning sequences. Although many different break-in sequences exist, Christensen's procedure has been developed over the last 15 years, is simple, and has a record of providing excellent results. This process is well defined on the barrel break-in section of the Christensen website.
Known to be the perfect weight grain bullet in the .300 Win Mag I elected to stick with 180gr offerings only. While I tried numerous brands, the hands down choice for accuracy was the Sierra Gamechanger with its 180 grain TGK (Tipped Game King) bullet. I fired numerous three-shot groups that were no larger than ½ MOA (half-inch at 100 yards). Several three shot groups were also fired at 200 yards and likewise proved to be sub-MOA.
You may question the felt recoil I experienced with the 300 Win Mag cartridge in this rifle considering its light weight. However, with Christensen's seamless, removable radial muzzle brake, I can report the recoil is in the same class as the .270 Win or 30-06 Springfield cartridges.
The Gear
When you have a quality rifle your optic needs to stand up to the challenge. Enter Lucid Optics and their L5 4x-16×44 rifle scope.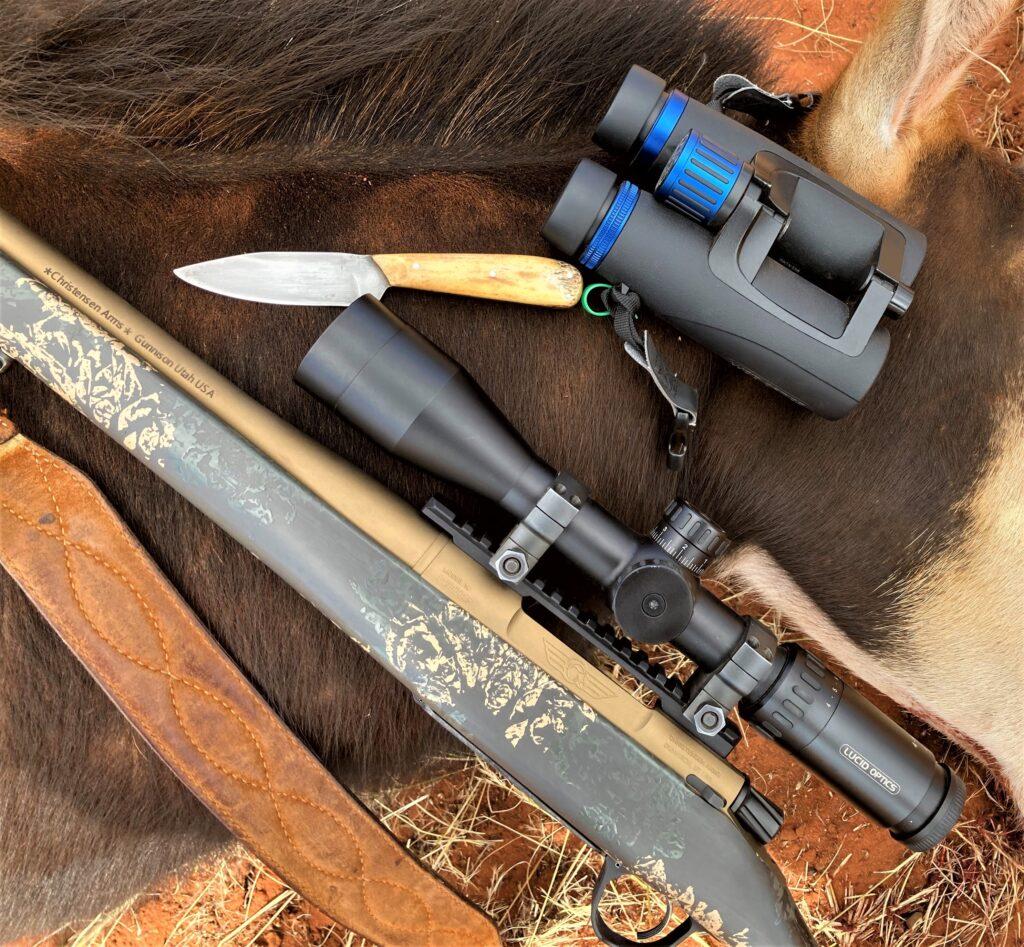 I used the Lucid L5 rifle scope atop the Christensen Mesa FFT for the entire safari. The 30mm tube offers precise 1/8 MOA windage and elevation adjustments on lockable, tactical style turrets. A side parallax adjustment along with the ocular diopter adjustment provides for a sharp target image over the entire magnification range of 4x-16x. The L5 Reticle also serves as a precise MOA measuring device with 2 MOA increments below the rifle's zero along with viable windage values built in.
Binoculars for this safari also came from Lucid Optics. Their model B-8, 8×42 magnification binos allow for a wider field of view and only weigh 24 ounces. They are designed with an aluminum-reinforced, glass filled polymer open frame, utilizing high-definition ED Fluoride lenses. Lucid also made sure that they were waterproof and fog proof for extra peace of mind. Lucid also offers the model B-10, 10×42 for those who want even more magnification.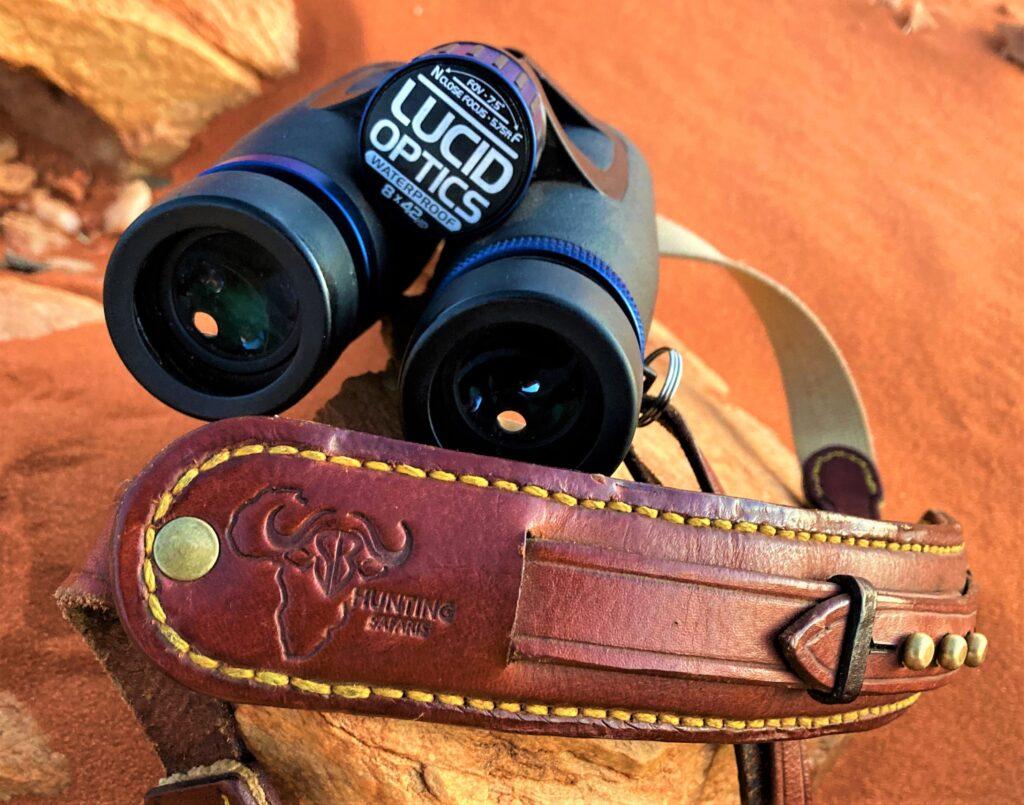 As anyone who has traveled overseas with firearms knows, the manner in which you transport guns is not to be taken lightly. I utilized the rugged Nanuk model 995-gun case that held two rifles. The case, new when I departed sported scars from hard handling and use by the end of the trip.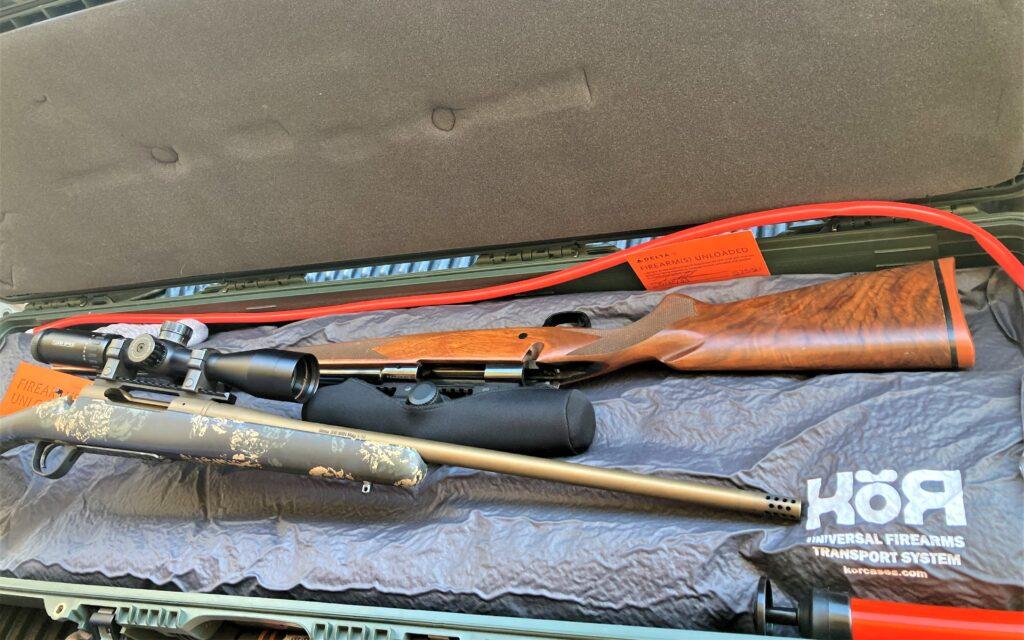 While the Nanuk case came with standard foam inserts that can be cut to fit the specific profile of one or more firearms, I discovered a much better option. A new company, KOR offers a replacement system for the standard foam inserts found in most hard rifle cases. Officially, the insert is called a "vacuum-ridgidizing structure," or "VRS." Company owner GP Searle, has obtained a patent for the system. The VRS is an inflatable bladder, filled with birdshot-like grains to that provide a specific outline of your firearm and holds it securely in the case.
The VRS system works with three simple steps:
Apply air to the system via a hand pump that is supplied.
Position the firearm(s) in the preferred position in the case
Remove the air from the system via the same hand pump.
The end result is a rigid and secure outline specific to your particular firearm not unlike a mold of the gun itself. It stays that way until air is pumped back in, at which time the KOR can be re-configured for any other firearm(s).
The system worked marvelously on my trip and carried two rifles securely in the Nanuk case for over 20,000 miles! The end result was that both rifles arrived unscathed and were checked for zero once at the safari camp. Zeros on both scopes were still in place and no adjustments required.
The Safari
My interest on this safari was primarily plains game based and not more dangerous species such as lion, cape buffalo, and so forth. Make no mistake, all African game seems to have a tenacity not found in game elsewhere in the world.
Much of the plains game species are larger bodied antelope such as wildebeest, gemsbok, roan, sable, eland, and others weighing in the 500 to 1500+ pounds Most hunters in the US or Europe are indoctrinated to shoot big game behind the front shoulder to hit vitals, i.e., the heart and lungs.
For much of the larger antelope in Africa your PH (professional hunter) will tell you to shoot through the shoulder or on the point of the shoulder due to the fact that the vital organs of African game set further forward in the chest cavity than game in other regions of the world.
As mentioned, one of my goals was to attempt to take all four color phases of springbok, which are found in many regions of South Africa, white, black, copper and common. In addition, I was looking for some of the larger plains game species mentioned above.
I utilized the .270 Winchester for most of the smaller game such as the Springbok. But I put the Christenson Mesa FFT through its paces, using .300 Win Mag for larger game.
Our hunt area consisted of a ranch of around 50,000 acres or close to 80 sections of land based on US measurements. In other words, a huge swath of country. In most of South Africa, hunting takes place on private ranches, not government-owned concessions as may be the case in other regions of Africa.
Our daily routine was to travel through different sections of the ranch in Bann's well-maintained Toyota Landcruiser pickup. Most often I would sit in the back cargo area on elevated seats, placed to give the observer a means of spotting game more effectively. Much of the terrain is covered in camel thorn trees or black thorn brush and being elevated is a distinct advantage. We also walked to high points afoot and then utilized our optics to spot game.
Most often Stephen or his tracker, Shawn, would be in the back of the Landcruiser with me. The amount and variety of game seen on a daily basis was astounding. Itching to hunt on the first day of arrival, we headed to the field after a quick lunch at our base of operation, Thuru Lodge, situated along the southern edge of the Kalahari, about 3 hours west of Kimberly.
We spent much time glassing springbok that first afternoon and making short stalks to attempt a good shooting position. Finally, near the end of the first day, we stalked to within a relatively short distance of about 125 yards on a nice Black Springbok ram. I made a one-shot kill with the .270 Win., my first animal down on African soil since 1985.
As a side note, most shots were taken from the classic shooting sticks so often seen on the US hunting shows. Word to the wise, practice before your safari shooting from this type of shooting position.
Day two began early with breakfast around 6:30am and then to the bush looking for the other springbok color phases or larger game. Springbok were seen at almost every turn of road but were as elusive or difficult to approach as any of the plains game seen. It was not long into the morning when Bann's talented eye spotted a very nice roan antelope. While not at the top of my wish list, a roan was certainly on the list.
Seeing that the roan was exceptionally heavy in horn and reasonable in length we decided to make a try. Keeping a ridge between us and the antelope we closed the distance to within about 175 yards. Again, from the shooting sticks I fired one shot to the left shoulder and the roan went down immediately. The Christensen performed well as did the .300 Win Mag cartridge. The minimal weight of the rifle and felt recoil was quickly appreciated.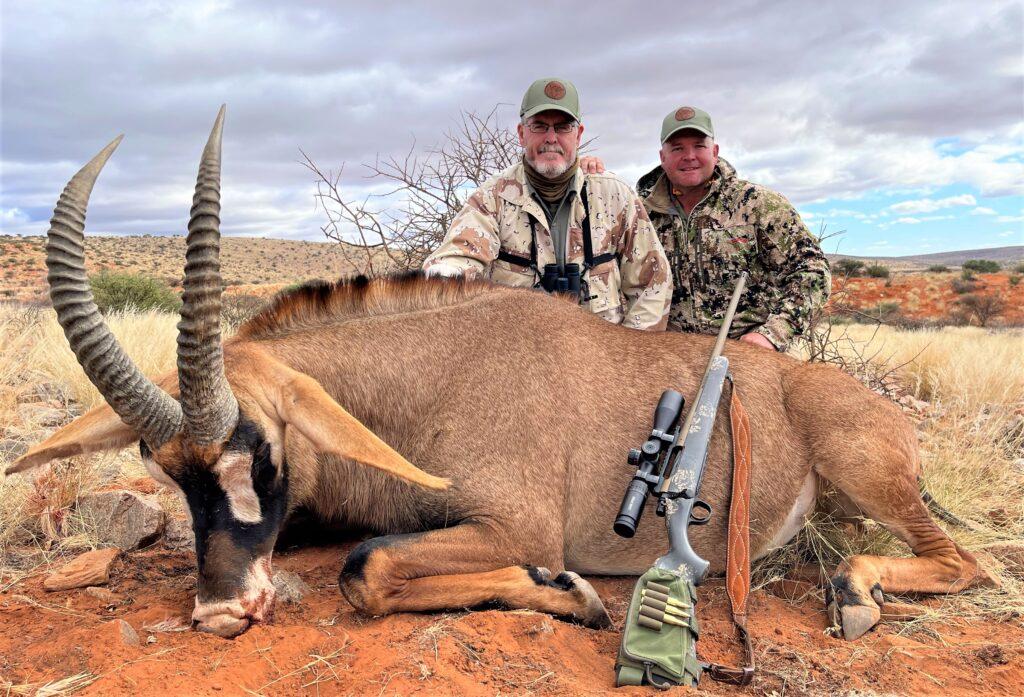 As the week went on a total of seven species fell to the Christensen .300 Win Mag including roan, sable, Cape Eland, Blue Wildebeest, Red Lechwe, Blesbok, and Common Springbok. Two of these took more than one shot, both the eland and the sable required three shots each. Both were hit well with the first shot, but as previously mentioned, African game is tough.
The longest shot with the Mesa FFT .300 Win Mag was around 350 to 400 yards on the Common Springbok. The Christensen proved it accuracy repeatedly and no doubt my pre-hunt work on the range was in no small way integral to the overall success of the safari.
I completed my Springbok Slam taking the White, Black and Copper Springbok with my .270 Winchester. All taken after stalks through the black thorn and from the shooting sticks.
Likewise, the quality gear from Lucid Optics, KOR, the bullet performance of the Sierra Gamechanger ammo, along with a nice custom knife from Mark Wilkie back in New Mexico, all had their own part to play.
The last evening, I was fortunate to take respectable kudu bull amidst the camel- and black thorn along the edge of a long savannah. Taken with my old .270 Win I was reminiscent of Jack O'Connor's safaris in Africa decades ago and how much he admired the .270 cartridge.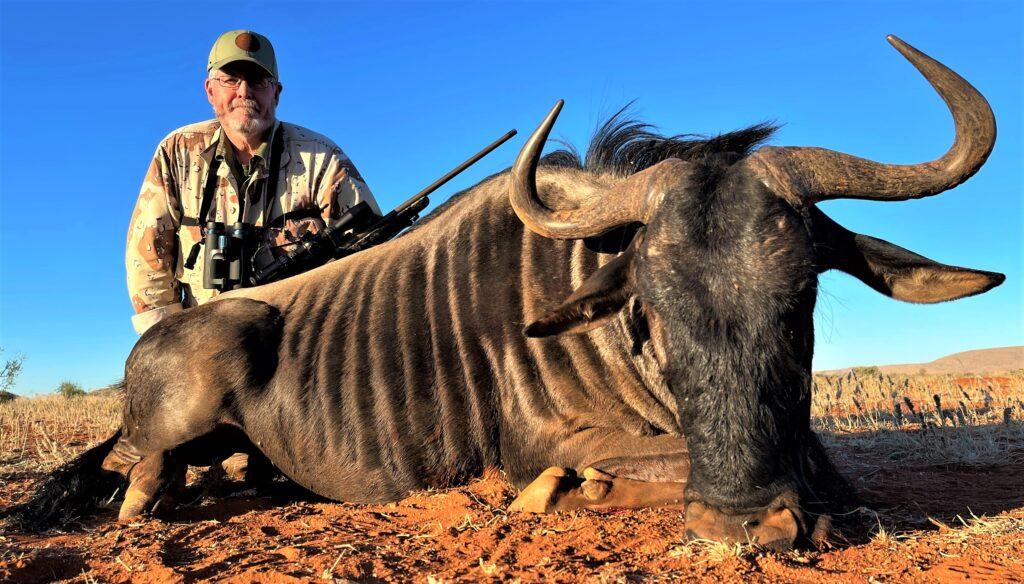 Soon after we drove to the crest of a tall red dune, so iconic of the Kalahari and enjoyed a fire, a brandy, and watched the sun disappear behind the hills of South Africa.
Yes, Africa captures the soul.
To locate a dealer near you visit: www.lipseys.com/dealerfinder
ABOUT THE AUTHOR
TERRY NELSON – is a 30-year veteran of law enforcement with police and sheriff agencies, including SWAT and sniper roles, and has served as a state game warden. Nelson also served seven years with New Mexico State Guard. A lifelong hunter, guide, tracker and firearms enthusiast, Terry is sought for training in multiple disciplines by both civilian and police-serving agencies and companies. Nelson also holds a Basic Tac Med instructor certification from Federal Law Enforcement Training Center.