In the world of concealed carry and self-defense, choosing the right firearm is of paramount importance. Solid conceal carry options abound, and especially with the rise of the small to mid-size 9mm handguns, the consumer choice is vast. However, a lot of the firearms in this category can be pricey, especially for the entry-level concealed carry owner. It's not just about finding a reliable weapon, but one that fits comfortably, performs flawlessly and ensures your safety. Enter the Bersa BP9, a sub-compact 9MM Luger pistol that ticks all the boxes and then some. With its sleek finish, the BP9 not only looks impressive but delivers exceptional performance, making it a contender choice to be considered for those on a budget.
At the heart of the Bersa BP9 is its 9MM Luger caliber, and it also can be purchased in .380. For our testing, we wanted to go with the 9mm because there is a lot more carry ammo options in this caliber, and we feel like it would be the best for comparisons to other handguns in its class.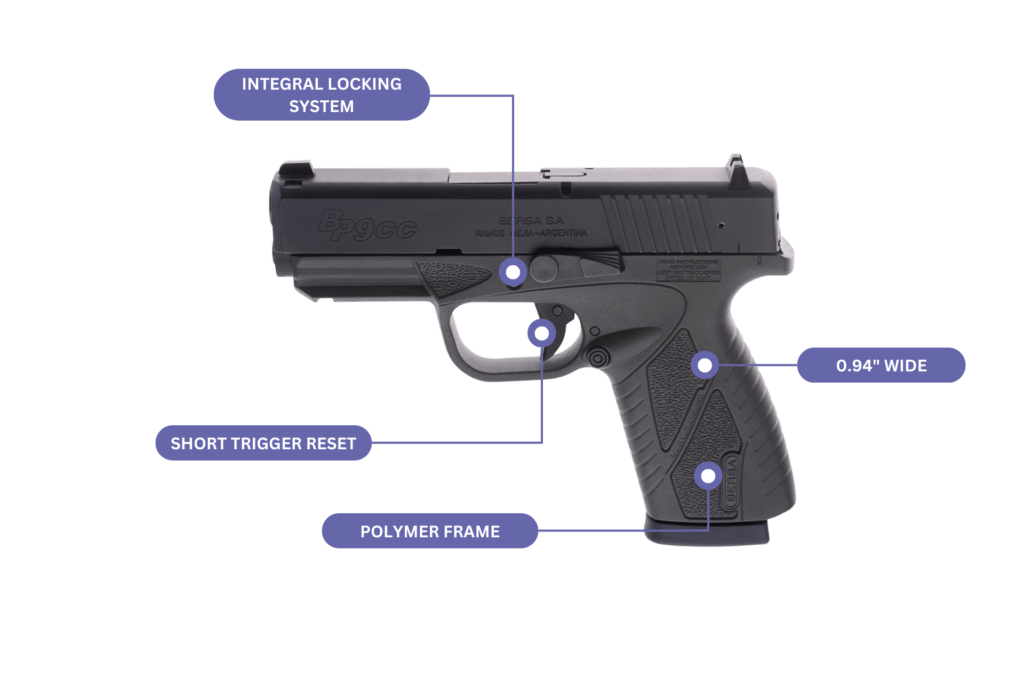 The Bersa BP9 and some of it's top features
The Bersa BP9 we received was in an all-black finish, however, it does come in many other color options. We like black, especially for concealed carry. The less it is noticeable, the better, and sometimes colored guns can be seen as possible toys by law enforcement. The finish is great. The receiver is made of polymer, while the slide is made of steel. The BP9 has a great feel to it and conceals easily.
This handgun is made for concealed carry. The BP9 features a sub-compact frame size that fits comfortably in your hand and holster. Despite its compact dimensions, this pistol offers a commendable 8+1 capacity, allowing you to carry an ample amount of ammunition to handle any situation confidently. It also comes with an extra magazine in the box.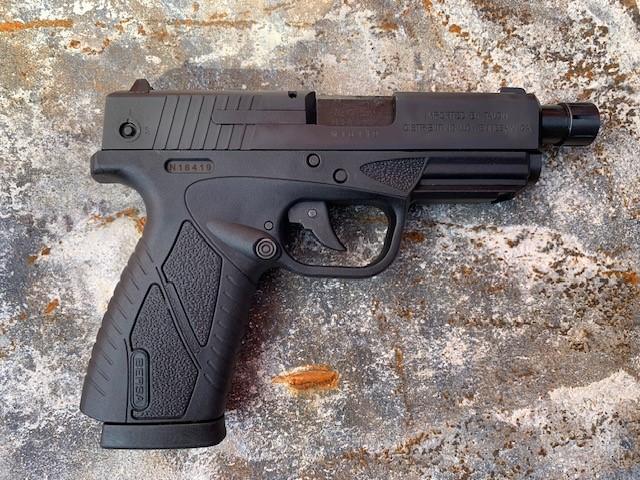 The Bersa BP9CC is the model we tested. It has the extended barrel and it is threaded for suppressed shooting
The polymer construction of the frame provides excellent resistance to impact and environmental factors, making the BP9 a reliable companion in various conditions. This lightweight design also enhances the pistol's overall maneuverability, allowing for quick and precise target acquisition. Weighing in at a mere 21.5 ounces, the Bersa BP9 is incredibly lightweight, ensuring minimal strain during extended carry periods. Its featherlight construction, combined with the ergonomic design, makes it a practical choice for everyday carry without sacrificing durability or reliability.
Bersa seems to really prioritize safety, evident in the BP9's Integral Locking System. This advanced safety feature provides an additional layer of protection, preventing unauthorized access to your firearm.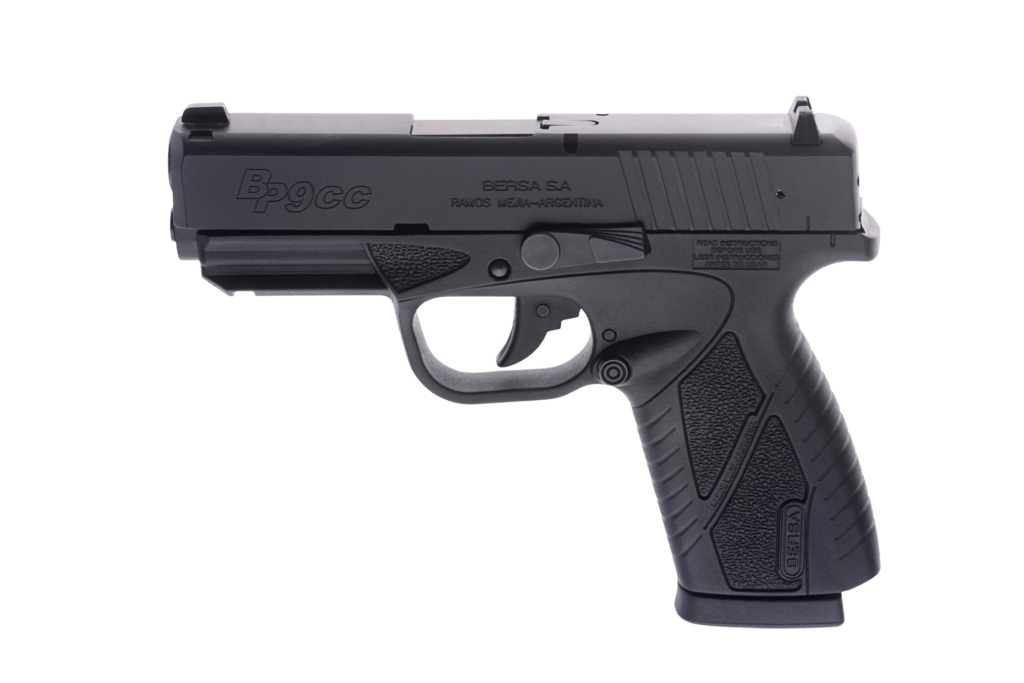 Bersa BP9CC side angle profile
One of the items I loved about the BP9 is the high back beavertail design. This allows you to get a full solid grip on the pistol without having to worry about the slide biting your hand, and you don't get that jump-out feeling like you typically do with other pistols in its class.
The large rear and front sights on the Bersa BP9 offer exceptional flexibility when it comes to sighting options. Its interchangeable Sig Sauer front sight and interchangeable Glock rear sight enable you to customize your aiming preferences. Whether you prefer a traditional sight picture or a specialized setup, the BP9 accommodates your needs, ensuring accurate and reliable targeting. This feature really helps expand the customization of the handgun.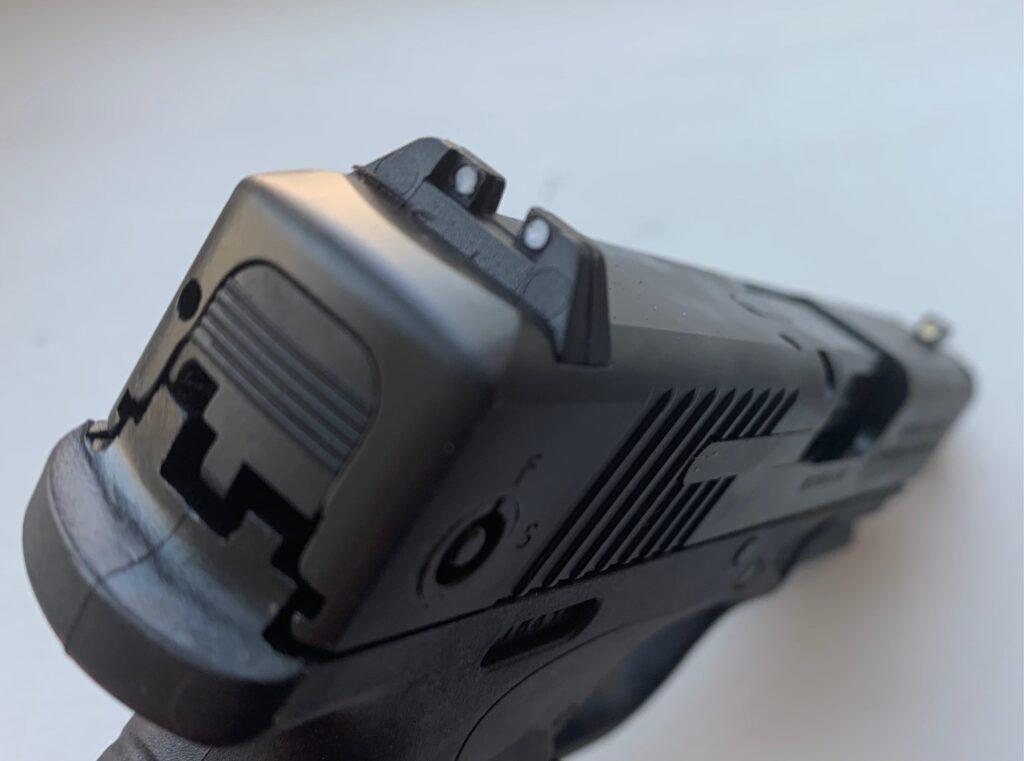 The BP9 sights have interchangeable options with Glock rear and Sig Rear front compatibility
The BP9 is a striker-fired handgun that delivers swift and consistent trigger response. The smooth trigger pull of 3.7 pounds enhances accuracy and control, allowing for quick follow-up shots. The trigger has an excellent reset and great feel. The striker-fired mechanism ensures reliable ignition, making the BP9 a trustworthy companion in high-pressure situations.
The BP9 features a 3.3-inch barrel, striking the perfect balance between compactness and accuracy. However, the model we tested had an extended threaded barrel for the option of suppressed shooting. I really like this feature. It does not affect the holster choice and really adds value to the already loaded BP9. This optimal barrel length allows for precise shooting while maintaining a compact profile. With a total length of 6.35 inches, a width of 0.94 inches, and a height of 4.8 inches, the BP9 is designed for easy concealment without compromising on performance.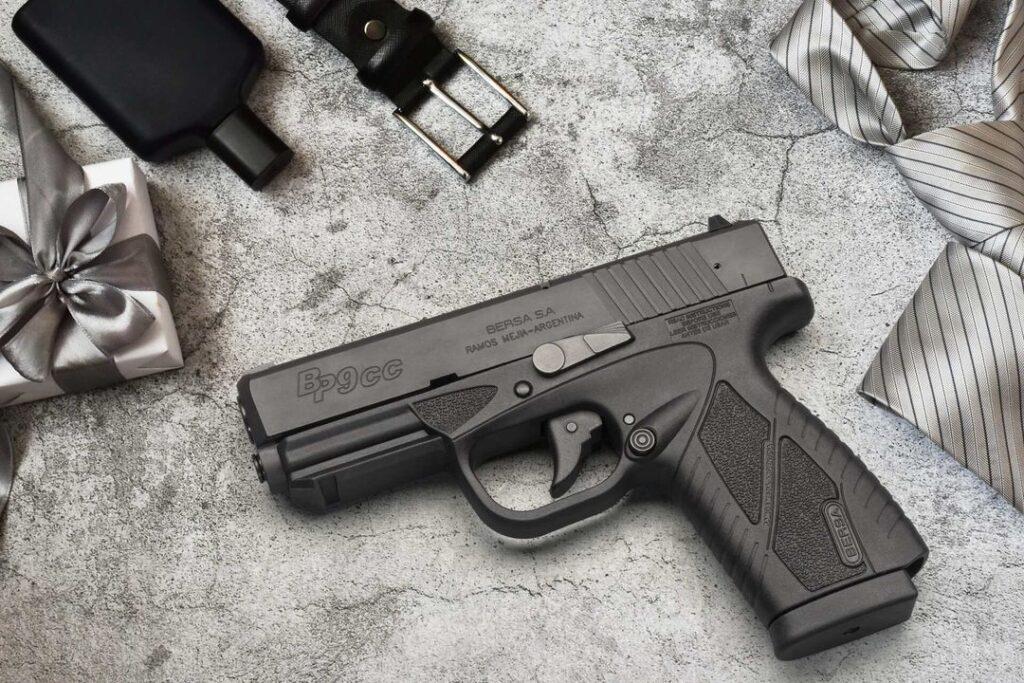 BP9CC Shown with standard 3.3″ Barrel
Range Time:
The BP9 is one of the smoothest most accurate compact 9mm handguns I have shot. I would rank it right up there with the Hellcat and the Shield. Shooting standard ball-head range ammo I was able to get groupings of 2-3 inches at 10 yards, and every shot was spot on. I was truly blown away as to why this handgun isn't more popular or why you don't read about it more in traditional publications. After running about 100 rounds at 10 yards, I expanded my range out to 50 yards, and to my surprise was able to hit center mass of my target 6 out of 8 rounds. For a handgun with a 4-inch barrel that's pretty impressive.
The BP9 can also handle Plus P and any concealed carry self defense ammo you'd like to carry. Bersa's commitment to quality, performance, and safety has really impressed me with this handgun, and with an MSRP of around $350 it really needs to be high on your list of considerations.
To locate a dealer near you, visit www.lipseys.com/dealerfinder