Benjamin Tyler Henry received a patent for the first reliable lever-action repeating rifle in 1860. This rifle evolved into the Winchester lever-action rifle line, and the rest is the exciting, adventurous, and controversial history of the USA over the latter half of the 19th Century. From the War Between the States ("That damn Yankee rifle that you load on Sunday and shoot all week long"), through the era of Manifest Destiny ("The gun that won the West"), right up to today's beloved lever-action hunting rifles, it is hard to imagine what America would look like today without the wonderful leverguns that had their genesis in the original Henry rifle.
Today's Henry Repeating Arms Company has no affiliation with either B. Tyler Henry or the original New Haven Arms Company. Henry Repeating Arms was founded in 1996 by Louis and Anthony Imperato, who engendered a corporate culture based on pride in their products, their people, their company, and their Country. Today, Henry Repeating Arms offers about 200 different models of rifles, shotguns, lever-action pistols, and more, including a wide variety of lever-action rifles in a variety of finishes and levels of fanciness to suit any taste and budget. Their levergun offerings range from their flagship Golden Boy 22 to popular centerfire handgun cartridges (such as 32 H&R Magnum / 327 Federal Magnum, 38 Special / 357 Magnum, 41 Magnum, 44 Special / 44 Magnum, 44-40, and 45 Colt) to traditional lever-action rifle cartridges (such as 30-30, 38-55, 35 Remington, and 45-70 Government) to modern rifle cartridges (such as 223 Remington / 5.56 NATO, 243 Winchester, 308 Winchester, 6.5 Creedmoor, 350 Legend, and 450 Bushmaster). About ten years ago, Henry Repeating Arms came full circle by offering their "Original Henry" rifle, a faithful reproduction of the original Henry rifle, but chambered in 44-40 rather than the long-obsolete "44 Henry Flat" Rimfire; the Original Henry rifle is now offered in 45 Colt as well as 44-40, and, thanks to my brother Jeff and our friends at Henry Repeating Arms, I am proud to be the owner of the first 45 Colt Original Henry rifle. To date, Henry Repeating Arms' production totals run into the millions; the company's "Guns For Great Causes" charitable arm has raised a prodigious amount of money to benefit Pediatric Cancer research, as well as Sporting, Veteran, Law Enforcement, and First Responder organizations; and they daily live up to their motto, "Made In America, Or Not Made At All". If B. Tyler Henry were alive today, I believe he would smile in approval at what Henry Repeating Arms has done with their company that bears his name.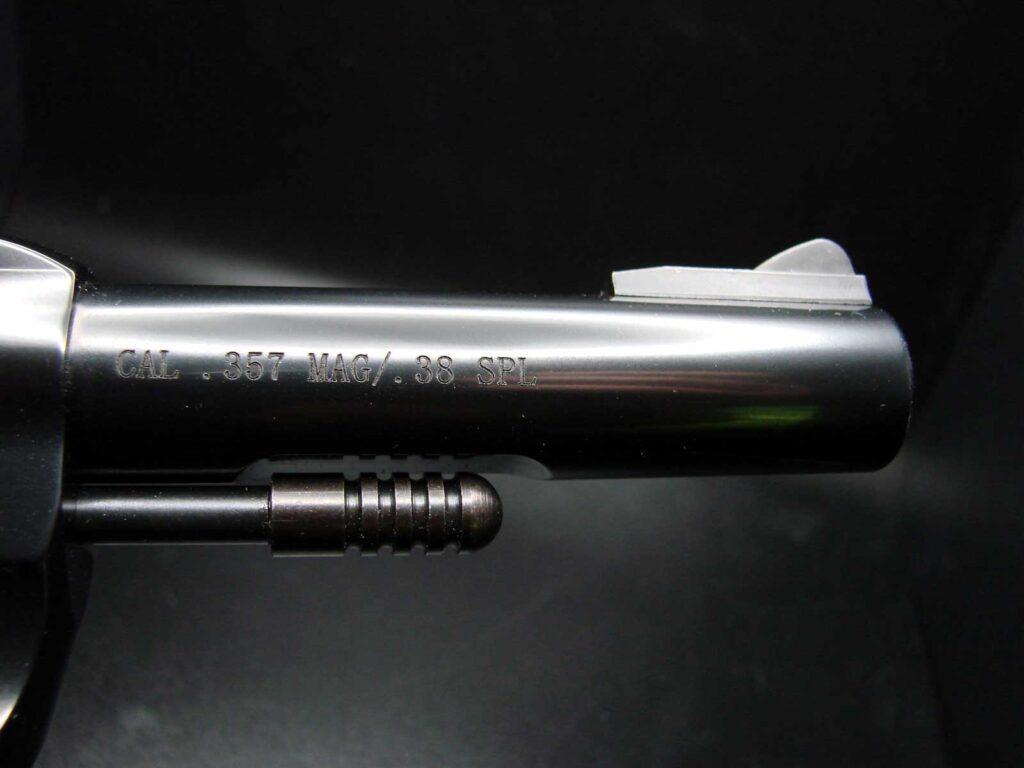 B. Tyler Henry's contribution to the firearms world was singular, and vastly important; his genius did not extend to revolver design, and to my knowledge he never worked on designs having to do with revolvers. Similarly, today's Henry Repeating Arms Company has never offered a revolver…until now.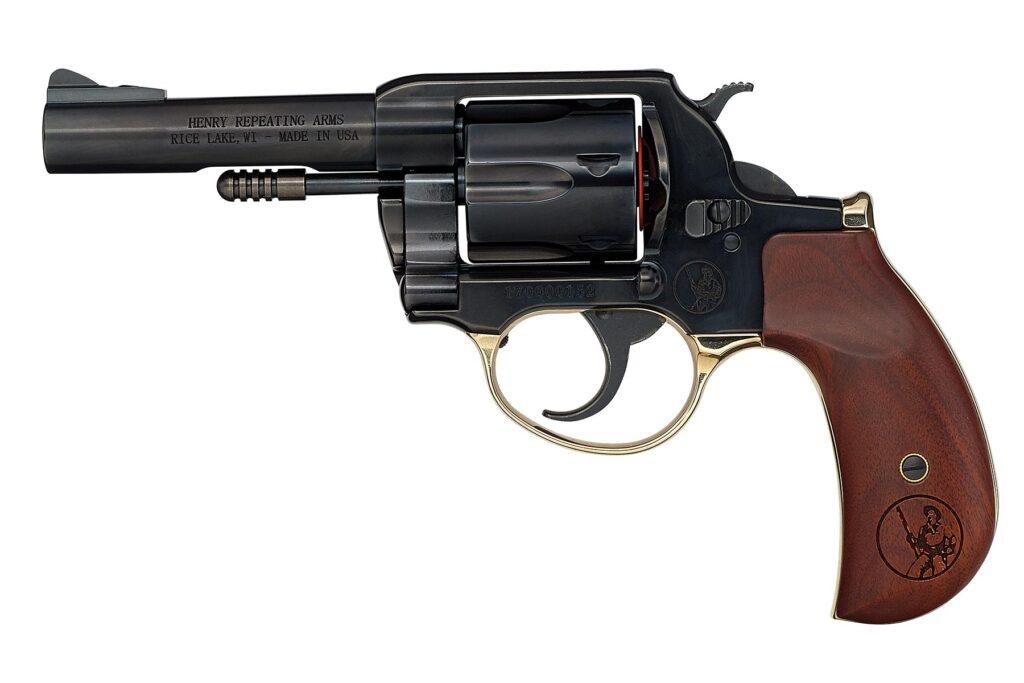 Henry Repeating Arms' first venture into revolver production is called the "Big Boy Revolver". It is a six-shot Double-Action / Single-Action, and is chambered for 357 Magnum / 38 Special; it is not just a copy of existing designs, but a new creature in its own right. Finely crafted from blued steel and brass, the Big Boy Revolver is uniquely beautiful. While the aesthetics of the Big Boy Revolver may be a bit unusual to modern eyes, and will thus not appeal to everyone, those of us who appreciate the beauty of the late-19th to early-20th Century revolvers will immediately be taken by the beauty of the Henry revolver. Visually, the Big Boy Revolver strongly evokes the wonderful Colt Double-Action sixguns of that era, and I, for one, am quite pleased that Henry chose not to make their revolvers look like everyone else's. Mechanically, the Big Boy Revolver is precision-machined from modern materials and features modern engineering and coil springs throughout, along with an extra cylinder locking point using a ball detent at the front of the cylinder crane for added strength, making it superior in many ways to the beloved early DA sixguns.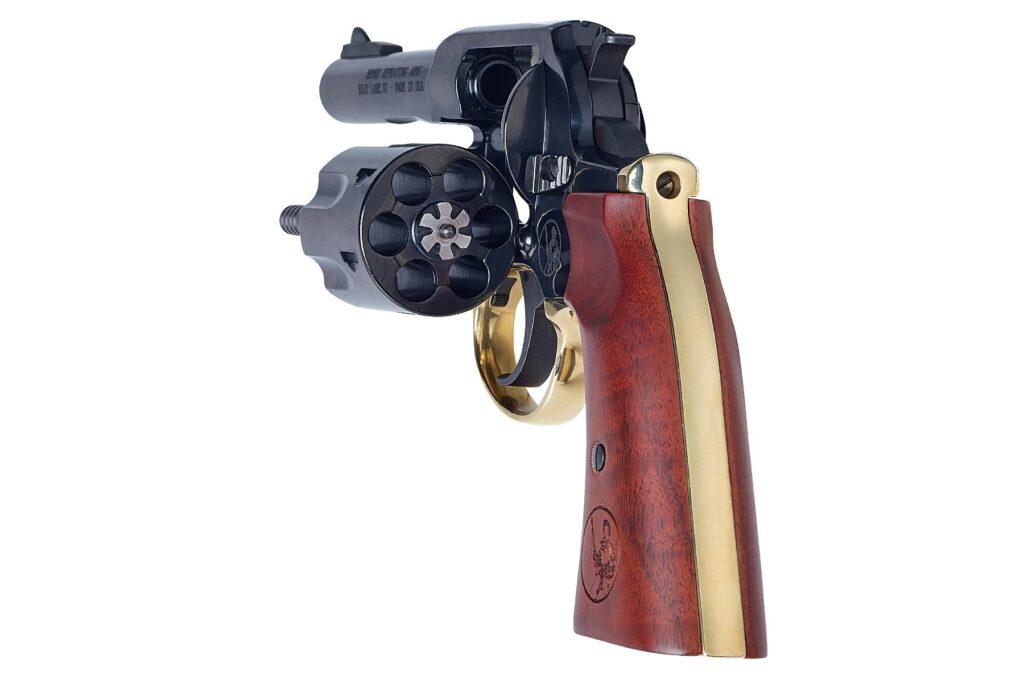 The Henry Big Boy Revolver is initially available with a 4″ barrel, in two different grip configurations. The example I have on-hand (Model H017GDM) sports Henry's "Gunfighter" grip shape, which is a square-butt design featuring a polished brass grip frame and attractively-figured American walnut stocks laser-engraved with the Henry logo. The second model currently available (H017BDM) features Henry's "Birdshead" grip shape, which is a round-butt design, and also has a polished brass grip frame along with very nice American walnut stocks similarly embellished with the Henry logo. The polished brass grip frame contrasts beautifully with the polished blued steel of the rest of the sixgun, and features a generously-sized yet graceful trigger guard and a hump at the top of the grip frame to minimize the sixgun's tendency to flip upward under recoil. The grip fills my moderately-large hand very well, and the stocks are the perfect thickness for me; the stocks also incorporate a subtle, attractive, and effective thumb rest on each side, which also allows a speed loader to clear on the port side.
The 4″ barrel is of a round configuration, with a 1:16 twist, and does not include an underlug enclosing the ejector rod. I have seen quite a bit of derision online regarding this, largely from inexperienced shooters who see this as a weakness, without considering that the early Colt and Smith & Wesson DA revolvers have gotten along just fine with exposed ejector rods over more than a century of hard use. These naysayers, many of whom have never actually seen a Henry Big Boy Revolver, much less used one, also tend to opine that the exposed ejector rod looks "cheap", without considering that these early Colt and Smith & Wesson DA revolvers with exposed ejector rods are often valued in the thousands of dollars on today's market. The barrel is fitted to the frame wonderfully, with my example exhibiting a barrel/cylinder gap of an even and consistent 0.003″.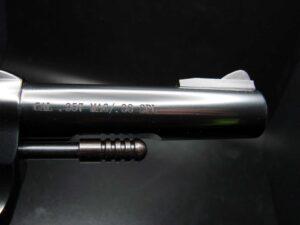 The trigger and hammer have a matte finish, contrasting subtly with the polished steel frame and polished brass trigger guard. The trigger is 0.3125″ wide, curved and smooth, as befits a trigger designed for Double-Action shooting. The trigger pull is excellent, smooth and free of creep or grittiness, with my example averaging a Double-Action pull weight of 8 pounds, 2.5 ounces, and a Single-Action pull weight of 2 pounds, 9.2 ounces, as measured on my Lyman Electronic Digital Trigger Gauge. The hammer is 0.305″ wide, and features a deeply-serrated spur that is easy to cock for Single-Action shooting, even when the shooter has wet or sweaty hands. The hammer is prevented from contacting the firing pin by a transfer bar safety unless the trigger is pulled, assuring that an inadvertent blow to the hammer will not ignite the cartridge in the firing chamber.
The Big Boy Revolver's sights consist of a narrow pinched-grooved rear sight, such as was often seen on late-19th and early-20th Century sixguns, and is not adjustable for windage or elevation. The front sight is a narrow ramp post, integrally machined with a base that is screwed onto the barrel. These sights yield a sight picture that will be familiar to those shooters who fancy the early DA sixguns; while not as quick to acquire as modern open sights, with their wide blades and notches and their high-visibility colors, these "old-style" sights are far more precise and afford wonderful accuracy potential. A really neat feature of the Big Boy Revolver's sights is that, due to the use of a screw-on front sight, elevation can be easily adjusted by simply installing a replacement sight, and two extra front sights are included with the Big Boy Revolver for just that purpose: a medium-height sight (0.295″) is standard, and included low (0.278″) and high (0.325″) sights allow the shooter to dial-in the Big Boy for various preferred loads.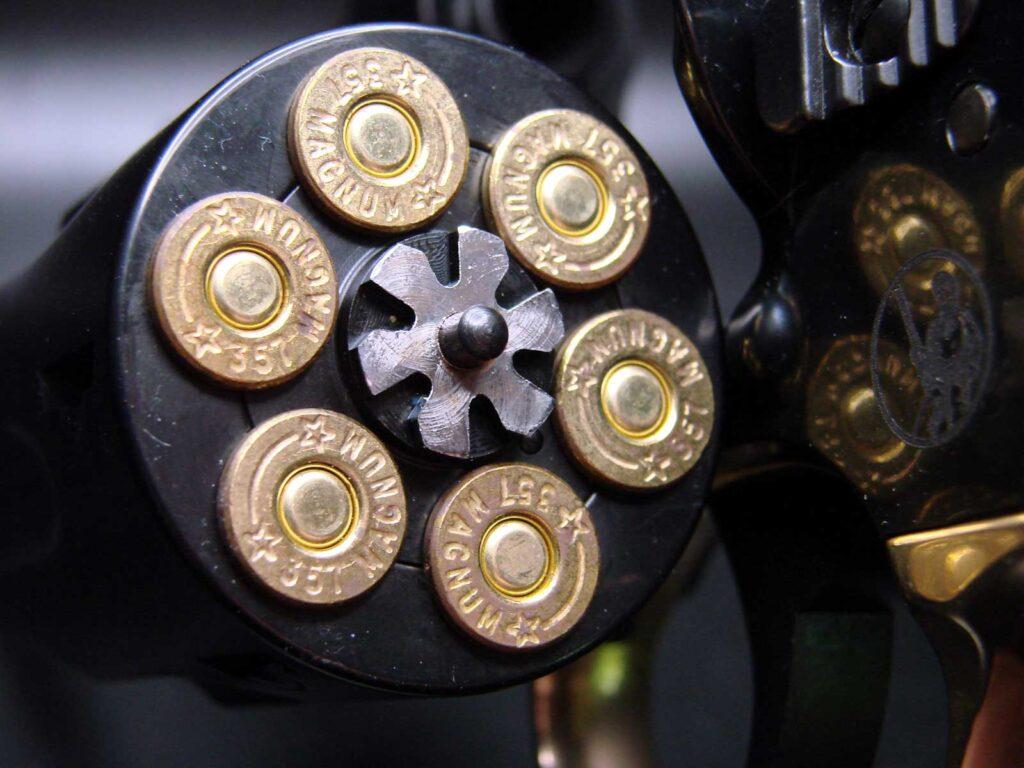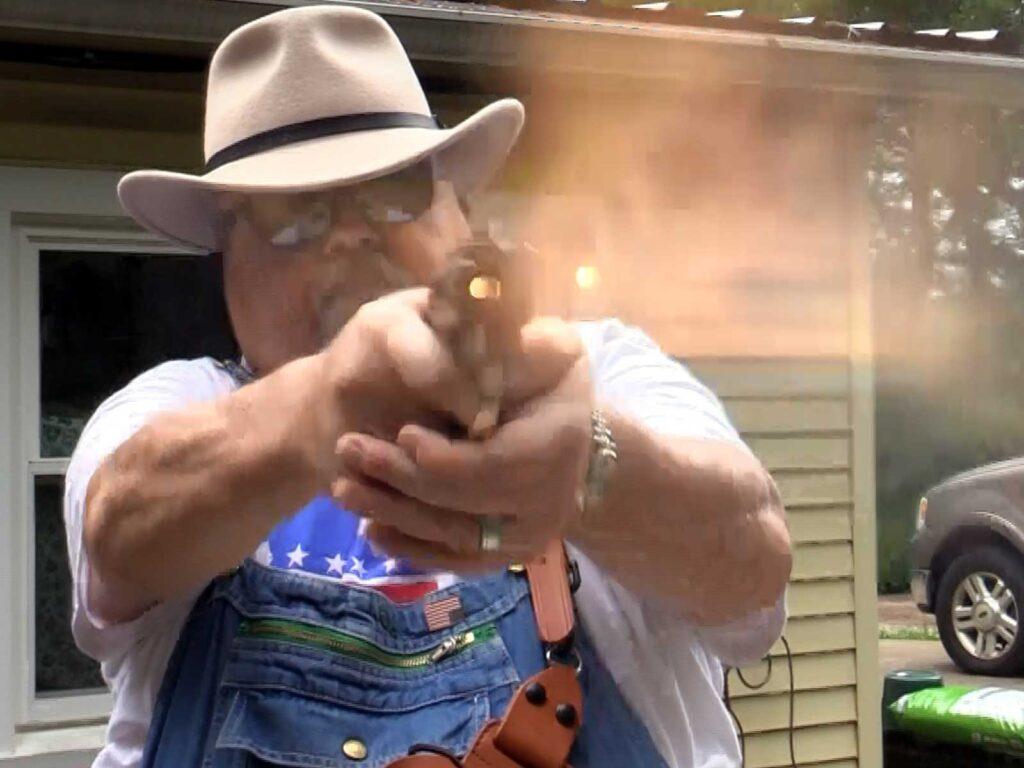 Henry USA's web site lists the Big Boy Revolver's "Best Uses" as "Target / Collector", and I would agree that the sixgun shows the accuracy potential for target use, along with the nostalgia and beauty of a collectible. Being very familiar with Henry's design and manufacturing abilities, as well as their exemplary quality control, I expected an excellent experience when it came to shooting the Big Boy Revolver, and I certainly was not disappointed. Using a variety of 38 Special and 357 Magnum loads, I found that the Big Boy shot close enough to point of aim that there was no need for me to switch out the front sight for one of a different height, so I stayed with the standard-height front sight throughout my shooting tests. Each load tried was close enough to point of aim to keep the holes on the paper, but once I decide which type of loads to primarily feed the Big Boy, I imagine I will choose the front sight that shoots closest to zero for those loads. My favorite 38 Special load, Double Tap Ammo's sedate 148-grain hard-cast lead full-wadcutter, proved to be satisfyingly accurate, registering a 15-foot slow-fire Double-Action group size of just a couple of inches, which is about as well as I can shoot Double-Action, while Double Tap Ammo's excellent full-power 357 Magnum 158-grain Controlled Expansion JHP load did almost as well from an accuracy standpoint, and would be an excellent choice for defending one's self and one's loved ones. The Big Boy revolver's grip design worked wonderfully with even heavy 357 Magnum loads; the grip size and shape made shooting very comfortable, while the hump at the top of the grip frame did a great job of reducing muzzle flip, making it quicker and easier to get back on target.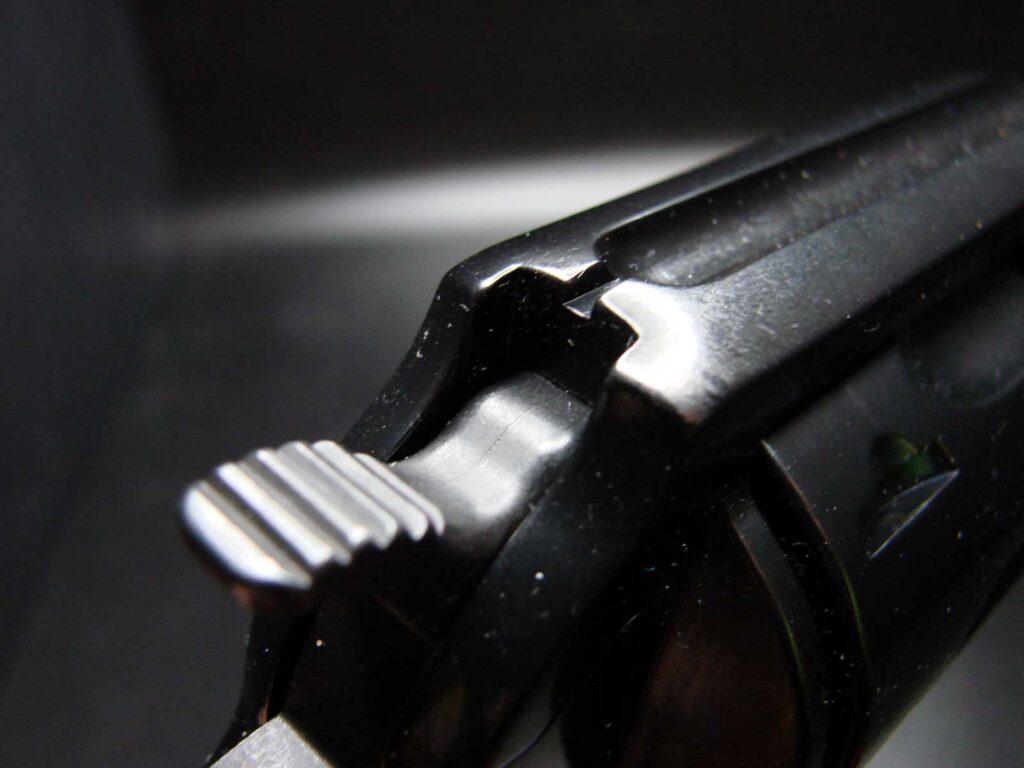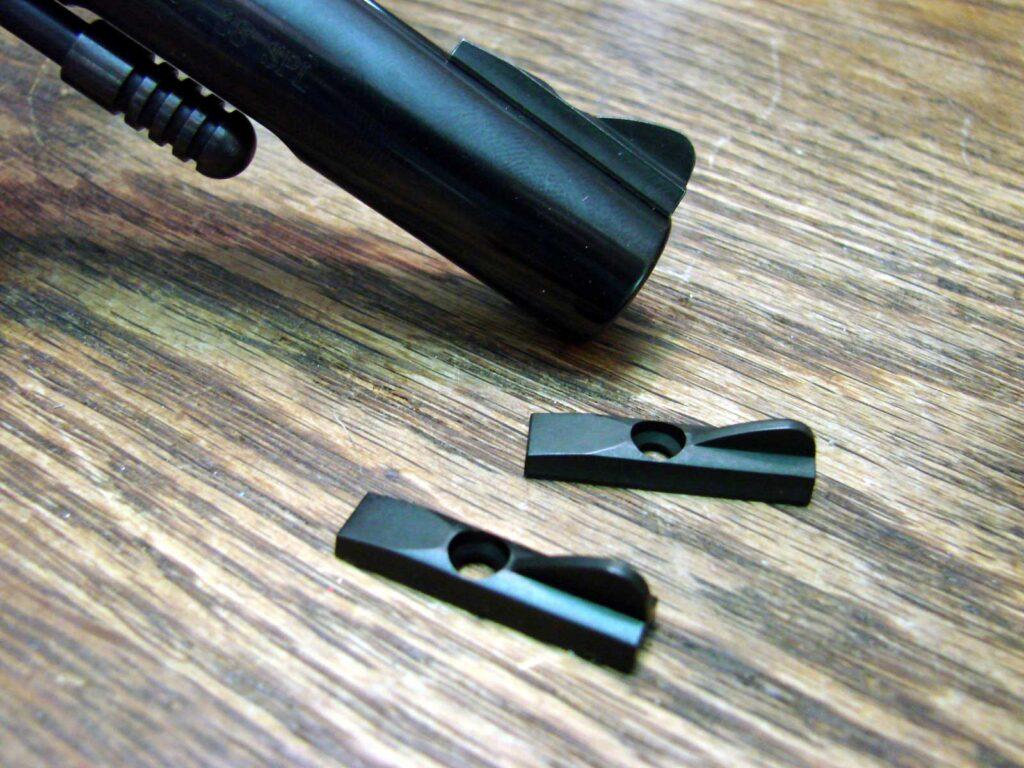 As the Henry Big Boy Revolver is brand-new on the market, finding a suitable holster might pose a bit of a problem initially, but upon trying out a bunch of holsters I have on-hand (to fit S&W, Colt, and Ruger Double-Action revolvers), I found that Simply Rugged Holsters' "Eldorado" holster made to fit the Limited-Run Ruger "Jeff Quinn Memorial" GP-100 4″ 44 Special was a perfect fit. As for new holsters made specifically for the Big Boy Revolvers, help is on the way from the same Simply Rugged Holsters; Rob Leahy and his crew are making several models of their excellent holsters to fit the Big Boy Revolver, and these will be available for purchase very shortly from Simply Rugged, or directly from Henry USA. Rob Leahy is a great guy who runs a great company, and I cannot recommend Simply Rugged Holsters highly enough; check them out at https://www.simplyrugged.com/.
The Henry Big Boy Revolver, in either Gunfighter or Birdshead grip configuration, is currently priced at an MSRP of $928.00, making it comparable to similarly-configured 357 Magnum revolvers from Colt, Ruger, and Smith & Wesson. A bit of shopping should yield significant savings. The Henry Big Boy Revolvers are available through Lipsey's nationwide dealer network; to find a Lipsey's-affiliated dealer in your area, click on the DEALER FINDER at https://www.lipseys.com/.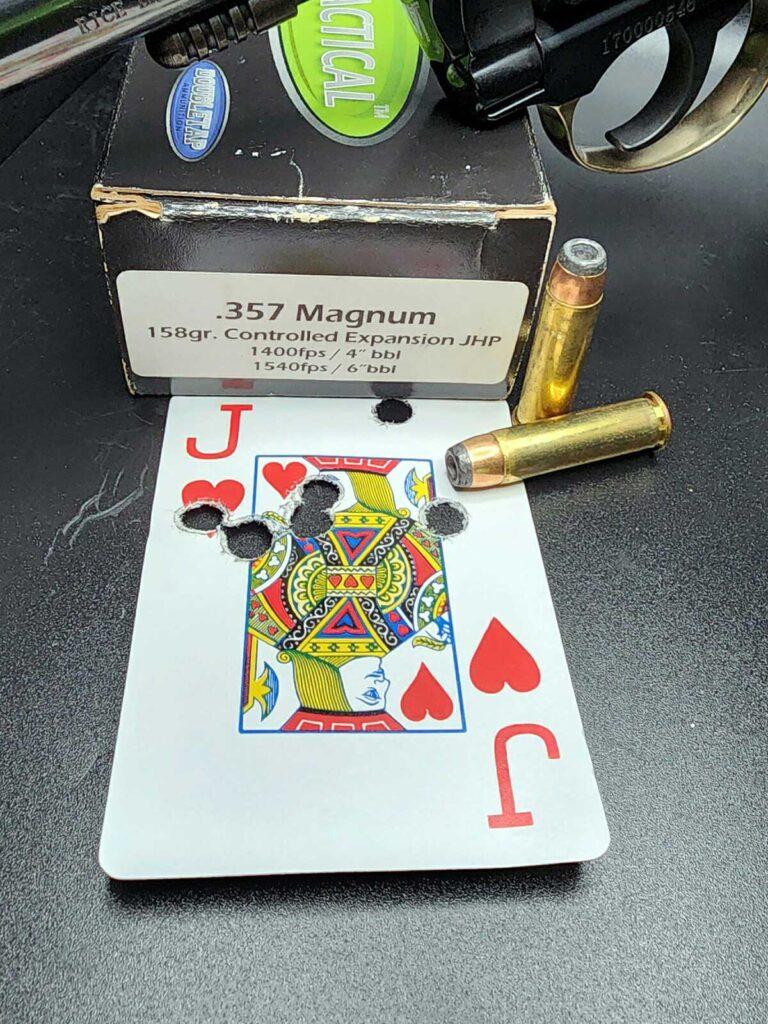 Benjamin Tyler Henry never made revolvers – but if he saw the new Henry Big Boy Revolvers, I believe he would again smile in approval.
Specifications – Henry® USA Big Boy Revolver .357 Mag/.38 Spl Gunfighter Grip
Model #: H017GDM
Action Type: Double-Action / Single-Action Revolver
Caliber: 357 Magnum / 38 Special
Cylinder Capacity: 6
Overall Length: 9.5 Inches
Weight: 35 Ounces
Barrel Length: 4 Inches
Barrel Type: Round Blued Steel, 1:16 Twist
Receiver Finish: Polished Blued Steel
Grip Frame: Polished Brass
Grip Material: American Walnut
Rear Sight: Fixed Notch
Front Sight: Screw-On Post, Interchangeable High / Medium / Low
Safety: Transfer Bar
Trigger Pull, DA: 8 Pounds, 2.5 Ounces
Trigger Pull, SA: 2 Pounds, 9.2 Ounces
Accessories Included: Box, Instruction Manual, Cable Lock, Low and High Interchangeable Front Sights
MSRP as of May 2023: $928.00 US
ABOUT THE AUTHOR
Boge Quinn is a life-long shooter, born and raised in the Great State of Tennessee. A co-founder of Gunblast.com (https://gunblast.com/) in the year 2000, along with his brother Jeff Quinn, Boge has continued on with Gunblast after Jeff's passing in 2020. Boge serves on the Board of Directors of The Shootists (https://shootists.org/), an organization started by John Taffin in 1985, as did his brother Jeff. Boge appreciates firearms of all types, but his soul is particularly stirred by the "older style" guns: lever-action and single-shot rifles, along with Single-Action and Double-Action revolvers and 1911-style pistols. As a former professional artist, Boge appreciates the aesthetics of a fine gun, as well as its mechanical precision and practical application. His particular affinity lies in the world of handguns, and he has hunted mostly with handguns of all types since the mid-1970s. A regionally well-known musician, Boge is also a Deacon in the same Baptist Church where his brother Jeff formerly served as Deacon, and where their Dad finished his 50-year career as Pastor.